Rebound's Chris Hughes picks his NBL Team of the Week and highlights some honourable mentions and team performances.
Chris, a content producer, YouTube host and commentator, casts his eye over the five games involving NBL Division One teams from Week 13, including the L Lynch Trophy quarter-final tie between Loughborough Riders and Bradford Dragons.   
Have your say on this week's choices and give a shout-out to the players you think deserve one using the hashtag #NBL2021. Don't forget to tag us!    
Twitter:  @NBLengland / @Rebound__  
Facebook:  @NBLengland  / @ReboundNBL  
Instagram:  @nblengland / @reboundnbl  
How it works 
The Basketball England NBL Player of the Week goes straight into the starting line-up.    
The other four players are picked with the following factors in mind:    
The Rebound team of the week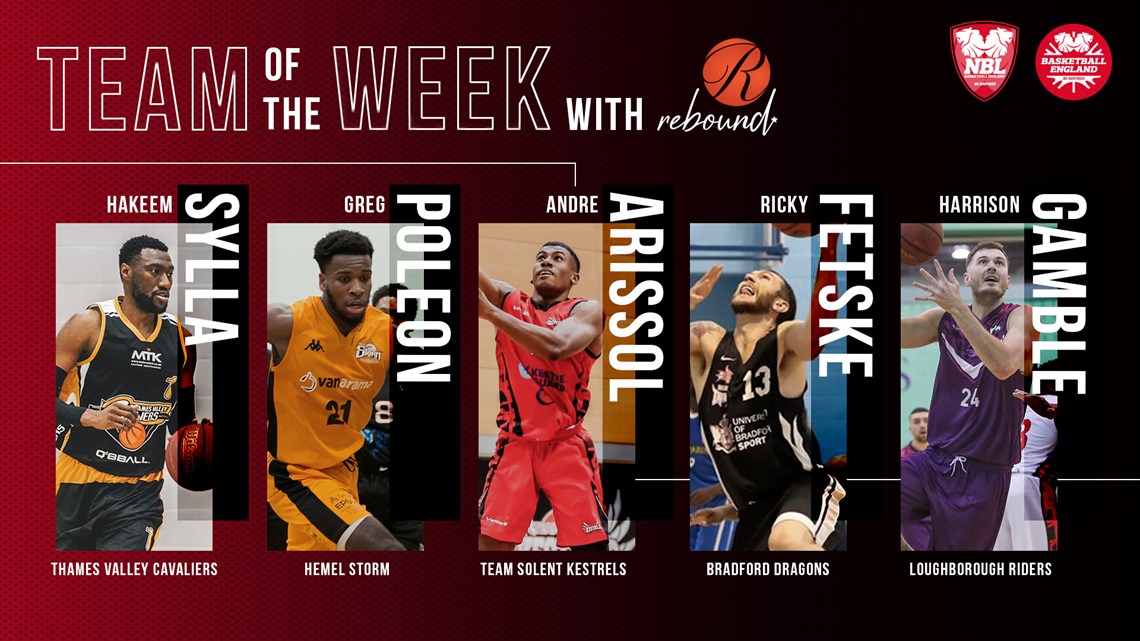 Hakeem Sylla – Thames Valley Cavaliers, forward   
31 POINTS, 14 REBOUNDS, 1 ASSIST, 1 STEAL, 1 BLOCK, 41 EFFICIENCY    
Hakeem Sylla is this season wearing former TVC star Martelle Mclemore's #1 jersey and put in an efficient shooting clinic that the former NBL D2 MVP and current BBL star would have been proud of. Sylla's 14 made shots came from 18 attempts from two-point range. 
BA, scarred from a recent big loss at the hands of Solent, looked to go into this game playing to their strengths and the predominantly youthful side played with high levels of energy. 
Having given up the first bucket in the final quarter, the Cavaliers had a three-point lead before Hakeem and Co went on a 14-0 run. Hakeem contributed 7p/3r including an and-one play, two of those three rebounds led to second-chance points. Job done. 
Greg Poleon – Hemel Storm, forward    
24 POINTS, 14 REBOUNDS, 3 ASSISTS, 36 EFFICIENCY    
NBL1's player of the week from last weekend put on another stellar performance as Greg Poleon and Co dispatched a Warriors side licking old wounds with a current 0-8 record. 
All of Poleon's three assists resulted in threes as his performance over 22 minutes and 10 seconds was highly efficient and a major catalyst in the win. 
Poleon's current NBL D1 average of 25.3P/10R/2A/0.7S/0.3B is likely putting rival clubs on high alert. He is shooting similar amount of shots per game while averaging around seven more points per game versus last season's NBL average. 
Andre Arissol – Team Solent Kestrels, guard    
21 POINTS, 5 REBOUNDS, 2 ASSISTS, 2 STEALS, 24 EFFICIENCY    
Andre Arissol's +/- of 39 from 21.5 minutes from the bench was pivotal in this weekend's 50-point, 107-57 win versus Worthing Thunder. Individually a +/- of 39 was the best from all of the games involving NBL teams this weekend.  
By the Kestrels' high standards this was one of their better performances. Especially from a numbers perspective, the scoreline compared well to their average of 104.3 points for per game and 67 points against per game. 
Defensively the former Chaminade guard was part of a team effort and was one of the key reasons for keeping Cameron Hildreth to eight points from 3-14 shooting. It is not the first time he has been assigned to keep tabs on Hildreth, one of top GB prospect in the NBL.  
Offensively Arissol shot well from range (3-7 3PM) and with, pace and skill, he was able to cut into the paint multiple times with ease to make an easy bucket and was one of three Solent players to make 20 or more points. 
Ricky Fetske – Bradford Dragons, forward    
25 POINTS, 16 REBOUNDS, 2ASSISTS, 2 STEALS, 1 BLOCK, 36 EFFICIENCY    
A massive 25 and 16 double-double performance helped the Dragons see off Oaklands.  
An almost double-double performance in the second quarter alone (9P/7R/1A/1S) in what was the lowest scoring quarter for both sides (21-14) ensured Bradford had a 15-point lead at half-time. 
Those 25 points, 16 rebounds and 12 defensive rebounds are all NBL season highs for Fetske, who is a key part of Bradford's 6-2 record in all competitions. Dragons are on course to better last season's eighth-places finish. The current sixth seeds have games in hand compared to the teams above and below them. 
Harrison Gamble – Loughborough Riders, forward 
28 POINTS, 11 REBOUNDS, 4 ASSISTS, 1 STEAL, 2 BLOCKS, 38 EFFICIENCY  
Harrison Gamble and his teammates showed off the best of Loughborough at times in the L Lynch Trophy quarter-final versus Bradford. The chemistry between the likes of Jonas Dieterich, Gamble and Kyle Jimenez was evident.  
What really impressed most was how Gamble played off Jimenez and visa-versa. They each added spacing to the side that enjoyed a 50 FG%. Gamble shot well with 55 FG%, 40 3P% and 100 FT%. 
He seems to love the L Lynch Trophy averaging 22.8P/9.8R/3.3A/0.3S/0.5B from four games versus a NBL1 average of 12P/6.3R/2.9A/0.9S/0.7B from seven games. 
Team basketball    
SOLENT GO 10-0 IN ALL COMPETITIONS AND 3-0 VERSUS WORTHING THUNDER 
Team Solent Kestrels have built a winning formula, the back-to-back NBL champions are tough customers.  
Spells of increased intensity at both ends of the court caught the eye this weekend and in recent weeks with intensity on the defensive end forcing the likes of Hemel and Worthing in to making mistakes. 
On the offensive end, Kestrels have averaged 108 points per game in the last three games. 
RIDERS THROUGH TO THE SEMIS  
It was a professional performance from the Riders in the 91-68 win over Dragons, who themselves are no pushovers.  
Loughborough had a to be patient as the first half was a closely contested, as the game went on, their lead stretched. Loughborough finished the game with their biggest lead. 
Kyle Jimenez continues to impress with amazing assist numbers with 16 from 40 minutes of action. It could easily have turned out differently with one of the league's premier playmakers getting two fouls early on but he was able to keep his cool and help get the win. 
Jonas Dieterich also impressed with a 20P/13R double-double and 3 vital blocks. 
Honourable mentions    
Kyle Jimenez (LOU) – 18P/4R/16A/2S/28EFF    
Mike Williams (HEM) – 35P/6R/1A/1S/30EFF   
Great Osobor (BRA) – 18P/13R/2A/3B/24EFF    
Jonas Dieterich (LOU) – 20P/13R/3A/3B/33EFF    
Travis Charles (SOL) – 23P/10R/2A/28EFF 
.
.