Rebound's Chris Hughes picks his NBL Team
 of the Week and highlights
five 
honourable mentions 
as well as two impressive 
team performances.  
Chris, a content producer, YouTube host and commentator, casts his eye over the eight games involving NBL Division One teams from Week 19, including both of the L Lynch Trophy semi-finals and a midweek game in the NBL. 
Have your say on this week's choices and give a shout-out to the players you think deserve one using the hashtag #NBL2021. Don't forget to tag us!    
Twitter:  @NBLengland / @Rebound__  
Facebook:  @NBLengland  / @ReboundNBL  
Instagram:  @nblengland / @reboundnbl  
How it works 
The Basketball England NBL Player of the Week goes straight into the starting line-up.    
The other four players are picked with the following factors in mind:    
The Rebound team of the week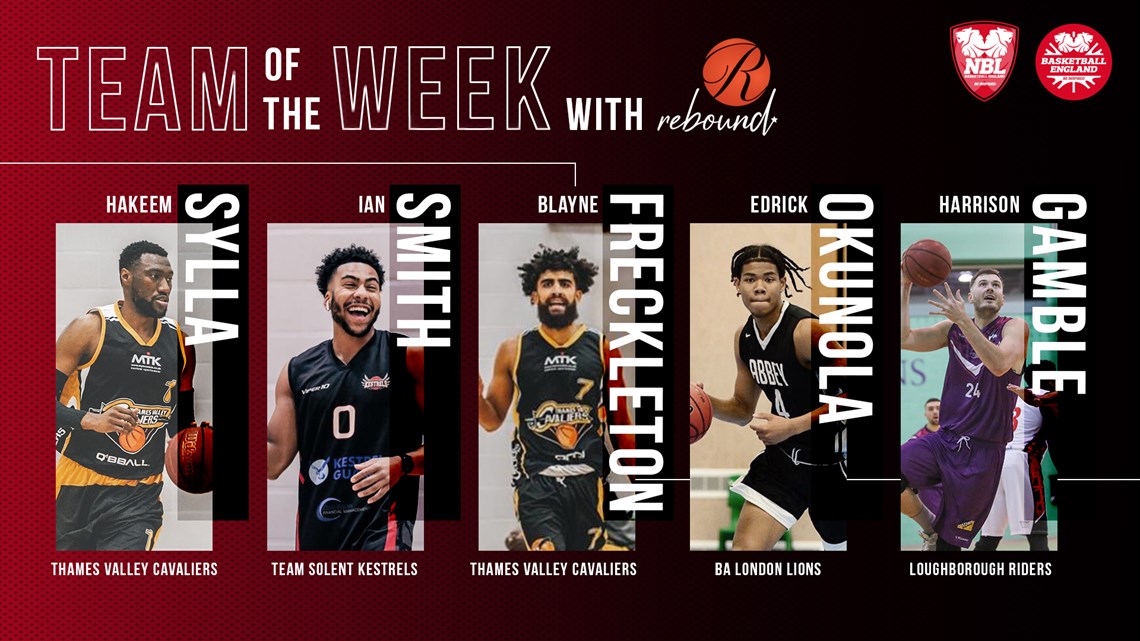 Hakeem Sylla – Thames Valley Cavaliers, forward   
VS ESSEX REBELS: 26 POINTS, 18 REBOUNDS, 1 ASSIST, 2 STEALS, 42 EFFICIENCY 
VS LOUGHBOROUGH RIDERS: 20 POINTS, 13 REBOUNDS, 1 ASSIST, 20 EFFICIENCY 
It was a rocky start on Saturday versus a talented Essex side, but cometh the hour, cometh Hakeem Sylla. The forward was close to a double-double early on after posting 8p/9r/2s in the first quarter. 
That was vital in ensuring the Cavaliers were only trailing by three after the first quarter of a 15-point win. 
What really caught the eye is how efficiently Sylla went about his business, shooting a video game-like 75 FG% and racing to 26p/18r/1a/2s in 26-and-a-half minutes. 
He also had a double-double performance in his team's Sunday win over Loughborough to help secure a place in L Lynch Trophy Final. 
Ian Smith – Team Solent Kestrels, guard    
26 POINTS, 7 REBOUNDS, 3 ASSISTS, 1 STEAL, 26 EFFICIENCY 
MVP's tend to impact the game in a way other players can't. With 07:45 left on the game clock Coach Keeffe sent out Smith to impact the scoring and to secure a spot in the final of the L Lynch Trophy final.  
He went to work straight away against a plucky Worthing side, hitting a three within eight seconds. That was part of a 90-second, personal 7-3 run. In fact, Smith made 10 of Solent's next 13 points to help ease his team over the line.   
Blayne Freckleton – Thames Valley Cavaliers, guard    
18 POINTS, 9 REBOUNDS, 5 ASSISTS, 5 STEALS, 26 EFFICIENCY 
One of the league's elite shooters showed he was more than just that in the win-or-go-home Lynch semi-final versus Loughborough.  
With Thames Valley Cavaliers struggling from three-point range (3-14 3PM) they needed to find other ways to get buckets and or slow the Riders' scoring. 
Freckleton influenced the win at both ends, leading all players with offensive rebounds (7) and steals (5), helping the Cavs outscore the Riders 14-10 in second-chance points and 27-11 in points from turnovers. 
Edrick Okunola – BA London Lions, guard/forward    
30 POINTS, 5 REBOUNDS, 3 ASSISTS, 30 EFFICIENCY 
Okunola and Co went into Sunday's clash with Oaklands on the back of a loss to Derby Trailblazers but quickly brushed off the defeat, racing to a 30-7 first-quarter lead.  
The guard/forward wasted no time exerting his dominance on the tie sinking the first bucket with a three and posting a nice 20p/2r/2s in the first quarter, shooting the lights out with 5-6 3PM plus an and-one play.  
He hit as many threes in almost half the amount of shots as the entire Wolves team, going 7-12 versus 7-23, 
Harrison Gamble – Loughborough Riders, forward 
VS OAKLANDS : 34 POINTS, 1 REBOUND, 5 ASSISTS, 1 STEAL, 1 BLOCK, 38 EFFICIENCY WOLVES 
VS THAMES VALLEY CAVALIERS: 22 POINTS, 9 REBOUNDS, 3 ASSISTS, 26 EFFICIENCY  
This weekend was always going to be tough with an away double header. So it was a given that Gamble would try and take care of business on Saturday in a swift fashion. 
The former Leicester Riders' big did just that; with 34 points from a very efficient 14-18 shooting in 26 minutes of court-time. What really impressed was Harrison's accuracy from beyond the arc, shooting 4-5 from range. 
He also had fuel in the tank to play the full 40 in the Lynch semi the following day. 
Team basketball    
SOUTH COAST DERBYS ARE ENTERTAINING  
Worthing came in to this game trailing 0-3 this season. You would not have known that from this game, as they went toe-to-toe with a side observers are struggling to find superlatives for. 
It was an uncharacteristically close game Solent, a team on a 50-plus unbeaten run in all NBL competitions.  
This game had everything from reigning and former MVPs trying to outdo each other and the clash of the bigs and sharp shooters, as well as a buzzer-beater winner. 
Solent's Chris Scarlett shot 2-3 3PM and was fouled on the other, going 3-3 from the charity stripe.  
On the other side Tom Ward, widely regarded as one of the league's premier shooters, showed he can do more than that with a near triple-double of 11p/8r/9a/1s. 
THAMES VALLEY CAVALIERS SHOW GRIT AGAINST THE REBELS AND RIDERS 
Thames Valley Cavaliers saw off challenges from Essex Rebels and Loughborough Riders in a tough double-header weekend.  
Both sides are well-coached sides and play with a good team basketball identity, with clear identity of developing young talent. 
The Riders and the Rebels can be underestimated at times with their sub .500 records but as is so often the case in the NBL, that is dangerous. 
So credit to Coach Banks and the Cavs who weathered the storm and protected their L column, The Cavaliers are currently on two losses in all competitions this season as they chase down Solent in the league and trophy. 
What really impressed this weekend was their defensive work in both games averaging three blocks, eight steals and 26.5 defensive rebounds without anyone in any serious foul trouble. 
Honourable mentions    
Morakinyo Williams (LEI) – 27P/11R/1A/1S/1B/32EFF 
Samuel Toluwase (REA) – 11P/15R/5A/1S/29EFF 
Orlan Jackman (SOL) – 11P/15R/5A/3S/25EFF 
Kyle Jimenez (LOU) – 13P/8R/8A/24EFF 
Jordan Santiago (OAK) – 26P/8R/6A/5S/29EFF 
​