Rebound's Chris Hughes picks his NBL Team
 of the Week and highlights 
five 
honourable mentions 
as well as two impressive 
team performances.  
Chris, a content producer, YouTube host and commentator, casts his eye over the five games involving NBL Division One teams, to select his Player of the Week and four other standouts to make up his Team of the Week as well.
Have your say on this week's choices and give a shout-out to the players you think deserve one using the hashtag #NBL2122. Don't forget to tag us!    
Twitter:  @NBLengland / @Rebound__  
Facebook:  @NBLengland  / @ReboundNBL  
Instagram:  @nblengland / @reboundnbl  
How it works 
Chris will pick a Player of the Week and four other selections to round out his Team of the Week, paying attention to the following criteria:
Efficiency 

 

Stats 

 

Team and opposition strength 

 

Periods of influence in the game 

Being on a winning team (exceptional performances from players on losing teams will be considered for TOTW)
Other players will also receive a shout out as honourable mentions at the bottom of the piece.
The Rebound team of the week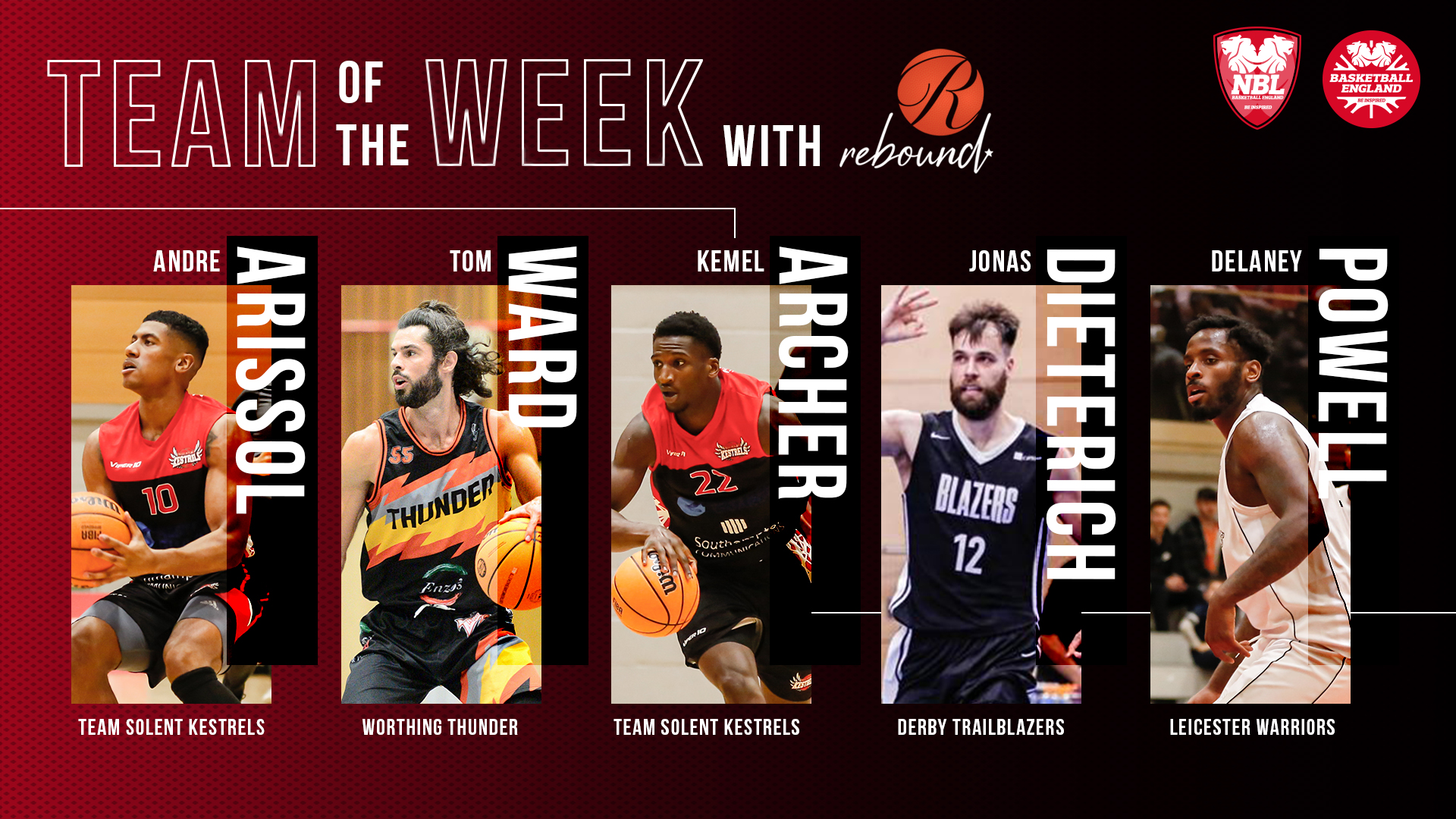 PLAYER OF THE WEEK
Andre Arissol – Team Solent Kestrels, guard 
28PTS, 1REB, 3AST, 2STL, 29EFF  
The reigning DPOY was unstoppable at the weekend as he raced to 28 points from 26 minutes off the bench. 
From beyond the arc Arissol was cooking with six threes from eight attempts.  
The sharp-shooting reigning L Lynch Trophy finals MVP opened up the spacing for his peers to capitalise as Solent's team shooting percentage was a video-game nice 63% from inside and 45% from three-point range. 
Arissol's influence was clear to see, as he finished head and shoulders above his peers with a +/- of 46. The former Chaminade star ensured that Solent would not be another scalp for this young Lions side. 
Tom Ward – Worthing Thunder, guard 
17PTS, 16REB, 7AST, 1STL, 1BLK, 31 EFF 
Tom Ward put in a 'Player Of The Week' calibre performance leading his side to a psychological win versus Newcastle to further cement their title ambitions. 
Coach Stanley trusted Ward to get the job done with the sharp-shooter sitting out only for 38 seconds, giving Ward plenty of time to get the job done. 
In a tight game the third quarter was key as Thunder put in a 31-25 performance with Ward one of the leading performers contributing 5p/3r/4a . 
Kemel Archer – Team Solent Kestrels, forward 
17PTS, 12REB, 2AST, 1STL, 27EFF  
Kemel Archer only needed 15 minutes to put in a performance to vie for Player of the Week status. The versatile forward put in a routine double-double performance shooting a nice 7-10. 
Solent got 16 second-chance points and the bulk of that was thanks to Archer who recorded 10 offensive boards. 
If Solent can defend their crown, a lot of plaudits will go to Archer who has made an amazing impact in such a short time. 
Jonas Dieterich – Derby Trailblazers, forward 
34PTS, 3REB, 1AST, 1BLK, 29EFF
It was always going to be tough for Oaklands against a top Derby side. It was made even tougher with former Loughborough star Dieterich netting nine times from beyond the arc at a 56% success rate. 
He got to work early with 12 first-quarter points dictating how the game would play out as the Trailblazers raced to a 34-point half time lead. 
Delaney Powell – Leicester Warriors, guard 
34PTS, 12REB, 1AST, 3STL 0TUR, 41EFF  
The most efficient performance of the season so far wasn't enough to help Leicester get a win from a game they may look back on with regret as they narrowly lost to Bradford. 
The margin could have been worse if not for Powell. The former Hoods' veteran was on fire leading all scorers while shooting efficiently.  
Powell also impressed getting vital offensive boards and steals and was one of the main reason his side recorded seven points from turnovers and 16 second-chance points. 
Team Basketball
TEAM SOLENT KESTRELS WERE IN THE ZONE 
Solent seemed to have found last season's rhythm as they passed the ball with speed, confidence and a hint of swagger as they produced a 58-point blowout win. 
They really put the knife in with 41 points from Lions' 28 turnovers. 
Lions are no pushovers, sitting in fifth in the run up to this game after beating Nottingham at home, but Solent were on their A-game and passed this assignment with flying colours. 
Lions really tried to full-court press Solent from the start on pretty much every possession, sometimes with a double team, buts Kestrels handled it calmly. 
 THUNDER STRIKE AGAIN TO KEEP UP WITH SOLENT 
A five-point win versus top-four contenders Newcastle means they are joint-top with an 8-1 record.  
Newcastle are a side renowned for having top-quality shooters – and they all turned up on Saturday to help their shoot 55/48/76. Worthing had to find a way to beat them.  
Defence can trump offence. Worthing forced the issue forcing 15 Newcastle turnovers, nine more than Worthing, thus giving more field goal chances. Zaire Taylor and Co made sure to make them count, outscoring the opposition with 20 points from turnovers. 
Honourable mentions
BLAKE BOWMAN (DER) BENCH 19:58 – 26P/3R/1A/21EFF 
LEIGHTON ELLIOT-SEWELL (DER) – 22P (8-10FGM)/4R/5A/5S/2B/29EFF 
RICKY FETSKE (BRA) – 18P/13R/4A/1B/27EFF 
HAFEEZ ABDUL (WOR) – 15P/9R/3A/19EFF 
MAX RICHARDSON (SOL) – 14P (5-7 FGM)/7R/4A/2S/24EFF 
.
Main image: Luke Simcock