The final weekend of November presented six games and some tricky decisions for Rebound's Chris Hughes.
Chris, a content producer, YouTube host and commentator, is once again tasked with selecting his Player of the Week and four other standouts to make up his Team of the Week as well.
Have your say on this week's choices and give a shout-out to the players you think deserve one using the hashtag #NBL2122 and #ReboundTOTW. Don't forget to tag us!    
Twitter:  @NBLengland / @Rebound__  
Facebook:  @NBLengland  / @ReboundNBL  
Instagram:  @nblengland / @reboundnbl  
How it works 
Chris will pick a Player of the Week and four other selections to round out his Team of the Week, paying attention to the following criteria:
Efficiency 

 

Stats 

 

Team and opposition strength 

 

Periods of influence in the game 

Being on a winning team (exceptional performances from players on losing teams will be considered for TOTW)
Other players will also receive a shout out as honourable mentions at the bottom of the piece.
The Rebound team of the week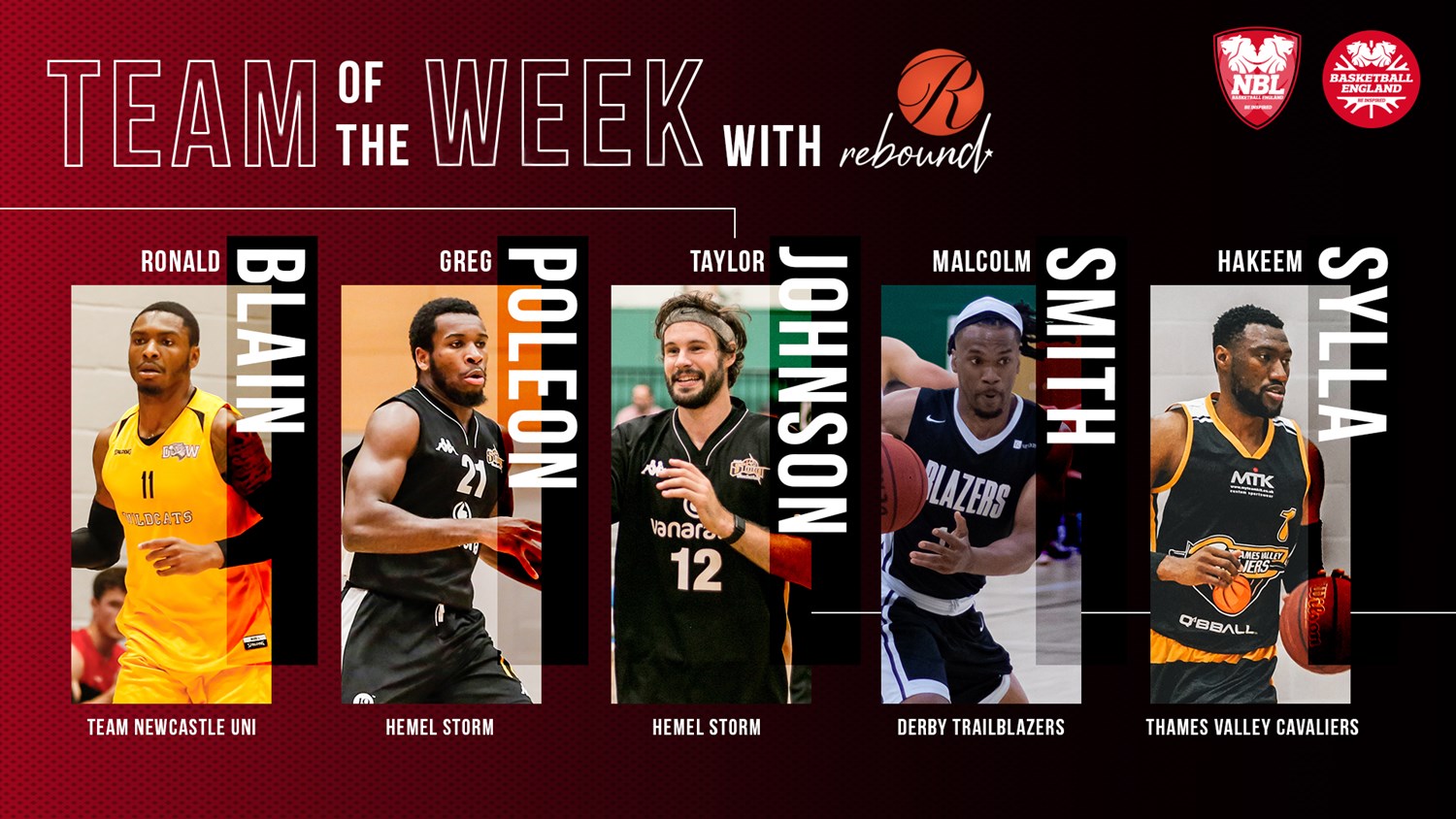 PLAYER OF THE WEEK
Ronald Blain - Team Newcastle University, forward
44PTS, 15REB, 5AST, 2STL, 1BLK, 50EFF
Calls for Newcastle Eagles to scoop up Ronald Blain to the BBL are getting louder from their own fan-base, but for now the talented forward is blocking out the noise and producing some breath-taking NBL performances.
The former Hawaii Pacific star played every minute of a closely fought win over basement side Essex Rebels this weekend.
I was particularly impressed with Blain's all-round influence in a vital second quarter when the American recorded 5p/4r/3a, helping his side to correct a poor 33-20 opening frame. That sent the Knights into the locker room up by a point and set the visitors on their way for a strong second half.
Blain also shot the ball efficiently (19-32), taking and making a large portion of Newcastle's 86 shots.
Greg Poleon - Hemel Storm, forward
38PTS, 13REB, 1STL, 43EFF
Greg Poleon continued his return to form with an amazing sub 27-minute cameo in Hemel's 17 point win against London Lions II.
The Brooklyn native put on a shooting clinic, netting 15 of his 19 attempts, including both his 3-point efforts.
Poleon was fouled multiple times (4) with only one miss at the charity strip (6-7).
Taylor Johnson – Hemel Storm, guard
37PTS, 7REB, 8AST, 1STL, 40EFF
Hemel's MVP candidate was at it once again this weekend, flirting with a triple-double during another stunning performance.
The Lions knew keeping Johnson quiet was a key to success but the American wasn't to be contained, with the talented guard also drawing a bruising 10 fouls, making an impressive 15-16 free throws.
The former Ivy league star's influence wasn't limited to scoring as Johnson also led his side in assist and tied for the lead in +/- on 20 across 36 minutes of action.
Malcolm Smith – Derby Trailblazers, forward
31PTS, 8REB, 3AST, 2STL, 0TO, 1BLK, 31EFF
2016/17 D1M MVP Malcolm Smith has form when it comes to being named the league's top dog, and reports from this weekend made mention of fans chanting "MVP, MVP" after another big performance over a title rival.
Smith shot the lights out from everywhere in the half court, closing with a 50/66/62 shooting stat line.
The American forward shouldered the responsibility of getting his team the dub, his 31 efficiency was some distance ahead of any of his Derby team mates (Blake Bowman, 19)
Hakeem Sylla – Thames Valley Cavaliers, forward
21PTS, 17REB, 1AST, 2STL, 1BLK, 36EFF
It was show time for the Cavaliers' main man as Sylla spearheaded his side's 19-point win against Worthing, toppling a side that came into this clash with an 8-1 record.
The Cavs' star was a beast in the paint, making light work of the defensive presence offered by Thunder. Sylla, like others this weekend, put in a 'Player Of The Week' performance but came up just short despite recording close to a 20p/20r double-double.
Team Basketball
CAVALIERS CAN MATCH SOUTH COAST SIDES
The Cavaliers are making a habit of beating South coast sides this season, after knocking off Solent and now Worthing.
Billed as a big contest in the title race, TVC managed the game well, consistently finishing each quarter with a 3-6 point advantage as the hosts slowly built a commanding lead.
Bernard Hehetro deserves an honourable mention for not missing a shot, enjoying an impressive 11p/7r/1a/1s/18eff performance.
Bradford getting a vital road trip win
A short handed team performance led by Zach Gachette, who helped the Dragons with a late charge, was enough to get a six point win in Loughborough.
Playing as part of close to a seven man rotation this weekend, Gachette was one of four starters to get to double digits as he poured in a game-high 27 points that included a perfect 14-14 effort from the line.
Dave Walsh deserves a shout-out as he was the main threat from range, hitting three triples from nine attempts.
The Dragons left it late to roar back from a 16-point hole, but they eventually sealed the deal with room to spare.
Honourable mentions
Zach Gachette (BRA) – 27P/10R/5A/26EFF
Ben Winter (ESS) – 21P/9R/9A/2S/32EFF
Tom Child (ESS) – 15P/9R/9A/2S/26EFF
Cole Gentry (TSK) – 20P/2R/4A/1S/23EFF
Orlan Jackman (TSK) – 17P (8-10 FGM)/8R/1A/3S/26EFF
.