Week 4 didn't disappoint for NBL fans, and Rebound's Chris Hughes is here to pick the finest performances from across the weekend.
Chris, a content producer, YouTube host and commentator, poured over seven D1M games, plus one L Lynch Trophy quarter-final and a host of National Cup fixtures to select his Player of the Week and four other standouts to make up his Team of the Week as well.
Have your say on this week's choices and give a shout-out to the players you think deserve one using the hashtag #NBL2122 and #ReboundTOTW. Don't forget to tag us!    
Twitter:  @NBLengland / @Rebound__  
Facebook:  @NBLengland  / @ReboundNBL  
Instagram:  @nblengland / @reboundnbl  
How it works 
Chris will pick a Player of the Week and four other selections to round out his Team of the Week, paying attention to the following criteria:
Efficiency 

 

Stats 

 

Team and opposition strength 

 

Periods of influence in the game 

Being on a winning team (exceptional performances from players on losing teams will be considered for TOTW)
Other players will also receive a shout out as honourable mentions at the bottom of the piece.
The Rebound team of the week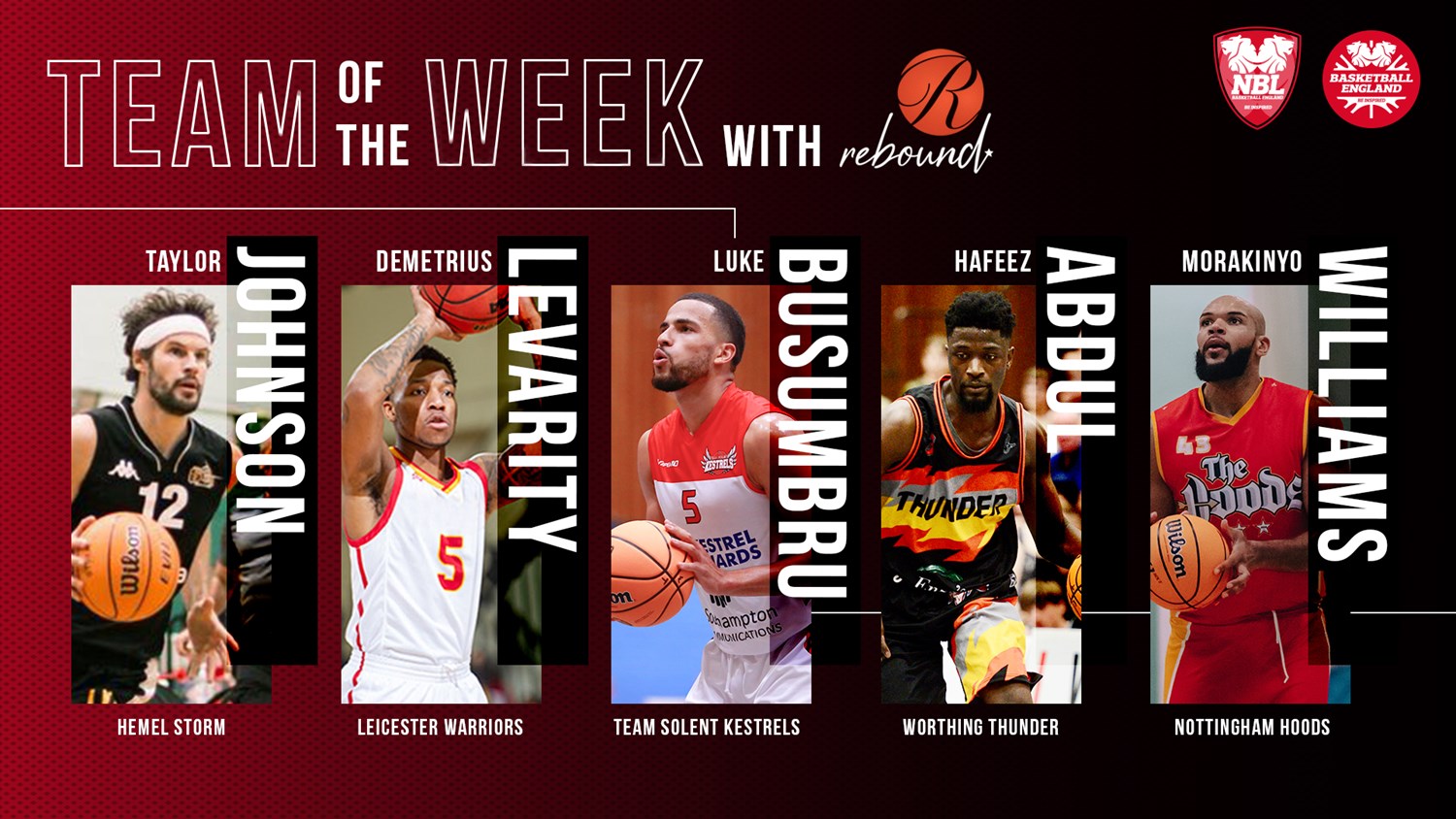 PLAYER OF THE WEEK
Taylor Johnson – Hemel Storm, guard
37PTS, 7REB, 6AST, 5STL, 1BLK, 40EFF
Copy and paste from last week's 'Player Of The Week', Johnson was at it again this past weekend. It's now three awards in a row for a player who looks like the standout MVP candidate already.
The Hemel man showed he was human with a 1-7 clip from long range, but it was an otherwise great shooting night with 13-23 FGM and 10-12 FTM.
The former Dartmouth College alum also forced Loughborough to concede opportunities with four defensive boards, five steals and one block.
Demetrius Levarity – Leicester Warriors, forward
32PTS, 9REB, 2AST, 2STL, 1BLK, 40 EFF
A worthy performance for my Player of the Week award came from Demetrius Levarity in an impressive NBL debut by the former Pittsburgh State star.
In a tough game versus a potential title contender in Worthing, Levarity shot the lights out and almost stole Worthing's thunder in the single digit loss.
Making 32 points with just three field goal misses (12-15), the forward demonstrated he could also shoot from range as he made a trio of triples to go with nine boards.
Luke Busumbru – Team Solent Kestrels, guard
23PTS, 8REB, 8AST, 1STL, 33EFF v NEW
13PTS, 10REB, 5AST, 1STL, 18EFF V TVC
This is the fourth Team of the week award for the flashy guard who excelled in both of Solent's double-header games this weekend.
What really impressed me over both games was a combined 13 assists whilst only giving the rock away once. That's a very impressive tally for a guard that works at pace.
In both games, Busumbru faced teams that really tried to put the clamps on defensively in different ways, but he still found a way to help his team get it done.
Hafeez Abdul – Worthing Thunder, forward
24PTS, 11REB, 1AST, 1STL, 28EFF
One of the shining stars so far in the NBL, the double-double threat Abdul brings to each game is hard to match and this week was no different.
An almost faultless free throw shooting effort got his team out of a hard spot this weekend as Worthing edged past Leicester. The talented forward shot 6-7, whilst his team mates combined for a 2-6 afternoon.
Abdul can also shoot from almost anywhere on the court and led his side in both points scored and percentage of shots made in an efficient scoring display
Morakinyo Williams – Nottingham Hoods, forward
18PTS, 10REB, 1AST, 3BLK, 22EFF
In what was one of the toughest tests of the Hoods' top four campaign to date, "Big Mo" stepped up for his team with a strong double-double performance.
What really stood out for me was Williams' efforts to prevent more second chance points for the opposition. The Rockets' 16 offensive boards could have been much higher without Williams, and of those 16 rebounds, Reading only converted them into nine second chance points.
The ex-BBL man also left his mark on offence, making a solid 50 percent of his shots and going a perfect 4-4 from the charity stripe as the Hoods grabbed the narrow win.
Team Basketball
SOLENT TAKE OUT TWO TOP FOUR RIVALS TO PROTECT THE L COLUMN
In a double header weekend with Newcastle and the Cavaliers rolling into town, the Kestrels were pushed hard but came away with two wins from two.
In Saturday's win over Newcastle, the hosts kept the visitors to just 13 third quarter points, adding 33 themselves as Elliot Dadds did his best Steph Curry impression to net four triples in a row, all but ending the Knights' hopes of a victory.
In a rematch of last season's L Lynch Trophy final on Sunday, Solent really played to their strengths. Getting a rare start, Max Richardson went off to go 3-5 from range in just over 17 minutes of action.
Solent didn't have things all their own way, at one point trailing by as many as eight points, but the defending champs showed their grit to grind out the win against a tough opponent.
NOBODY SHOULD BE SLEEPING ON THE LIONS
London Lions II also recorded two wins from a double-header weekend, firstly in the league and then in the National Cup on Sunday.
In Saturday's win against Oaklands, Jase Harrison really impressed me at both ends, recording 15 points and a game-high of six steals. The captain followed it up with 27 points versus a talented Sussex Bears outfit to punch his side's ticket to the next round of the Cup.
Honourable mentions
Hakeem Sylla (THA) – 21P/6R/1A/2S/24EFF V BRA & 25P/10R/3A/3S/2B/27EFF @SOL
Jase Harrison (LL2) – 15P/3R/6A/6S/21EFF @ OAK & 27 POINTS VS SUSSEX BEARS
Bradley Kaboza (LON) – 26P/6R/3A/2S/24EFF
Cole Gentry (SOL) – 16P/4R/12A/1S/23EFF V NEW & 23P/1R/3A/1S/15EFF V TVC
Michael New Jr. (OAK) – 27P/10R/5A/2S/31EFF
.
Main image credit - Joanne Charles