Rebound's Chris Hughes picks his NBL Player and Team
of the Week, highlights
five 
honourable mentions 
as well as two impressive 
team performances.  
Chris, a content producer, YouTube host and commentator, had the Halloween weekend to look through six D1M games, including Solent's win over Worthing and Reading beating Loughborough, plus the L Lynch Trophy quarter-final as Derby beat Nottingham last Thursday. 
Have your say on this week's choices and give a shout-out to the players you think deserve one using the hashtag #NBL2122 and #ReboundTOTW. Don't forget to tag us!    
Twitter:  @NBLengland / @Rebound__  
Facebook:  @NBLengland  / @ReboundNBL  
Instagram:  @nblengland / @reboundnbl  
How it works 
Chris will pick a Player of the Week and four other selections to round out his Team of the Week, paying attention to the following criteria:
Efficiency 

 

Stats 

 

Team and opposition strength 

 

Periods of influence in the game 

Being on a winning team (exceptional performances from players on losing teams will be considered for TOTW)
Other players will also receive a shout out as honourable mentions at the bottom of the piece.
The Rebound team of the week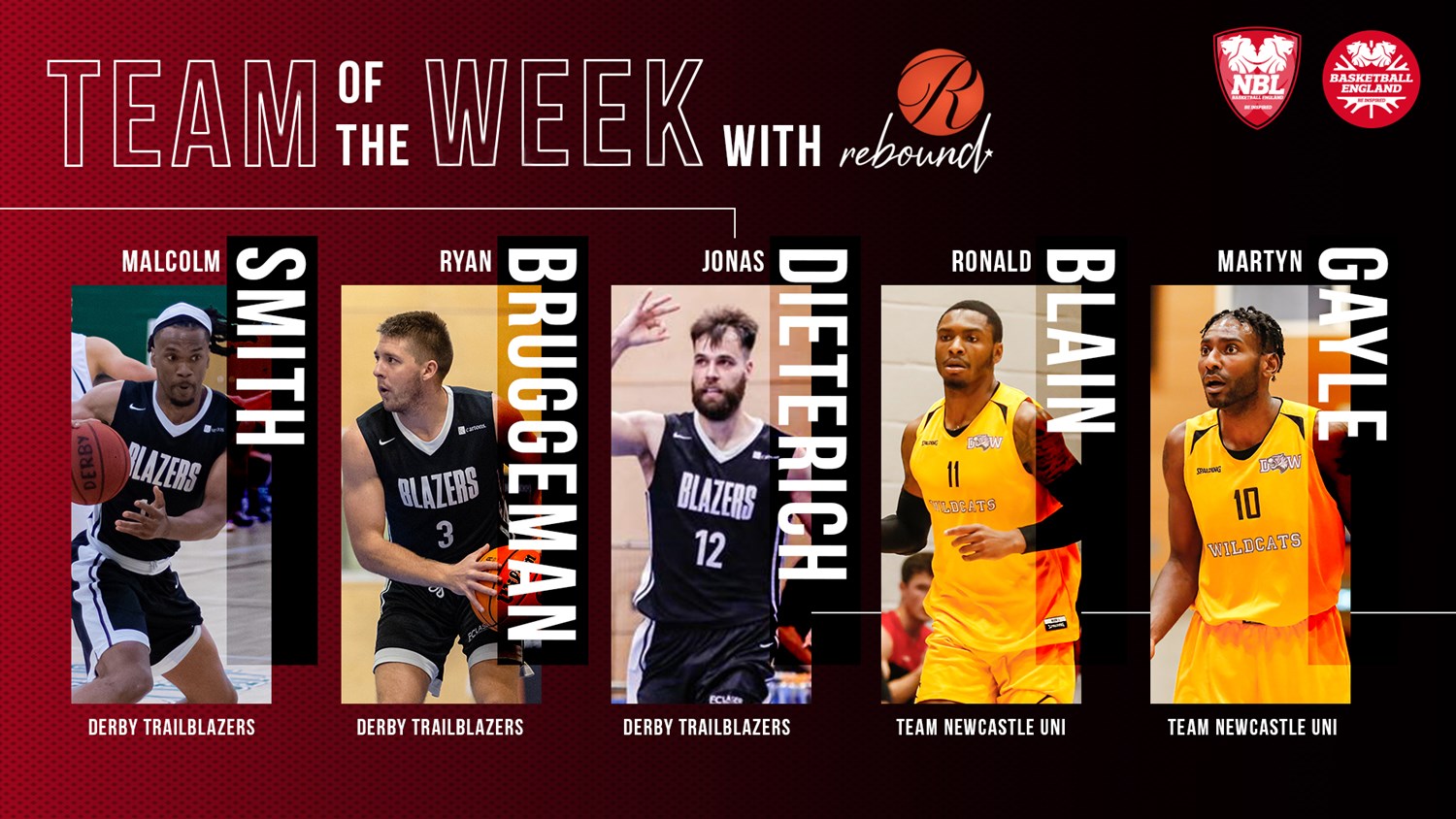 PLAYER OF THE WEEK
Malcolm Smith – Derby Trailblazers, forward
32PTS, 8REB, 2AST, 2STL, 1BLK, 29EFF @ NOT
30PTS, 6REB, 2AST. 1BLK, 26EFF @ HEM
Malcolm Smith put in two 'Player Of The Week' performances in just a few days, with both performances coming on the road against title-contending sides. In both games, Smith racked up 18 first-half points to help his side give a fright to the opposition with early leads.
Thursday's L Lynch Trophy quarter-final saw the American forward shoot efficiently, netting a 52FG%/50 3P%/71 FT% line in the 94-72 win against local rivals Nottingham Hoods.
In Saturday's clash at Hemel, Smith wasn't spooked at the line either as he was fouled a game-high nine times, making 9-11 from the stripe.
Ryan Bruggeman – Derby Trailblazers, guard
22PTS, 4REB, 7AST, 2STL, 26 EFF @NOT
23PTS, 7REB, 7AST, 3STL, 32 EFF @ HEM
The playmaking guard has really impressed me early in his NBL career, tricking the defence multiple times this week and treated his team mates with seven dimes across the two contests against Nottingham and Hemel.
Bruggeman is a tough guard to stop on the scoreboard, evidenced by the American posting an almost identical field goal percentage (62% and 56%) in both games.
The former Southwest Minnesota State star continually shows he can shoot both from outside and closer to the rim. The efficient shooting performances also opens up space for others, with his team mates taking advantage in two valuable wins.
Jonas Dieterich – Derby Trailblazers, forward
25PTS, 10REB, 1AST, 3STL, 33EFF @ NOTT
It was a performance worthy of a 'Player Of The Week' gong in the L Lynch Trophy for the former Loughborough man.
Dieterich played okay on Saturday against Hemel but it was his performance midweek that really impressed me. The forward posted an NBA like stat line from range, making seven of his 10 attempts.
A game high 10 defensive rebounds plus three steals really disrupted the opposition as Derby kept Nottingham to only four second chance points. He also made them pay by recording 13 points from turnovers.
Ronald Blain – Team Newcastle University, forward
29PTS, 7REB, 1AST, 0TO, 4STL, 1BLK, 31EFF
It was always going to be a tough day for Oaklands against a talented Newcastle side, and that proved to be the case with a 100-68 final score.
Ronald Blain really impressed me with his all round game as he led his team in both steals and blocks in the 32-point win.
The premier shooter once again showed his offensive prowess as he gave the Wolves nightmares, shooting efficiently even under heavy contact as the former Hawaii Pacific forward was fouled a game-high nine times.
Martyn Gayle – Team Newcastle University, guard
25PTS, 5REB, 1AST, 2STL, 28EFF
One of the NBL's top shooters was on fire this weekend, with only four misses to his name, all from distance (5-5 2pt, 3-7 3pt).
The addition of Gayle to Newcastle's roster adds floor spacing and another high powered offensive option. The former BBL man's shooting inside and out caused real problems as he was one of three players to net 24 or more points.
The win also came without the help of the dangerous Brandon Federici who missed the contest, making it all the more impressive.
Team Basketball
BEATING THE STORM AND an L LYnch WIN SHOWS THE TRAILBLAZERS' TITLE CREDENTIALS 
Derby Trailblazers probably had one of their toughest weeks of the season with two road games against difficult opponents.
Derby are a tough side for any outfit in the NBL and again took care of business to advance in the L Lynch Trophy and also to chase down one of the remaining unbeaten sides in the NBL in Hemel.
SOLENT PUT THE TEAM IN TEAM SOLENT KESTRELS
It was another double header weekend on the South coast but Solent got through both games with ease, recording a 25-point D1M win versus Worthing and a 108-34 National Cup victory against Swindon.
Sunday's cup tie also saw Solent head coach Matt Guymon give some minutes to three Itchen juniors, with the trio all performing well.
In both games, multiple players notched nine points or more as the scoring was shared around well. Andre Arissol was a leader in both contests with 16 points in each. 
Sunday's game was one where the three-peat champs could turn on the style with D3 Swindon averaging six turnovers a quarter, allowing the hosts multiple uncontested runs to the basket that ended with plenty of highlight plays.
Honourable mentions
Jase Harrison (LL2) – 16P/6R/5S/2BLK/17EFF
Van Turner (LEI) – 29P/5R/2A/2S/26EFF
Hakeem Sylla (TVC) – 14P/10R/6A/22EFF
Andre Arissol (TSK) – 16P/6R/1A/17EFF v WOR & 16P in first half v SWI
Jonathan James (OAK) – 26P/4R/2A/1S/24EFF
.