D1W continues to take shape as the post season nears, and with leaders CoLA out of action, some teams and players had the opportunity to shine on the way to valuable victories this past weekend.
As a writer, commentator, podcaster and more, FocusHoops' Darren Paul cast a glance across all the action, picking out his Player of the Week plus four more names to create his Team of the Week as well.
He'll also take a look at some honourable mentions across the players who didn't make the cut, whilst highlighting two big team performances from week 16.
Have your say on this week's choices and give a shout-out to the players you think deserve one using the hashtag #NBL2122. Don't forget to tag us!    
Twitter: @NBLengland / @FocusHoops  
Facebook: @NBLengland  / @FocusHoops  
Instagram: @nblengland / @focushoops  
How it works  
Darren will pick a Player of the Week and four other selections to round out his Team of the Week, paying attention to the following criteria:
Efficiency 

 

Stats 

 

Team and opposition strength 

 

Periods of influence in the game 

Being on a winning team (exceptional performances from players on losing teams will be considered for TOTW)
Other players will also receive a shout out as honourable mentions at the bottom of the piece.
The FocusHoops team of the week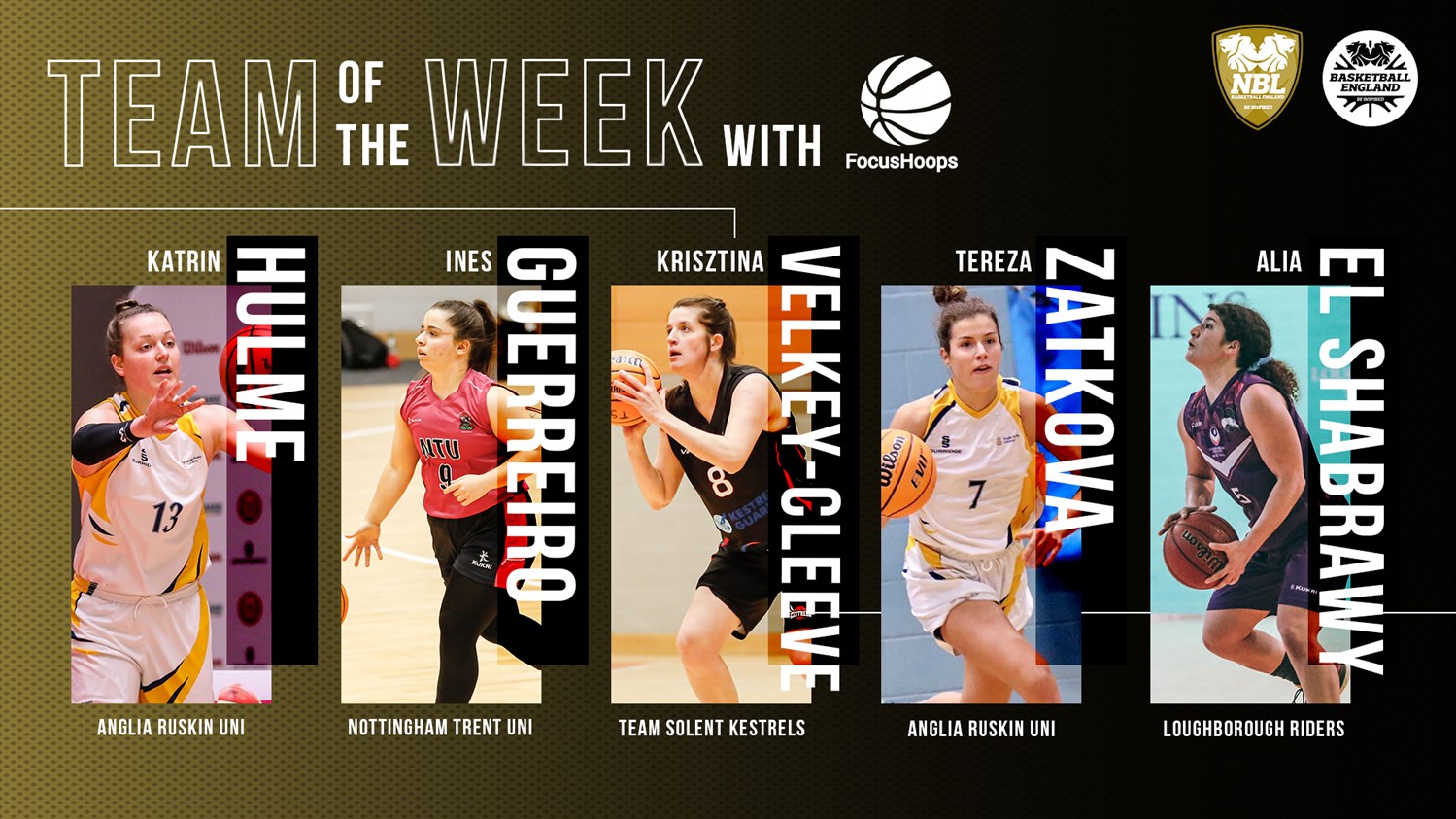 PLAYER OF THE WEEK
Katrin Hulme - Anglia Ruskin University, forward
21pts, 11reb, 8ast, 29eff
Katrin Hulme claimed Player of the Week honours once again this week thanks to an efficient performance that came agonizingly close to a triple-double for the Ruskin star.
Hulme shot 50% from the field against Worcester and hit both her free throws on her way to 12 points in the contest, also pulling down 11 rebounds for her team to cement the double-double.
Hulme, known for being a multi-tool player, also dished an impressive eight assists to her teammates as they took down the Wolves 77-53.
The former playoff final MVP was no slouch on defence either as she finished with three steals and a block in another impressive performance from the one they call "the General".
Ines Guerreiro

- Nottingham Trent University, guard
21pts, 8reb, 4ast, 27eff
Ines Guerrerio put in a captain's performance for her Nottingham Trent University side as they fell at home in a nail-biting encounter to reigning league and playoff champs Ipswich.
Guerriero finished the contest with 21 points, scored on 44% shooting, with three made triples.
Playing the full 40, Guerriero put in work on the glass to pull down eight boards and set the table for her teammates with four assists.
The former WEABL standout was the spark for her side as they fought bravely against one of the top sides in the country, and she paid the price as she was fouled 10 times during the game.
Krisztina Velkey-Cleeve - Team Solent Kestrels, guard
25pts, 13reb, 3ast, 2stl, 0TO, 37eff
It was an incredible individual performance from Krisztina Velkey-Cleeve this weekend in a losing bid for Team Solent Kestrels.
Velkey-Cleeve led the way for her side with an efficient 25 points on 60% shooting, which included sinking 5-7 three pointers, as the Kestrels lost 81-67 to second place Loughborough Riders. 
The Solent star also contributed 13 rebounds in her double-double effort, with four on the offensive glass, whilst dishing three dimes in a performance that didn't see the guard concede a single turnover.
It wasn't enough this weekend, but Velkey-Cleeve issued a big reminder to the league just what she is capable of.
Alia El Shabrawy - Loughborough Riders, guard
29pts, 9reb, 4ast, 24eff
Alia El Shabrawy once again shot her way into my Team of the Week thanks to a 29 points performance over the Team Solent Kestrels. El Shabrawy shot in volume, making 7-20 but was clinical at the charity stripe, being fouled on seven occasions and sinking all eight freebies.
The Loughborough guard also pulled down nine boards for her team, five offensive and four defensive, to give her side second chance opportunities and the spirit of giving didn't stop there as she found her teammates for four assists as well.
El Shabrawy was also active in the lanes, picking off three steals in yet another all-around excellent performance.
Tereza Zatkova - Anglia Ruskin University, guard
26pts, 4reb, 2ast, 26eff
Tereza Zatkova makes my five this week thanks to a fine scoring performance for Anglia Ruskin as they took down the Worcester Wolves on Saturday.
Zatkova had the hot hand, making 8-10 field goals, draining five triples and making her three shots inside for good measure. The Slovakian guard found other ways to contribute, pulling down four rebounds and setting her teammates up with two assists.
Zatkova also caused trouble on the defensive side of the ball, finishing the game with a steal and a block for a very solid day's work.
Team Basketball
Loughborough clip Kestrels' wings
Loughborough Riders came away from Southampton with a huge victory over Team Solent Kestrels to continue their charge at CoLA in top spot.

Built on the work of Alia El Shabrawy mentioned above, Katie Januszewska's 17 points and a 21-8-2 from Robyn Ainge also helped the Midlands outfit over the line, despite an remarkable individual performance from Krisztina Velkey-Cleeve.
Loughborough will be buoyed by this win as they head into an important run of games, including a huge clash with Anglia Ruskin on the 12 February, which could go a long way to deciding league title and playoff ambitions for both sides.
Bristol bounce back
Bristol Flyers took a valuable win over Reading Rockets 57-46 to leapfrog them in the standings and put themselves back in the playoff hunt.
Bristol won the first three quarters of the contest in a professional performance that saw them exact revenge on a Reading team that felled them last time they met.
Hannah Wallace and Flo Ward top scored for Bristol with 10 points and Veronica Iweanya battled on the boards to pull down 8 rebounds.
Honourable mentions
Hannah Gray (IPS) - 11P/9R/21EFF
Katie Januszewska (LOU) - 17P/7R/1A/20EFF
Courtney Gray (ARU) - 14P/13R/3A/24EFF
.