The weekend may have seen CoLA move to within just a few results of the D1W regular season title, but there were plenty of top performances from players across the league.
As a writer, commentator, podcaster and more, FocusHoops' Darren Paul was on hand once again to separate the best from the rest, picking his Player and Team of the Week.
Have your say on this week's choices and give a shout-out to the players you think deserve one using the hashtag #NBL2122. Don't forget to tag us!    
Twitter: @NBLengland / @FocusHoops  
Facebook: @NBLengland  / @FocusHoops  
Instagram: @nblengland / @focushoops  
How it works  
Darren will pick a Player of the Week and four other selections to round out his Team of the Week, paying attention to the following criteria:
Efficiency 

 

Stats 

 

Team and opposition strength 

 

Periods of influence in the game 

Being on a winning team (exceptional performances from players on losing teams will be considered for TOTW)
Other players will also receive a shout out as honourable mentions at the bottom of the piece.
The FocusHoops team of the week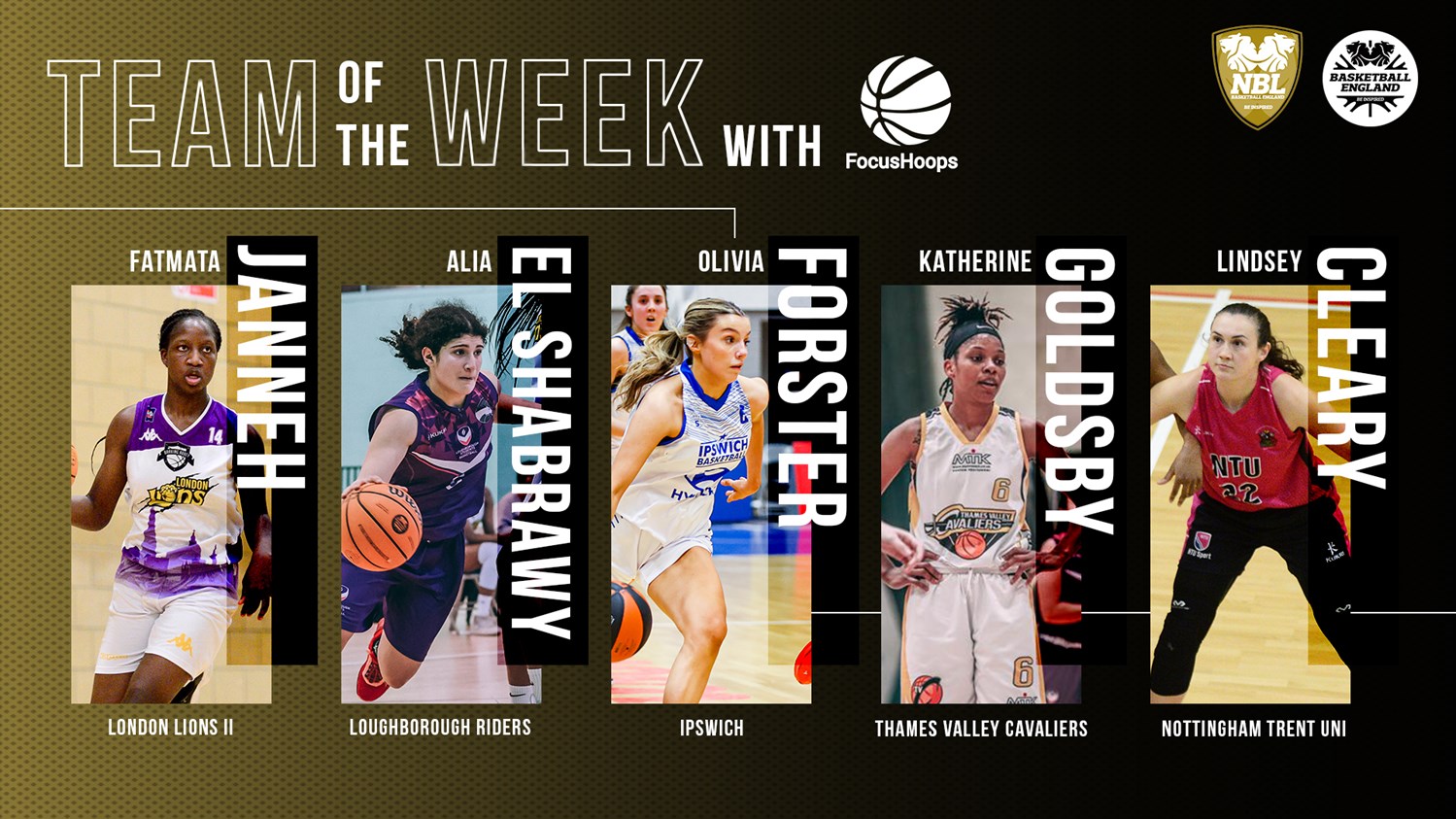 PLAYER OF THE WEEK
Fatmata Janneh - London Lions II, wing
28pts, 15reb, 3ast, 4stl, 29eff
Fatmata Janneh continued her fantastic 2021/22 campaign with another Player of the Week performance as the shorthanded London Lions II took down the Reading Rockets 60-49.
Playing without Ruchae Walton, Janneh led the game in scoring with 28 points on 52% shooting, with two made triples to go with six shots from the line.
As usual, the Lions' star was dominant on the glass, pulling down 15 boards, three offensive, to round out her double-double. In addition, Janneh was trouble for Reading in the passing lanes with a game-high four steals to complement her three dimes.
The result sees London take a huge step towards potential D1W safety, and for the Lions this performance came at the perfect time.
Alia El Shabrawy - Loughborough Riders, guard
21pts, 9reb, 3ast, 5stl, 30eff
Despite Loughborough falling late to a spirited Ipswich, Alia El Shabrawy was an efficient thorn in the side of the visitors.
El Shabrway was the only player to shoot a FT for Loughborough and she drained all six attempts and hit three triples on her way to a team-high 21 points.
The talented guard was agonisingly close to a double-double with nine rebounds, two offensive, and Riders star also contributed three assists whilst only committing one turnover. El Shabrawy was a menace for Ipswich on the defensive end as she finished the contest with a game-high 5 steals.
Loughborough's title hopes are all but gone, but El Shabrawy will be leant up heavily as the Riders now look towards the playoffs.
Olivia Forster - Ipswich, guard
27pts, 2reb, 3ast, 1stl, 19eff
Ipswich took an enormous victory on Saturday afternoon and all but handed CoLA Southwark Pride the D1W title thanks to their 68-65 road win over Loughborough.
Liv Forster's performance was a huge factor, with the former Manchester product shooting well in the contest to finish with a game-high 27 points (10-20 FG) which included four made triples and a perfect 3-3 from the charity stripe.
Forster complimented her excellent shooting with two boards, three assists, a steal and crucially zero personal fouls, which helped keep the Riders off the line.
Forster's scoring will go a long way as Ipswich look to secure a top-four spot and a run at retaining their playoff title.
Katherine Goldsby - Thames Valley Cavaliers, guard
16pts, 10reb, 5ast, 3stl, 2 blk, 16eff v ARU
Kat Goldsby put up a 16-10 double-double on Saturday as Thames Valley Cavaliers took down Anglia Ruskin University 62-51 in a win that moves them up to second in the standings.
Goldsby shot at 44% from inside the arc and did the bulk of her scoring in the paint whilst also finishing with a team-high 10 rebounds, two offensive, with one leading immediately to a valuable bucket to push the TVC lead to a 22.
ARU would make a run to close the gap but this was another strong outing from Goldsby as her side took a statement sweep over Ruskin in preparation for what they hope will be a deep playoff run.
Lindsey Cleary - Nottingham Trent University, guard
18pts, 20reb, 3ast, 1stl, 28eff
Nottingham may have been confirmed as finishing bottom of D1W after their 59-54 loss against Bristol, but Lindsey Cleary put in work on Saturday afternoon as NTU fell just short of their second win of the season.
Cleary led the game in scoring, finishing with 18 points and going a perfect 8-8 at the stripe but it was her work on the glass that set her apart, finishing with 20 rebounds, five on the offensive end, whilst generating second chance opportunities for her side.
Cleary battled for the full forty minutes, finishing with three assists and a steal, whilst not committing a single personal foul. She was also fouled herself seven times in a tough loss.
Team Basketball
TVC at the double as they head to the playoffs on a high
Doing the double over any team is always a bonus, but Thames Valley managed to beat playoff rivals Anglia Ruskin twice this past weekend to further their aspirations for claiming second spot.
Saturday's 62-51 victory was followed up by a 61-55 W on the road Sunday, giving TVC confidence they can best Ruskin home or away, should they need to during the post season.
Faith Okwuosa and TOTW selection Kat Goldsby were both in solid form this weekend, no doubt something they can draw confidence from as the league enters the final weeks of the regular season.
Ipswich make a statement
Few results stood out more this past weekend than Ipswich's come-from-behind 68-65 road win over Loughborough, with the visitors trailing 50-44 after three quarters on Saturday afternoon.
Their second blockbuster match up in as many weeks, this tie was just an entertaining as the previous 90-86 effort, leaving fans hoping for a third instalment in the post season.
Saturday's loss may have ended Loughborough's title bid but it will no doubt provide a massive lift to the Suffolk side, with Cameron Taylor-Willis (2pts, 14reb, 8ast, 3stl) deserving a mention for her role in the success. 
Honourable mentions
Courtney Gray (ARU) - 16P/17R/2A/20 EFF
Isi Ozzy-Momodu (CoLA) - 18P/13R//27 EFF
Faith Okwuosa (TVC) - 8P/7R/3A/4S/1B/16 EFF
.