The final weekend of the D1W regular season gave FocusHoops' Darren Paul plenty to ponder for his regular awards.
As a writer, commentator, podcaster and more, Darren has once again looked across the league to pick his Player of the Week, plus four other notables to make up his Team of the Week.
Have your say on this week's choices and give a shout-out to the players you think deserve one using the hashtag #NBL2122. Don't forget to tag us!    
Twitter: @NBLengland / @FocusHoops  
Facebook: @NBLengland  / @FocusHoops  
Instagram: @nblengland / @focushoops  
How it works  
Darren will pick a Player of the Week and four other selections to round out his Team of the Week, paying attention to the following criteria:
Efficiency 

 

Stats 

 

Team and opposition strength 

 

Periods of influence in the game 

Being on a winning team (exceptional performances from players on losing teams will be considered for TOTW)
Other players will also receive a shout out as honourable mentions at the bottom of the piece.
The FocusHoops team of the week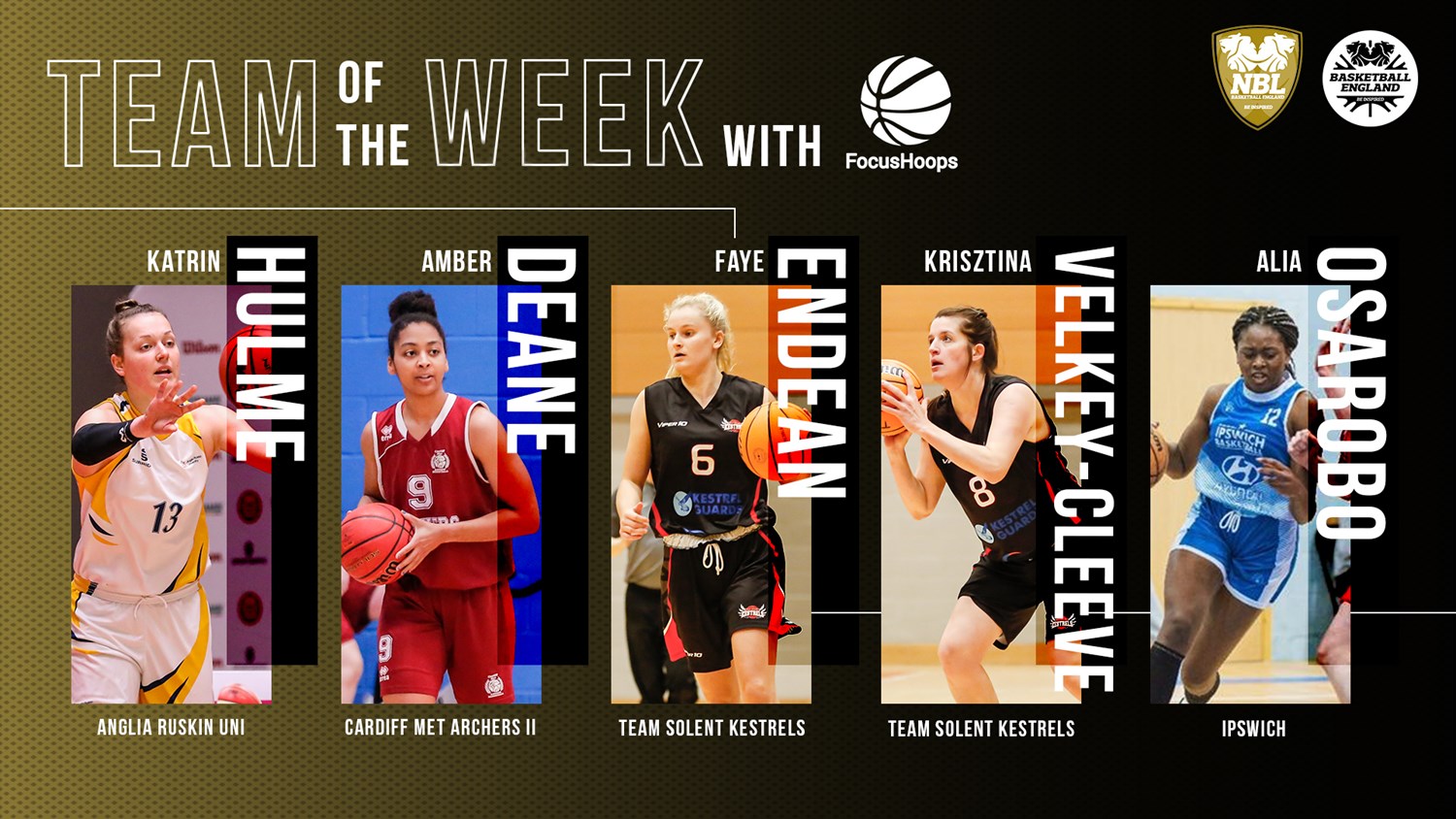 PLAYER OF THE WEEK
Katrin Hulme - Anglia Ruskin University, forward
30pts, 26reb, 7ast, 2stl, 50eff
Kat Hulme did Kat Hulme things this weekend as 'The General' rounded off an excellent regular season campaign with a truly magnificent performance in the 69-48 win over Loughborough.
Hulme shot well, going at 47% and 11-13 at the stripe, but it was her eye-boggling rebounding numbers that really stood out.
Hulme dominated the glass at both ends, pulling down 26 boards , with seven on the offensive end whilst dishing seven dimes.
Adding two steals for good measure, it was a performance that puts the league on notice at ARU head into the playoffs with a point to prove.
Amber Deane - Cardiff Met Archers II, forward
24pts, 12reb, 5ast, 6STL, 35eff
Amber Deane put in another huge double-double performance in their 68-63 victory over third placed Thames Valley Cavaliers.
As always, Deane shot efficiently, hitting 54% from the floor and making 8-11 from the line to give her 24 points in the contest.
Deane also battled on the glass, finishing the contest with a game high 12 rebounds, with five coming on the offensive end to generate second chance opportunities for her side.
The American had the golden hands to find teammates for five assists and swiped six steals in yet another fantastic two-way display from the Welsh capital's captain.
Faye Endean - Team Solent Kestrels, guard
21pts, 7reb, 9ast, 5stl, 1blk, 28eff v IPS
Faye Endean performed fantastically in both games against Ipswich this weekend, however it was her performance in Solent's 85-82 victory on Saturday that truly stood out.
Endean scored a team-high 21 points on 44% shooting and hit three triples, but her scoring wasn't the only area in which she shone.
In fact, Endean was a whisker away from a double-double and even in triple-double contention thanks to seven rebounds and nine assists as the Solent star played a well-rounded game.
Capped off by five steals, it was an impressive performance against an Ipswich side looking to defend their playoff title.
Krisztina Velkey-Cleeve - Team Solent Kestrels, guard
18pts, 10reb, 5ast, 26eff
Krisztina Velkey-Cleeve put in yet another huge performance in a big moment as Solent took down Ipswich at home during their back-to-back double header.
The Solent stand-out came up with a vital double-double performance, finishing with 18 points on 50% shooting, making 2-4 from outside.
Velkey-Cleeve's ten boards came on a perfect split of five offensive and five defensive as the talented guard would go on to add five assists, two steals and block in another do-it-all performance.
Solent will need another performance like this as they head to Thames Valley in the playoff quarter finals at the weekend.
Christabel Osarobo - Ipswich, wing
12pts, 13reb, +/- +14, 23eff
Christablel Osarobo put in a brilliantly efficient 28 minutes on Saturday as Ipswich fell just short against Team Solent Kestrels in one of the biggest matchups of the weekend.
16-year-old Osarobo finished the contest with a double-double, putting up 12 points on 62% shooting, all in the paint, and making 2-2 from the line.
The young wing was also an ace on the glass to finish with 13 boards, with six coming on the offensive end, quite the effort from a young player who didn't even crack Ipswich's 12 to start the season.
Osarobo closed with a fantastic +14, which hints at how valuable she was in the contest, and how important she could be in the playoffs as Ipswich battle to retain their title.
Team Basketball
Ruskin get revenge on the riders
Anglia Ruskin University took a modicum of revenge for their loss to Loughborough last Tuesday in their 69-48 road win on Sunday evening.
Ruskin built their victory on an astonishing game by their captain Katrin Hulme, who topped the scoring and rebounding charts for the weekend with 30-26-7 split.
Ruskin could also lean on yet another strong outing from Courtney Gray, who finished with a 12-10 double-double herself, and the interior duo proved too much for the Riders to handle.
This will be a confidence boosting victory for ARU as they prepare to head into the home of their rival and the reigning playoff champs Ipswich this weekend.
cardiff head to the playoffs on a high
Cardiff Met Archers go into their first D1 playoff experience fresh off another impressive victory over a top side, taking down Thames Valley 68-63 in a dress rehearsal of their playoff matchup this coming weekend.
Archers were led to victory through more great performances from Amber Deane, Carys Roy and Denisa Molnar. The trio combined for 55 of Cardiff's points as they took a statement victory over the third seeded TVC to go into the playoffs on a high.
Cardiff will be looking for solid outings from the trio and will also need a big contribution from Issy Bunyan, who has also impressed this season as they embark on what should be exciting playoff journey.
Honourable mentions
Alia El Shabrawy (LOU) - 10P/13R/7A/5S/27EFF
Taylor Gaffney (TSK) - 25P/5R/8A/22EFF
Ava Battese (IPS) - 14P/14R/2A/24EFF
.