Great Britain were worn down by a classy Greece side to leave them still searching for a first victory at EuroBasket in Milan.
A star-studded Greece side – albeit with NBA megastar Giannis Antetokounmpo not leaving the bench – were made to work for their 93-77 victory.
Livewire Luke Nelson led the British scoring with 17 points while Myles Hesson (13) and Ovie Soko (12) were also in double figures and Gabe Olaseni fought for 13 boards.
Dan Clark, making a record-breaking 117 appearance for the team, hit 11 points.
But Olympiacos star Kostas Sloukas steered the Greeks to success to with a game-high 21 points off 5/6 three-point shooting.
After defeats in the opening Group C games to Ukraine and Croatia, GB held their own against the ninth-ranked team in the world for the bulk of the first three quarters.
But a burst of scoring – highlighted by two quick threes from the deadly Sloukas – took the GB deficit from three points to double figures midway through the third.
Greece, undefeated in the tournament, had led by just 46-43 at the half with GB impressing in the second quarter, but that lead grew late in the third and into the fourth as Sloukas and Georgios Papagiannis (17) helped turn the screw.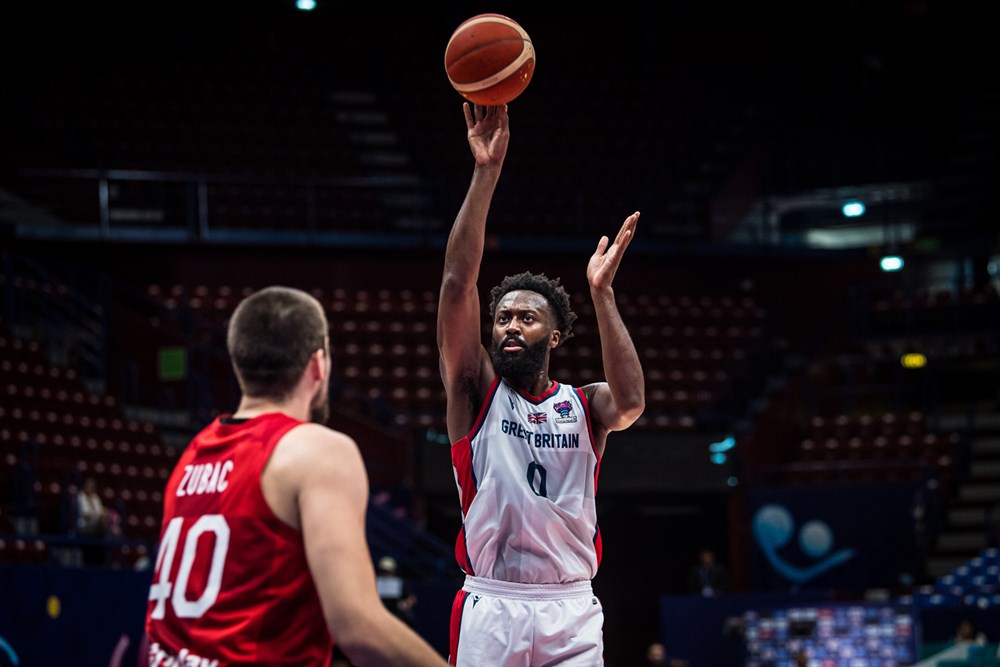 GB face Estonia at 1.15pm on Tuesday before rounding off the group against Italy on Thursday.
Gabe Olaseni is set to notch a major milestone as the composed and committed centre is on course to secure his 50th cap for Great Britain today.
Only a dozen players in the 74-year history of the Great Britain Men's National Team have reached that 50-cap milestone (Eric Boateng, Dan Clark, Kieron Achara, Drew Sullivan, Kyle Johnson, Nate Reinking, Andrew Lawrence, Gareth Murray, Ogo Adegboye, Teddy Okereafor, Myles Hesson and Ben Mockford), with Olaseni the third in a quartet of stars able to notch their half-centuries at EuroBasket.
Hesson and Mockford have already notched their 50th outings, with Olaseni set to follow suit today. 
He said: "It feels good to hit such a great milestone. You have to be healthy, you have to be consistent and you have to enjoy what you do to achieve something like this, and luckily I can say I've had all three of those things and that's got me here.
"I've played with a lot of great players over the years who have really helped me develop in my career and worked with many great coaches too, as well as a great staff overall, so really this is achievement for everybody I've shared this journey with, I feel.
"What I've enjoyed the most of these 50 caps is the long summers spent with the guys. I think back to EuroBasket 2017 and we were together for almost five weeks getting to know each other, developing friendships and chemistry and those were the best memories I think I've had.
"I'm not sure how far this will go, I just know I am grateful to hit 50. I'm a long way away from DC (Dan Clark), of course, but I don't think his record will ever be broken! I'm not looking too far ahead, I am just happy to have got here.
"I think if you'd told teenage me I'd achieve this then that kid would have believed you. He had a lot of belief in himself and was a hard worker, and thankfully I still am. I think that kid would be proud of what I've been able to do, being a pro for as long as I've been in the top leagues in Europe, and playing for the national team making the family proud. Hopefully it can continue – you never know what the future holds – but I am definitely glad to have reached this milestone."
All of Great Britain's fixtures at EuroBasket 2022 can be watched live on FIBA's streaming platform, Courtside 1891. Head to courtside1891.basketball and use the promo code 'EUROGB25' now to get 25% off an annual pass to the platform.