The finalists for the various 2021/22 National Cups have been confirmed following the last of the semi-finals yesterday.
The NBL and WNBL competitions both hosted final fours this past weekend, as did the U18 and U16 men's competitions with the Sure Shot Cup final line-ups are also locked in.
There's a recap of all the action below, including details of a famous win for D2W outfit Stockport Lapwings, plus confirmation of the schedule for the finals weekend later this month.
WNBL National Cup
Stockport Lapwings 68-66 Thames Valley Cavaliers
Division Two's Stockport Lapwings used a huge fourth quarter to come-from-behind and shock top-flight outfit Thames Valley Cavaliers 68-66.
Bidding to become just the second team from outside the WNBL's top division to lift the famous trophy, Stockport went into the final quarter trailing 53-47 but refused to give up with 10 minutes remaining.
Instead, the hosts played some of their best basketball of the afternoon to battle back and pip their more established opponents off the back of a 21-13 final frame.
Jade Butters put in a captain's performance to top score on 18 points, with Rosie Hynes adding 15 more.
Thames Valley came into this one following a big OT victory in D1W against Ipswich but couldn't convert that momentum into a win despite 13 points from Katherine Goldsby.
Solent gained revenge for a league loss to ARU earlier this season as they beat the Cambridge side 73-57.
Ruskin looked in the box seats for a spot in the final as they led 38-30 at the half, but Solent refused to go without a fight and turned the game on its head after the restart.
Holding the hosts to 19 second-half points, including just five in a pivotal final quarter, the Kestrels poured it on at the other end to seal a stunning come-from-behind victory.
Krisztina Velkey-Cleeve's 14-point, six-rebound, six-assist performance led the way for Solent as American Molly Danielson piled up her second double-double in as many days, closing with 12 points and 14 rebounds.
Katrin Hulme was the only ARU player to make it to double digits, she had a hefty 19-point, 16-rebound double-double, as Tereza Zatkova, Courtney Gray and Ilaria Zaffaroni all scored eight.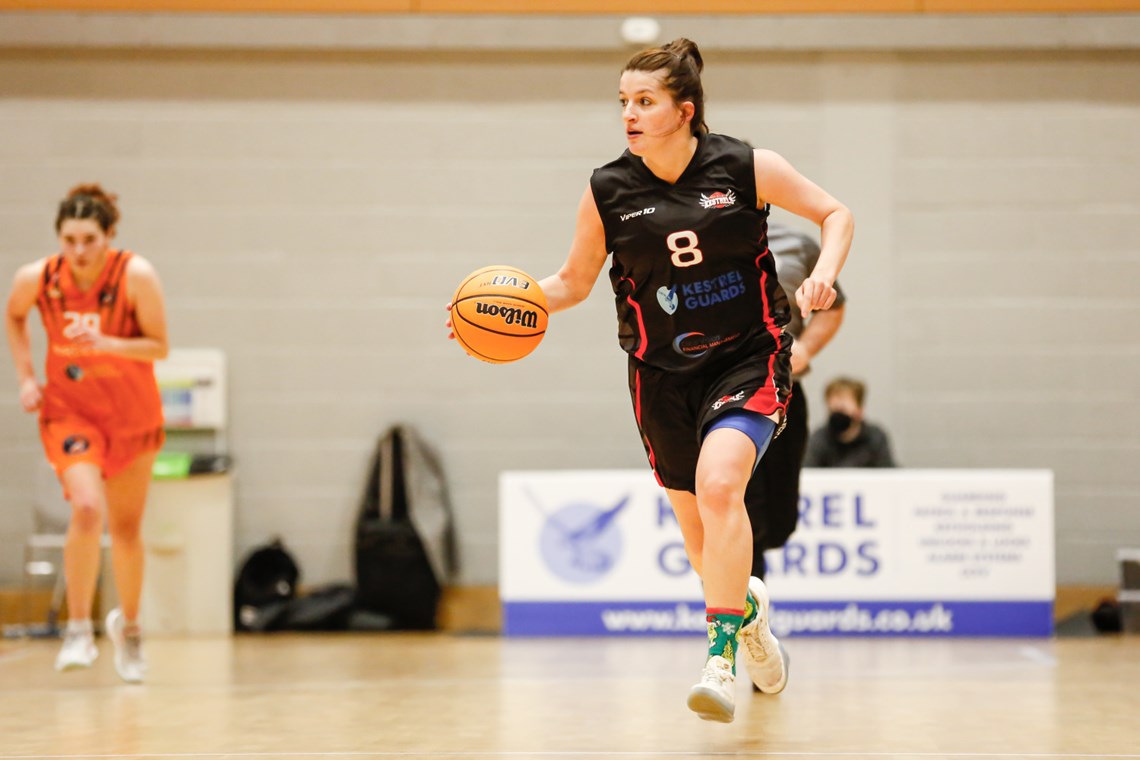 NBL National Cup
Team Newcastle moved into their second final of the season as they beat Thames Valley 90-81.
After already featuring in the showpiece of the L Lynch Trophy earlier this month, Newcastle will look to go one better here and claim some silverware on 23 January.
A 30-19 opening quarter put the hosts in a hole, but some inspired play from Ronald Blain (26pts, 8reb, 5ast) and David Moya (23pts, 12reb) pulled Newcastle back into contention as the game wore on.
By the end of the third quarter, the North East side had built a double digit advantage of their own, leaving TVC with no way back despite a late rally down the stretch.
Coach Banks' side were paced by 20 points and 10 rebounds by Hakeem Sylla, as Blayne Freckleton splashed five triples on his way to 19 points.
Solent moved to within one game of defending their National Cup crown as they beat London Lions 102-72,
The 30 point win came courtesy of a balanced offensive performance that saw six Kestrels pass into double digits scoring, led by 19 points from Elliot Dadds.
Dadds added 12 rebounds for the double-double, whilst Orlan Jackman (15pts, 9reb) fell just one board shy of repeating the feat.
Elijah Maynard top scored for the visitors with 22 points and can be pleased with his afternoon's work, with Bradley Kaboza contributing 17 points off the bench.
Sure Shot National Cup
Bracknell Cobras' attempts to reach the U18 final fell just short as lost against Manchester Magic. A final score of 94-86 came courtesy of a 33-23 third quarter that helped the visitors eventually get their noses over the line.
Manchester will face Sussex Storm in the final after the Eastern Premier side rose to see off Charnwood Riders 86-78. Storm required a period of OT to book their ticket to the final though, claiming the extra frame 18-6.
In the U16 competition, Richmond Knights were able to turn home advantage into a comfortable victory as they beat St Albans Wolves 83-63, whilst Islington Panthers prevented Magic from double success this weekend, beating the North West side 73-70 on the road.
Confirmed finalists
NBL NATIONAL CUP FINAL - 3.30PM, SUNDAY 23 JANUARY 2022

Team Newcastle University v Team Solent Kestrels
WNBL NATIONAL CUP FINAL

 

- 1PM, SUNDAY 23 JANUARY 2022
Stockport Lapwings v Team Solent Kestrels
SURE SHOT U18 MENS NATIONAL CUP FINAL

 

- 5.45PM, SATURDAY 22 JANUARY 2022
Manchester Magic v Sussex Storm

SURE SHOT U18 WOMENS NATIONAL CUP FINAL - 3.30PM, SATURDAY 22 JANUARY 2022
CoLA Southwark Pride v Ipswich Basketball Academy
SURE SHOT U16 BOYS NATIONAL CUP FINAL

 

- 1.15PM, SATURDAY 22 JANUARY 2022
Richmond Knights v Islington Panthers
SURE SHOT U16 GIRLS NATIONAL CUP FINAL -

 11AM, 

SATURDAY 22 JANUARY 2022
Manchester Mystics v GCA Haringey Angels