The first weekend of 2022 didn't disappoint, with plenty of quality action across a number of competitions.
With the BBL Trophy, NBL Division One and the NBL National Cup all squeezing into the last three days, it's been a busy one for a number of D1M clubs.
Derby's statement win over Surrey in the BBL Trophy was a highlight on Friday night, then four exciting league contests took place on Saturday before Newcastle and Solent both punched their ticket to the National Cup final later this month to wrap the weekend.
There's a report on all the action below, and each result is also clickable if you wish to view the live stats.
For a recap of the NBL National Cup semi-finals, click here.
Top-vs-bottom provided an unlikely thriller as Worthing narrowly saw off basement side Essex Rebels 75-74.
Jarred Dixon's triple with 4:36 to go put Worthing up by 11 at 75-64, but the Rebels knocked down the game's next 10 points to make the league leaders sweat.
That run was capped by a Mayo Adeyeye dunk with 81 seconds remaining, but that proved to be the final scoring of the game as both teams failed to make their chances pay down the stretch.
It left Worthing to escape with a valuable two points in their quest for a first D1M title since 2006/07, whilst Essex remain winless and two points from potential safety.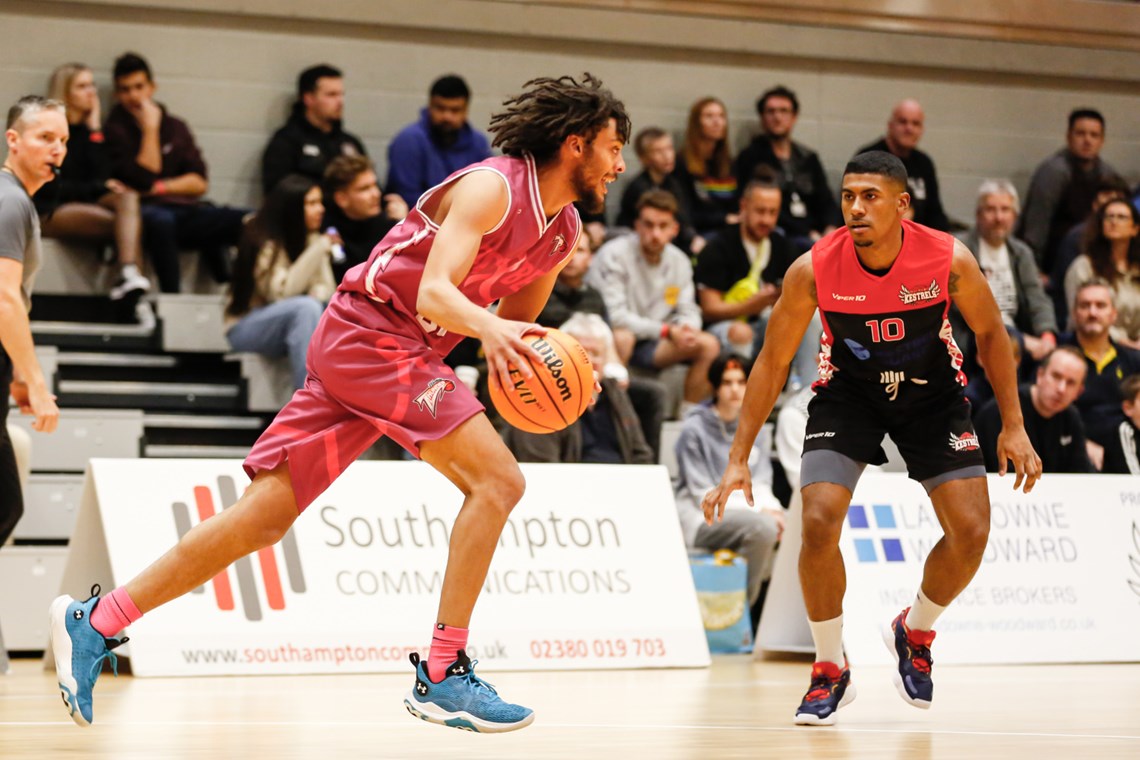 Hafeez Abdul top-scored for the visitors with a game-high 25 points, as Dixon added 24 more to go with six rebounds. Tom Ward (11pts, 10reb) enjoyed a useful double-double.
Rory Winter led the way for Essex with 20 points as towering centre Lee Hodges contributing an 18 point, 11 rebound double-double of his own.
Elsewhere this weekend
Three other games took place on Saturday, starting with Nottingham Hoods (6-3) claiming a Midlands derby against Loughborough Riders (3-10) 94-82.
After an even opening frame, the visitors turned the screw to take the second quarter 30-14, setting themselves up for the eventual win.
Josh Guddemi led the way for the Hoods with 27 points, and Greg Wild had 20 points and nine boards for the hosts.
London Lions II (7-5) continued their hunt for a top-four spot as they saw off struggling Leicester Warriors (1-11) 83-71.
A 31-21 advantage after the first 10 minutes quickly became a 52-33 lead for the Lions by the half. That hot start allowed the Londoners to claim their seventh win of the season, with the Warriors unable to get their deficit below double digits in the second half.
Bradley Kaboza starred off the bench for Coach Vear's side, notching a 24 point haul that included three triples.
American Van Turner was the standout for Leicester on 23 points, adding five boards and four assists as Eljhi Jabby put up an 11 point, 10 rebound double-double.
Finally, Hemel Storm (9-3) dismantled local rivals Oaklands Wolves (1-10) 133-61.
Trailing 31-16 after the first 10 minutes, things didn't get better for the Wolves as they shipped a further 41 points in the second.
Coach Spinks was able to share the action across his roster in this one, though starter Taylor Johnson still top scored with 25 points, whilst guards Sam Newman and Bode Adeluola both enjoyed a productive evening with 12 assists apiece.
Kane Daley was the standout for Oaklands after a tough day at the office, the young guard had 14 points and five rebounds.
BBL Trophy
It was a mixed bag for D1M sides in the Trophy. Derby managed to keep the NBL flag flying as they beat Surrey 98-93, though 2019/20 finalists Solent lost out against Glasgow 91-82. 
The Trailblazers enjoyed a huge 36-point, 12-rebound double-double from American Malcolm Smith to down the Scorchers, with the former NBL MVP adding two steals and an assist.
Blake Bowman was also a man on a mission, he closed with 25 points as DTB move on to the next round.
There would be no repeat of Solent's magical run to the 2019/20 final as they came up short north of the border against Glasgow Rocks.
A 22-15 opening frame put the South coast side behind early and their BBL opponents used that advantage to lead from tip to buzzer.
American guard Cole Genty top-scored for Solent, he had 17 points.
This weekend's results:
Friday 7 January
Friday 7:30pm - BBL Trophy - Glasgow Rocks 91-82 Team Solent Kestrels - LIVE STATS
Friday 7:30pm - BBL Trophy - Surrey Scorchers 93-98 Derby Trailblazers - LIVE STATS
Saturday 8 January
Saturday 3pm - D1M - Loughborough Riders 82-94 Nottingham Hoods - LIVE STATS/LIVE STREAM
Saturday 4pm - D1M - London Lions II 83-71 Leicester Warriors - LIVE STATS
Saturday 7pm - D1M - Essex Rebels 74-75 Worthing Thunder - LIVE STATS
Saturday 7pm - D1M - Hemel Storm 133-61 Oaklands Wolves - LIVE STATS
Sunday 9 January
Sunday 3pm - NBL National Cup - Team Newcastle University 90-81 Thames Valley Cavaliers - LIVE STATS
Sunday 4:00pm - NBL National Cup - Team Solent Kestrels 102-72 London Lions II - LIVE STATS/LIVE STREAM
.
Main image credit - Luke Simcock