The weather may have been a shocker this weekend, but those who managed to take in a D1M contest this weekend were unlikely to have been disappointed.
With eight games across the two days, there were big wins for Nottingham, Thames Valley, Worthing and others as the standings continue to take shape.
There's a recap of all the action below, and each result is also clickable if you wish to view the live stats.
Worthing and Hemel played out an exciting contest on Saturday evening, with the hosts coming out on top 82-76.
It was a welcome return to form for Thunder, who had lost three in a row coming into the weekend. A win wasn't always on the cards however, with the hosts trailing by nine points late in the third quarter.
A 22-14 final frame helped get Worthing their 15th win of the season though, staying in second place in the D1M standings.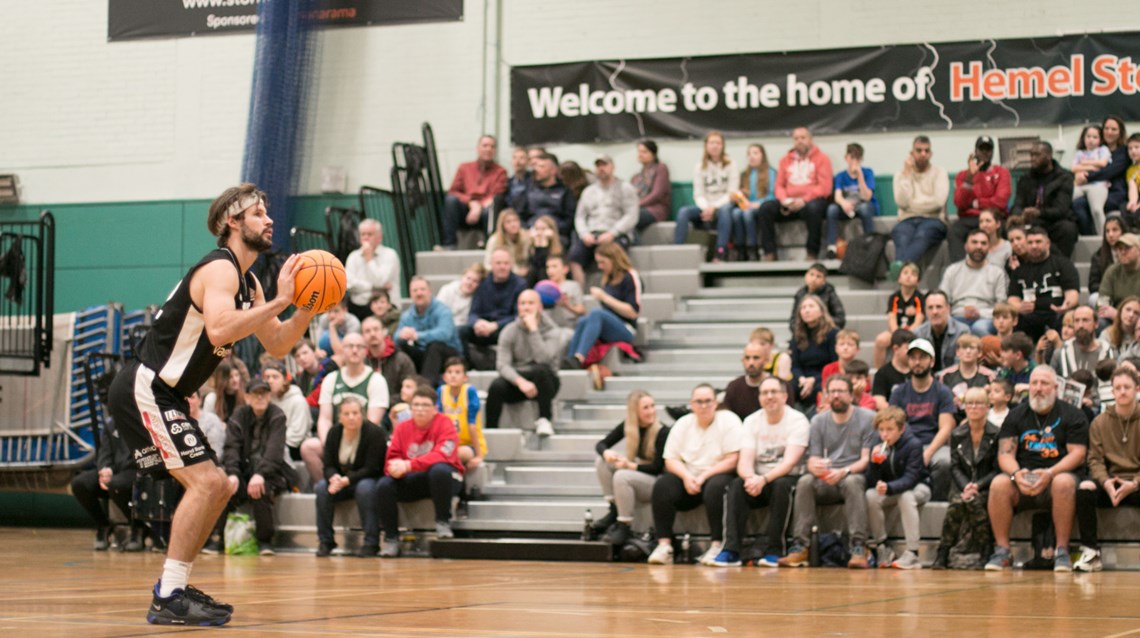 Zaire Taylor enjoyed a well rounded stat line for Worthing, the veteran closed on 14 points to go with seven rebounds, nine assists and just a single turnover.
That left fellow guard Jarred Dixon to top-score, he had 23 points as Tom Ward added 14 more.
Taylor Johnson played the full 40 for Hemel, but his 34 point, four rebound, nine assist effort would be in vain as team mate Greg Poleon added a 23 point, 14 rebound double-double.
Sam Newman was the only other player who made it to double digits for Storm, he had 11 as he also passed the 1,000 point mark in D1M.
Elsewhere this weekend
The weekend began with Nottingham Hoods (13-5) seeing off London Lions II (9-10) 107-97.
Midway through the fourth this one was heading for blowout territory as the hosts led by 25 before a late flurry brought the Lions back within 10.
Joshua Guddemi led the way for the Hoods with a 23-point, 10-rebound double-double as Elijah Maynard (35pts) and Bradley Kaboza (28pts) both shone in defeat.
Bradford Dragons (8-11) rode a solid Ricky Fetske outing to beat Oaklands Wolves (2-16) 90-82.
The Dragons' forward was in fine form to notch a 26-point, 12-rebound, four-block effort that made a big difference in a tight game.
Team Solent Kestrels (17-2) continued their likely march to another league title as they dismissed Leicester Warriors (2-17) 97-65, thanks in part to a 27-5 third quarter and 19 points from Luke Busumbru.
Thames Valley Cavaliers (14-4) kicked off their double-header weekend with a dominant 101-64 win over Team Newcastle University (10-8), with Hakeem Sylla's highly efficient 24-point (11-14 FG) , 15-rebound double-double a clear highlight.
Derby Trailblazers (12-7) made short work of local rivals Loughborough Riders (5-14) as they came out on top 107-61.
With more than enough offence to go round, Derby pushed six players past the 10-point mark, led by Blake Bowman (20pts, 8reb).
It wasn't all good news this weekend for the Trailblazers as they lost 98-83 yesterday against Thames Valley.
Sylla was once again in inspired form to add another 21 points and 17 rebounds to his weekend's work, though Jakobi Bonner's 30 points stole the show in this one.
Reading Rockets (10-9) and Essex Rebels (2-117) closed the day with one of the ties of the weekend, with the hosts delighting the home crowd as they snuck an 89-86 win.
Recently un-retired fan favourite Danny Carter was the hero in this one, dropping a tough basket with just nine seconds remaining to put the Rockets up by three, a position they'd hold on to once Tyreese Hudson's buzzer beating three couldn't find the net.
Tyler Cartaino did the leg work around Carter's headline play, the American had 32 points (13-15 FG) and six rebounds.
This weekend's results:
Saturday 19 February
3pm - Nottingham Hoods 107-97 London Lions II - LIVE STATS
3pm - Oaklands Wolves 82-90 Bradford Dragons - LIVE STATS
5pm - Leicester Warriors 65-97 Team Solent Kestrels - LIVE STATS
6:30pm - Thames Valley Cavaliers 101-64 Team Newcastle University - LIVE STATS
7pm - Derby Trailblazers 107-61 Loughborough Riders - LIVE STATS
7:30pm - Worthing Thunder 82-76 Hemel Storm - LIVE STATS
Sunday 20 February
4:15pm - Derby Trailblazers 83-98 Thames Valley Cavaliers - LIVE STATS/LIVE STREAM
5pm - Reading Rockets 89-86 Essex Rebels - LIVE STATS/LIVE STREAM
.
Main image credit - Luke Simcock