Rebound's Chris Hughes picks his NBL Team
 of the Week and highlights 
five 
honourable mentions 
as well as two impressive 
team performances.  
Chris, a content producer, YouTube host and commentator, casts his eye over the 10 contests involving NBL Division One teams, including a double-header road trip for leaders Solent, to select his Player of the Week and four other standouts to make up his Team of the Week as well.
Have your say on this week's choices and give a shout-out to the players you think deserve one using the hashtag #NBL2122. Don't forget to tag us!    
Twitter:  @NBLengland / @Rebound__  
Facebook:  @NBLengland  / @ReboundNBL  
Instagram:  @nblengland / @reboundnbl  
How it works 
Chris will pick a Player of the Week and four other selections to round out his Team of the Week, paying attention to the following criteria:
Efficiency 

 

Stats 

 

Team and opposition strength 

 

Periods of influence in the game 

Being on a winning team (exceptional performances from players on losing teams will be considered for TOTW)
Other players will also receive a shout out as honourable mentions at the bottom of the piece.
The Rebound team of the week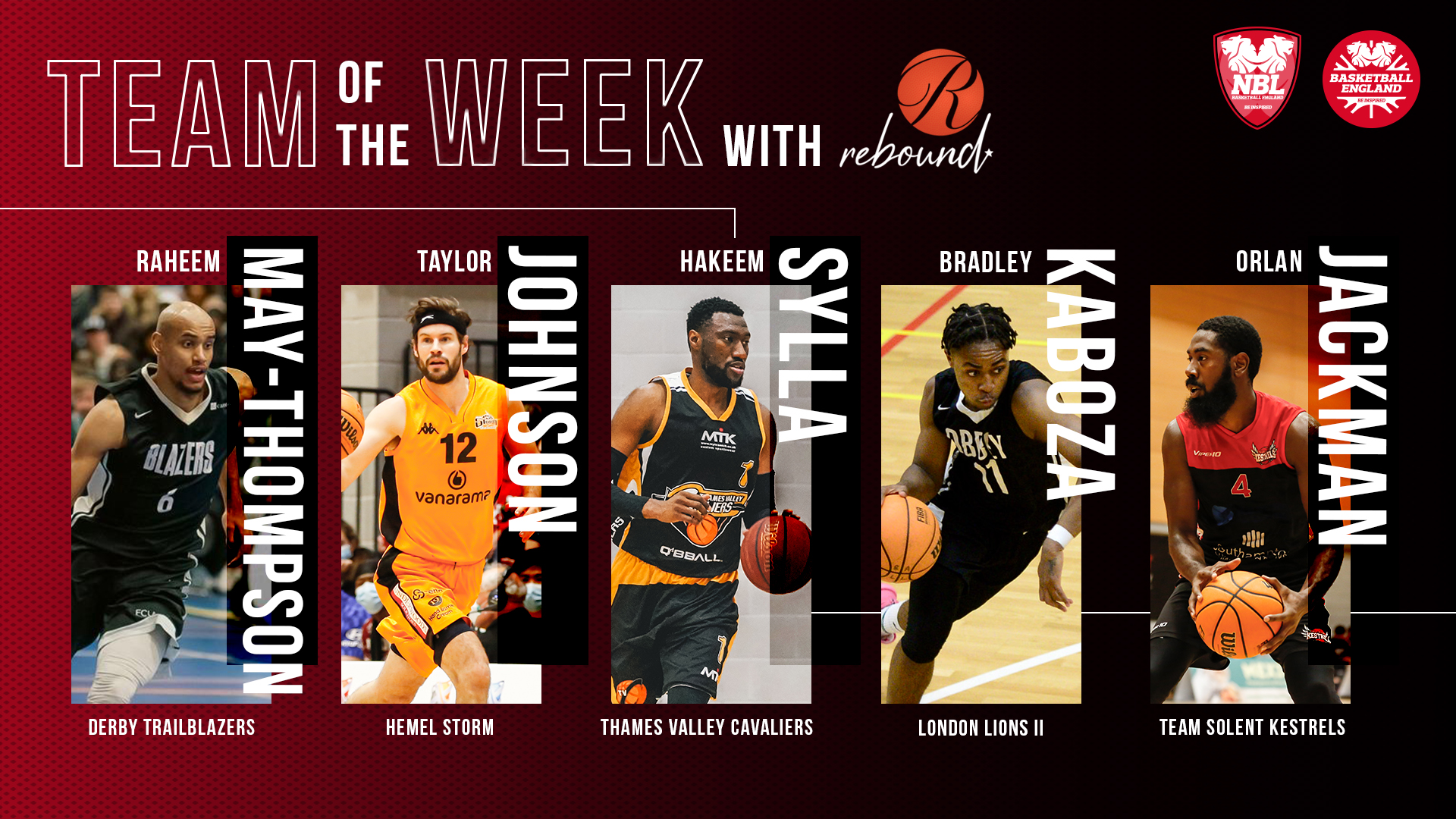 PLAYER OF THE WEEK
Raheem May-Thompson – Derby Trailblazers, forward

 
14PTS, 11REB, 6AST, 2STL, 6BLK, 33EFF
Raheem May-Thompson's defensive work in Derby Trailblazers' 36-11 first quarter was a key reason why Derby never conceded the lead during a 14-point win in what was a two-way 'Player Of The Week' performance. 
May-Thompson recorded three blocks in the first quarter - and six in total - along with important defensive boards to deny Newcastle's home court advantage and ensure they were playing catch-up for the rest of the game.  
The former BBL star also proved his worth on the offensive end with a six dimes and lights-out shooting from range, only missing one of five three-point attempts. 
Taylor Johnson – Hemel Storm, Guard

 
25PTS, 8REB, 6AST, 6STL, 36EFF

 
Taylor Johnson flirted with a quadruple-double with a padded stat line in the 28-point win at Leicester.  
The former Dartmouth Ivy league star is definitely at home at Hemel as he revisited his first NBL club in a statement performance. 
Johnson once again delivered a highly efficient game with his ninth NBL1 30+ efficiency rating performance of the season. 
Hakeem Sylla – Thames Valley Cavaliers, Forward

 
26PTS, 17REB (9 OREB), 4STL, 2BLK, 35EFF @ ESS 
26PTS, 12REB, 1AST, 1STL, 33EFF VS ESS 
It is probably safe to say that Essex are grateful that they do not have to face Hakeen Sylla or the Cavaliers again in regular season as the international star posted two highly efficient 26-point double-doubles against them in the same weekend. 
Sylla was key in Saturday's two-point win as his offensive boards contributed to the Cavaliers netting two more second-chance points in a game where both he and the Cavs dominated in the paint. 
Bradley

Kaboza

– London Lions II, Guard

 
19PTS, 10REB, 4AST, 2STL, +/-13, 23EFF

 
The stand-in captain really influenced the game against second seeds Worthing, producing a 19-point double-double to lead his team to an unexpected five-point win.  
The performance adds weights to claims he is one of the finest young talents in the league this season. 
Orlan Jackman – Team Solent Kestrels, Forward

 
22:36 21PTS (7-11 FGM), 10REB, 1AST, 27EFF

 
Orlan Jackman put on a shooting clinic off the bench in a 22-minute cameo at Loughborough as he shot percentages of 57/75/80 while at the same time being the most fouled man on the court. 
Jackman still had fuel in the tank to help Solent get a second dub in a Midlands double-header road trip at Nottingham the following day. 
Team Basketball
SHORT-HANDED LIONS ROAR TO VICTORY

 
COVID-19 affected the Lions' preparation with some key players having to sit out against Worthing but it did not negatively affect the result with young pride getting the dub versus the second seeds. 
The starting five evenly shared the scoring with all but one getting double figures with a team shooting not far off a 50 FG%. 
Honourable mention to Brandon Tchouya, who was a big reason the Lions dominated in the paint. 
SOLENT HAND OUT defeats NOT VALENTINE'S day CARDS
Following wins over Loughborough and Nottingham, it's advantage Solent for silverware. Solent lead all but one chasing team in head-to-heads and likely have at least three games to lose to prevent them being crowned champions. 
This weekend posed a tricky challenge, but once again Solent rose to it and handed out L's and not Valentine's cards. 
It was a team performance as Solent averaged a 50 FG% as a team over the double header. Honourable mentions to both Cole Gentry and Luke Busumbru for efficient games. 
Honourable mentions
ZACH GACHETTE (BRA) – 38P/7R/4A/39EFF V TNU   
RYAN BRUGGEMAN (DER) – 22P/4R/10A/3S/28EFF @ TNU 
MORAKINYO WILLIAMS (NTH) – 30P/7R/1B/27EFF V TSK & 8P/13R/1A/10EFF @OAK 
BRANDON TCHOUYA (LON) – 19P/8R/2A/23EFF 
DAVID MOYA (TNU) – 24P/11R/11A/34EFF @BRA & 11P/8R/13A/5S/1B/20EFF V DER 
.