With just a few weeks to go before the end of the regular season, some players are turning up the heat and making life hard for Rebound's Chris Hughes.
Chris, a content producer, YouTube host and commentator, was once again on hand to look over the best that D1M had to offer to select his Player of the Week and four other standouts to make up his Team of the Week as well.
Have your say on this week's choices and give a shout-out to the players you think deserve one using the hashtag #NBL2122 and #ReboundTOTW. Don't forget to tag us!    
Twitter:  @NBLengland / @Rebound__  
Facebook:  @NBLengland  / @ReboundNBL  
Instagram:  @nblengland / @reboundnbl  
How it works 
Chris will pick a Player of the Week and four other selections to round out his Team of the Week, paying attention to the following criteria:
Efficiency 

 

Stats 

 

Team and opposition strength 

 

Periods of influence in the game 

Being on a winning team (exceptional performances from players on losing teams will be considered for TOTW)
Other players will also receive a shout out as honourable mentions at the bottom of the piece.
The Rebound team of the week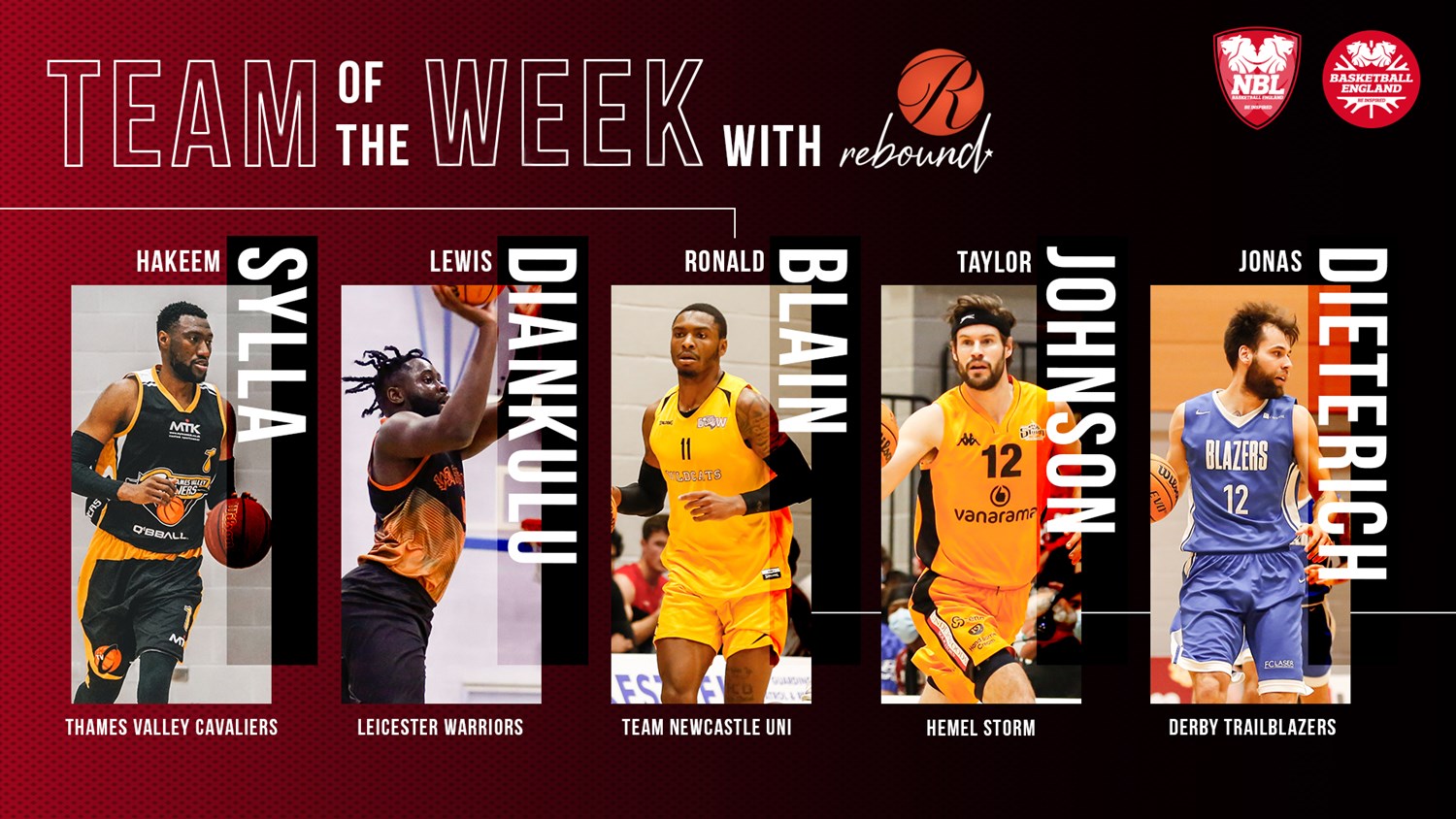 PLAYER OF THE WEEK
Hakeem Sylla - Thames Valley Cavaliers, forward
30pts, 12reb, 3stl, 40eff
Hakeem Sylla powered his team to a vital road-trip win, beating Worthing 94-85 to strengthen Thames Valley's grip on second place against a top-four calibre side.
In the fourth quarter, Sylla's defensive effort and fast hands led to multiple turnovers. Add in his scoring possessions and the fact his 11 points in the frame, including an and-one play, and you can begin to see why Sylla is once again Rebound's Player of the Week.
Lewis Diankulu – Leicester Warriors, forward
35PTS, 11REB, 9AST, 3BLK, 34EFF V NOT
24PTS, 10REB, 4AST, 1STL, 1BLK, 34EFF @NOT
Lewis Diankulu was consistently efficient this weekend in a split double-header against a talented Nottingham side, not just once but twice.
Diankulu shot well throughout, leading his team in scoring in both games and coming close to being the top overall scorer in both games to boot.
The Leicester star also limited Nottingham to 11 second-chance points over the weekend. A stat that shows the forward's effort, especially considering his individual match up as part of a top team performance.
Ronald Blain - Team Newcastle University, forward
26PTS, 8REB, 8AST, 1BLK, 35EFF V ESS
15PTS, 13REB, 6AST (0 TO), 1STL, 29EFF @LOU
Ronald Blain was just doing Ronald Blain stuff this weekend, getting the job done across a double-header as Newcastle picked up wins against Essex and Loughborough.
The former Hawaii Pacific forward demonstrated his playmaking skills, invoking his inner David Moya with 14 dimes in total, whilst only coughing up a measly three turnovers.
Taylor Johnson - Hemel Storm, guard
21pts, 10reb, 6ast, 7stl 31eff
Taylor Johnson continues to impress, putting together a solid two-way stat line as Hemel downed London Lions II 93-76.
Against the young Lions, Johnson handed out plenty of dimes and nabbed his fair share of steals. The American also demonstrated high-IQ play and good handles to limit his own turnovers and foul count, maximising his influence of the game. 
Jonas Dieterich - Derby Trailblazers, forward
17pts, 8reb, 4ast, 1stl, 24eff
Jonas Dieterich was impressive in this weekend's NBL Live game, which went all the way to the last possession before Derby won 88-87.
The former Loughborough man did a bit of everything as his rebounding and playmaking skills combined with his experience in big games to help get his team across the line
The versatile forward's eight points, including a couple of triples, influenced the third quarter as part of a strong team performance.
Team Basketball
Thames Valley strike key blow in the race for second
When looking back at the regular season, coach Banks may well single out the wins at Solent and Worthing as vital results in securing their final league position.
That could well be second spot after this weekend, heading up the chasing pack when realistically third through seventh have little to split them this year.
The elite talent at TVC's disposal, especially from Sylla, AJ Roberts and Jakobi Bonner, were on song this weekend. In the clutch moments in the fourth quarter, the trio were really went to work in Worthing's half court to finish numerous attacking plays.
Derby continue to charge up the standings after another W
This close to the regular-season finish line, big games can influence the table in a big way.
The majority of the top eight can now be happy that their playoff spot is all but secured, with nothing left to fight for but seedings. Derby will be the happiest right now, as this weekend's dub puts them up to third.
It was truly a team performance, with the extra effort in the second and third quarter creating the advantage needed to come out on top. The rest of the game was predictably close, making DTB's play either side of the main change the catalyst for what could be a very important win.
Honourable mentions
Howard Crawford (WOR) – 22P/12R/9A/2B/37EFF
David Moya (NEW) – 17P/7R/12A/2S/30EFF V ESS & 23P/2R/14 EFF & LOU
Jack Cork (NEW) – 22P/10R/3A/2B/31EFF V ESS & 18P/9R/2AA/1S/24EFF @ LOU
Greg Poleon (HEM) – (20:27) 24P/9R/28EFF V LON
Lee Hodges (ESS) - 18P (8-9FGM)/10R/4A/3B/33EFF
.