The Senior National Cup finals capped off what had already been a brilliant weekend, with both NBL and WNBL finals playing out across the afternoon of 23 January.
We've got a recap from both of Sunday's finals below, including reactions and a gallery of images at the bottom of the page.
For a recap of Saturday's four junior finals, click here.
1pm - WNBL National Cup Final
STOCKPORT LAPWINGS 81-77 TEAM SOLENT KESTRELS (AFTER 1OT)
Division Two side Stockport Lapwings wrote the perfect final chapter to their fairy tale WNBL National Cup story, claiming the final 81-77 against Team Solent Kestrels.
Making Solent their fourth D1 scalp of the campaign, Stockport refused to give up despite being down by as many as 11 points midway through the fourth quarter.
Outscoring the Kestrels 14-3 over the final 4:37, including an 11-0 run to close regulation, the North West outfit forced an extra period that both teams led in before moving ahead for good to become just the second side ever to lift this trophy from outside the top flight.
Jade Butters played an incredible game to claim MVP honours, dragging the Lapwings forward with key baskets and huge stops whenever her side needed them.
The Stockport guard closed with a game-high 26 points, eight rebounds, seven assists and three steals as Lauren Quigley (11pts, 2reb) and Rehana Khalil (9pts, 7reb) both played well in support.
Faye Endean was the clear standout for the Kestrels on an afternoon where they were left wondering what might have been. The young guard had 22 points, three rebounds, three assists and three steals.
Jade Butters on how it feels to win in OT:
"I feel really lucky, a lot of luck on our side but a lot of hard work. There's a lot of experience in that team that we've got.
"A lot of us have been playing for a very long time in different teams. It's good that we've come together in Stockport and created this in Division Two and we've managed to beat three D1 teams on the way to get to this final, and to win here."
On coming back from 10 down with two minutes to go:
"Emma Macready, our captain, put the fire in our bellies and said that we can still do this.
"When you were younger you used to see two minutes on the clock and thought 'the game's over'. As you get older, you start to know that the time is so precious and you can bring it back."
.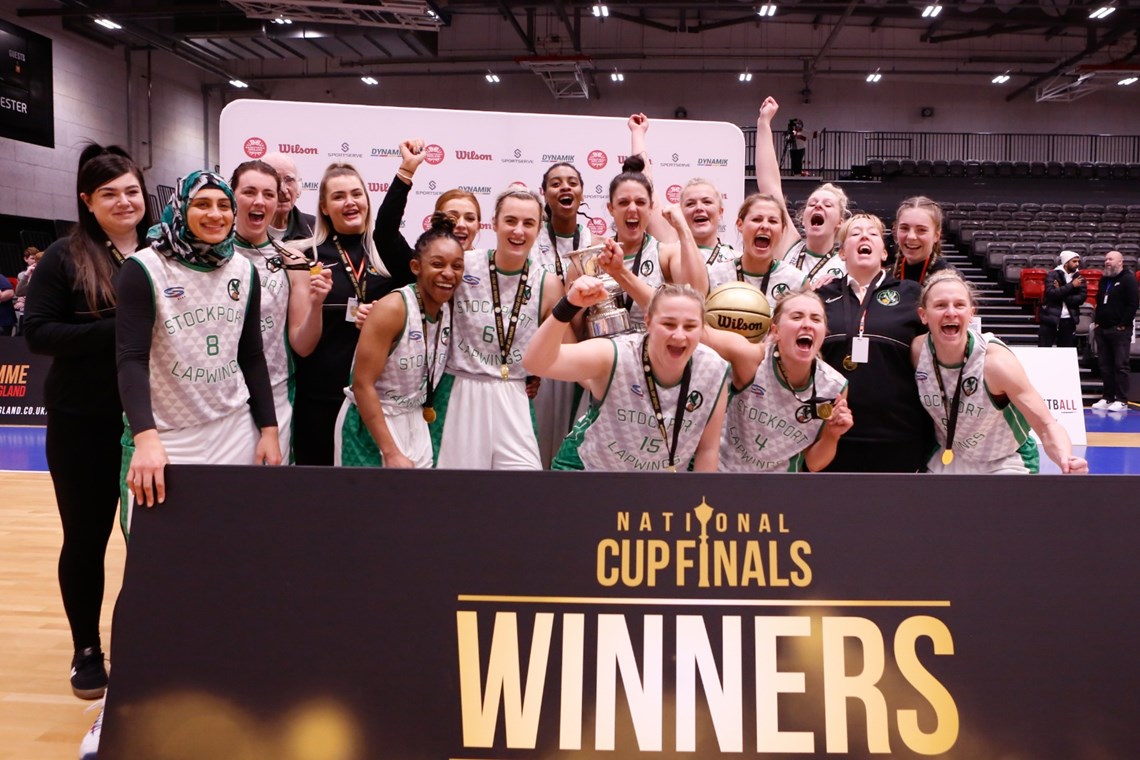 3:50pm - NBL National Cup Final
TEAM NEWCASTLE UNIVERSITY 66-109 TEAM SOLENT KESTRELS
Solent won their second NBL National Cup in a row as they led from tip to buzzer to beat Team Newcastle University 109-66.
It was a dominant performance from the defending champs as they shot 53% from the floor and pushed five players into double digits on the score board.
The game's MVP award had a number of candidates but was eventually given to Orlan Jackman. The former BBL man scored a team-high 22 points from an efficient 9-10 shooting performance to go with eight rebounds.
In typical fashion, the Kestrels came out firing and an early onslaught saw the South coast side leading 29-15 after the first quarter.
That trend would only continue as Solent led by 19 at the half and 30 after three quarters as things went from bad to worse for Newcastle.
An eventual 24 points from Ronald Blain provided a measure of positivity for coach Elderkin's side, but his efforts wouldn't be able to make a dent in the Solent advantage.
Jackman was supported by Elliot Dadds (16pts), Travis Charles (15pts) and Luke Busumbru (14pts) as all but one Solent player made it into the points column.
Orlan Jackman on five players scoring double digits:
"That's just Solent basketball. We share the sugar, everyone gets to shoot the ball and whoever's hot gets a few more shots.
"I started off the game a bit hot and had a few mismatches, which we exposed and was part of the game plan. The shots continued to drop, so feed the hot hand"
On this being Solent's first piece of silverware this season:
"It's bittersweet. It shouldn't be the first but Derby beat us in the semi-final [of the L Lynch Trophy]. But it shows that we're starting to click and once we get firing on all cylinders, it's going to be a problem for everybody [in the league].
Solent coach Matt Guymon on the Kestrels' relentless pressure and play:
"That's what we aspire to be and I don't think so far this season we've necessarily reached that but today we definitely had the energy, the focus, the passion we've been looking for.
"It was a complete performance today."
.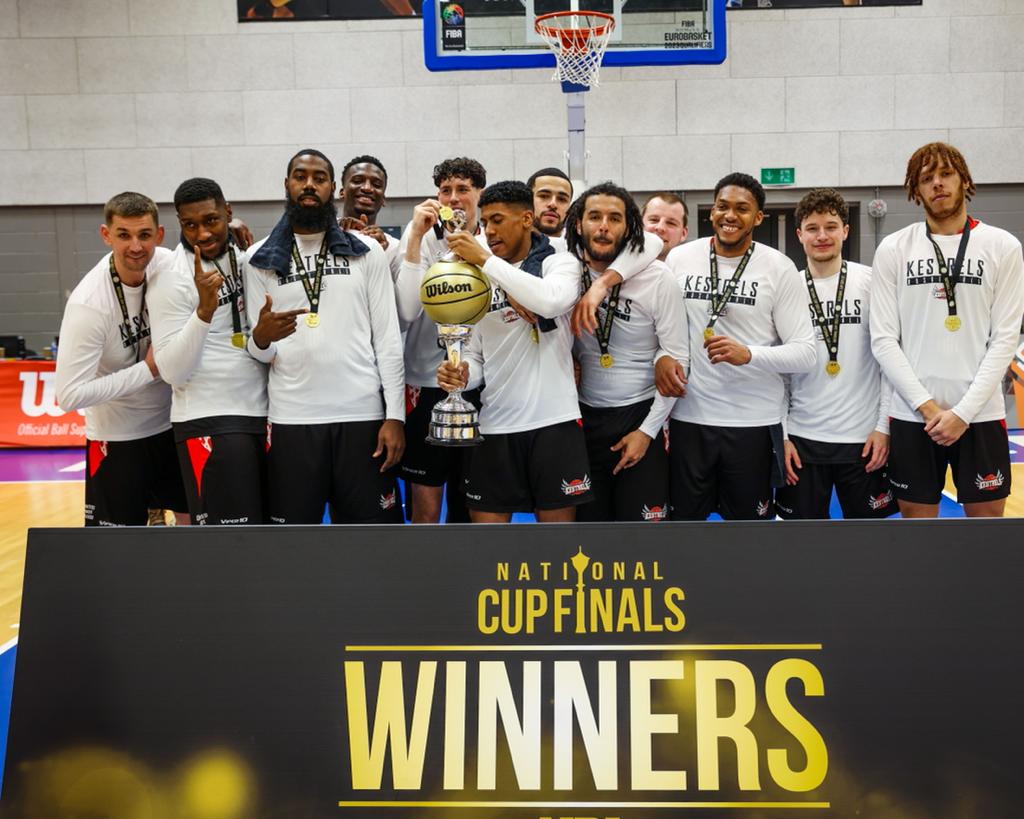 For a selection of images from the day's games, check out the gallery below.