CoLA Southwark Pride claimed the D1W regular season title this weekend after a pair of wins.
It's the London programme's first top flight crown since 2015/16 and a worthy reward for what has been an impressive 2021/22 campaign.
Sunday's NBL Live clash between Reading and Ipswich went the way of the Suffolk side, whilst there were important wins elsewhere for the likes of Solent, Cardiff and Loughborough.
There's a recap of all the action below, and each result is also clickable if you wish to view the live stats.
CoLA claimed the D1W title yesterday after being rivals Thames Valley 63-47.
Pride coupled the win with a victory on Saturday against Bristol to take them clear of the chasing pack, sealing top spot and the #1 seed for the playoffs with two games still to go.
Aside from a single loss on the road to Ipswich last month, coach Gibbons' side have been faultless and look a strong favourite to add playoff success to their regular season title.
Yesterday's win came courtesy of a 17 point, 16 rebound double-double from Player of the Year contender Isi Ozzy-Momodu. Emily O'Connell (16pts, 5reb) and Molly Lavin (10pts, 11reb) both played well in support.
With the CoLA defence once again on form, Thames Valley were held to single digit scoring in both the first and third quarters, creating a deficit they'd never erase.
Kat Goldsby (11pts, 3reb, 3ast) was the only player into double-digits for the hosts, whilst Ezekiela Lisk (7pts, 11reb) led her team on the glass.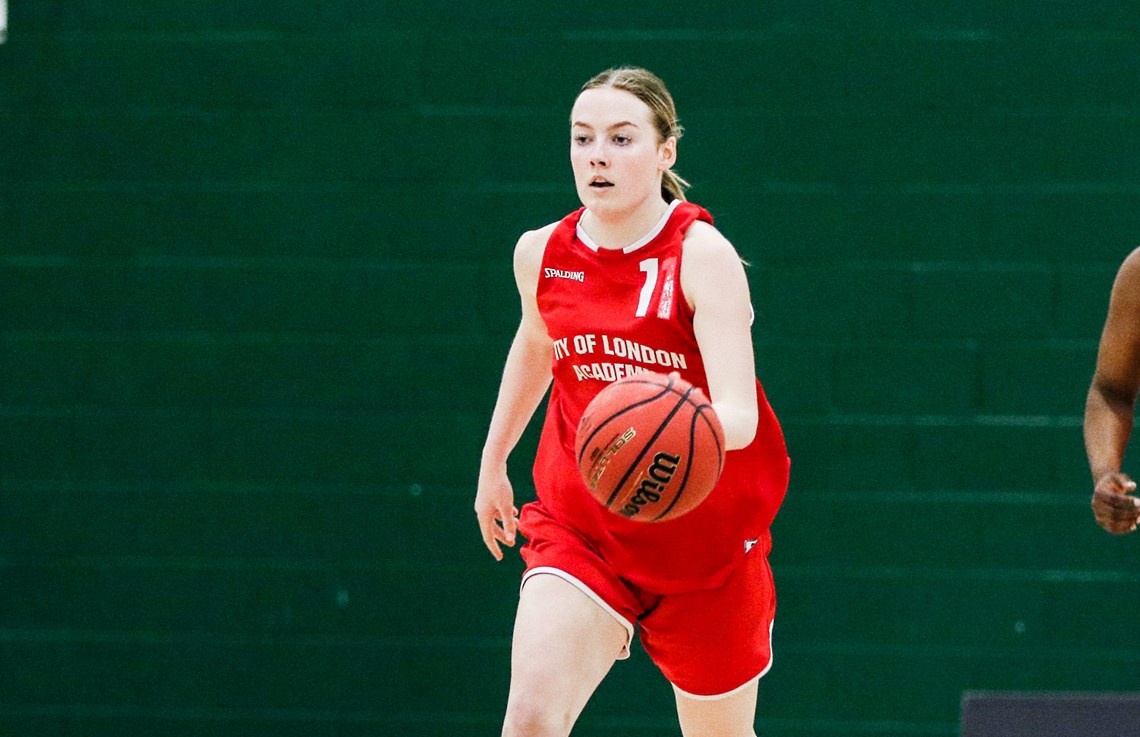 Elsewhere this weekend
CoLA began their weekend with a 60-45 road win against Bristol Flyers (9-12), with Ozzy-Momodu recording yet another huge double-double. This time she had 17 points and 15 boards, with Molly Lavin adding 16 points for good measure.
Reading Rockets (4-15) must win at least one of their remaining three games to avoid potential relegation. They started their weekend with an 84-61 home loss against Cardiff Met Archers II (10-9), with Archers' Carys Roy (28pts, 19reb) and Amber Deane (22pts, 7reb, 9ast, 12stl) cancelling out Reading's Candela Hermida Nunez (28pts, 6reb, 6ast, 5stl).
London Lions II (5-15) couldn't take advantage of Reading's defeat against Cardiff as they also lost, going down 74-68 away to Anglia Ruskin University (12-6). London's Fatmata Janneh (38pts) and ARU's Katrin Hulme (29pts) both shone, but it was Ruskin who'd end the game the happier of the two.
Loughborough Riders (14-4) are now looking like favourites to clinch the #2 seed as they beat Nottingham Trent University (1-19) 75-56, with Katie Januszewska top scoring on 22 for the Riders.
Thames Valley Cavaliers (13-6) suffered a setback in their quest for second spot, coming unstuck against Team Solent Kestrels (10-8) 78-66.
Krisztina Velkey-Cleeve's 16 point, 11 rebound double-double to go with five steals was the pick of the bunch for the hosts as TVC's Ezekiela Lisk (11pts, 18reb) added a double-double of her own.
Worcester Wolves' (5-14) two loss weekend meant everything remained the same at the bottom, beginning with Saturday's 104-62 defeat by Ipswich (13-6). 
Cameron Taylor-Willis (23pts, 9reb, 5ast) did the damage for the visitors, who remain on course for a top four spot.
That result was followed 24 hours later by another defeat for the Wolves, this time to Cardiff. The 84-69 score line was propped up by another strong outing by American Amber Deane, she had 28 points.
Anglia Ruskin won two from two this weekend, beating Nottingham 59-45 yesterday. Holding the hosts to just 16 second half point, ARU enjoyed 17 points and 14 rebounds from Kat Hulme.
The NBL Live cameras were able to catch Reading's battle against Ipswich, with coach Drane's side coming out on top 86-60.
Ava Battese came to the fore this time for Ipswich, she had 26 points to go with six boards, as Taylor-Willis just missed a triple-double (9pts, 13reb, 10ast).
This weekend's results:
Saturday 12 March
2:45pm - Reading Rockets 61-84 Cardiff Met Archers II - LIVE STATS
3:30pm - Team Solent Kestrels 78-66 Thames Valley Cavaliers - LIVE STATS
4pm - Anglia Ruskin University 74-68 London Lions II
5pm - Bristol Flyers 45-60 CoLA Southwark Pride - LIVE STATS
7pm - Nottingham Trent University 56-75 Loughborough Riders
7:30pm - Worcester Wolves 62-104 Ipswich - LIVE STATS
Sunday 13 March
12pm - Nottingham Trent University 45-59 Anglia Ruskin University - LIVE STATS
2:30pm - Reading Rockets 60-86 Ipswich - LIVE STATS/LIVE STREAM
3pm - Thames Valley Cavaliers 47-63 CoLA Southwark Pride - LIVE STATS/LIVE STREAM
3:15pm - Cardiff Met Archers II 84-69 Worcester Wolves
.