It's time for another instalment of NBL and WNBL end-of-season awards.
Following yesterday's NBL Division Three selections, it's WNBL Division Two's winners who are in the spotlight today.
Based on performances across the regular season, we'll also announce NBL Division Two's picks tomorrow, with WNBL Division One following on Thursday.
The week will conclude with the awards for NBL Division One ahead of this weekend's Senior Playoff Finals at Manchester's National Basketball Performance Centre.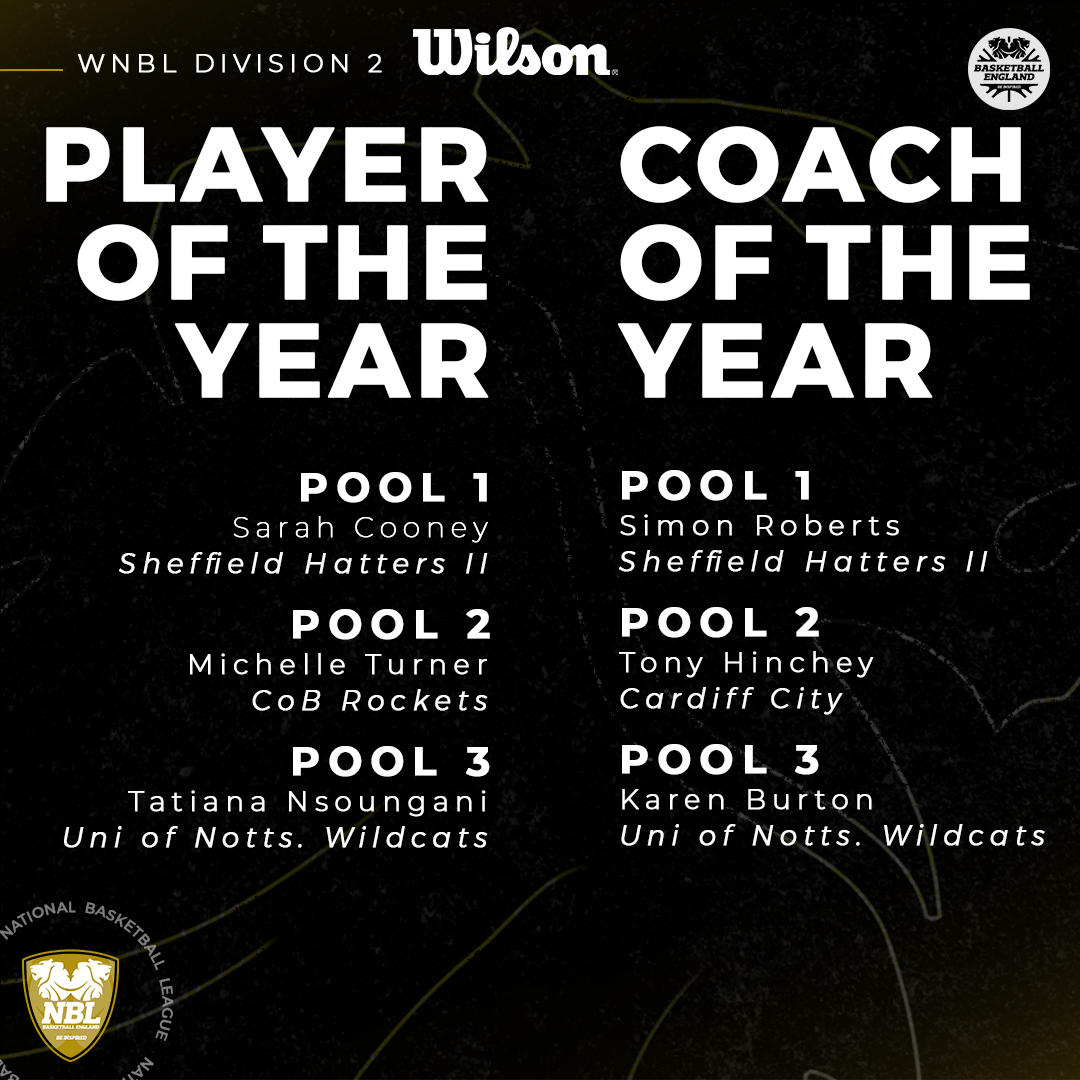 Player of the Year
Across a career littered with team and personal accolades, there's another award for Sarah Cooney as the Sheffield Hatters II standout has been chosen as Pool 1's Player of the Year.
Cooney and co. went a perfect 12-0 across the regular season, making her a logical choice by coaches across the division.
City of Birmingham's Michelle Turner was in a close run contest with team mate Fabienne Zere, but the talented guard took the honour in the end as Pool 2's choice.
With the Rockets going 11-1 on the season, it was no surprise to see Turner snag the award.
Finally, Pool 3's POTY nod went to University of Nottingham Wildcats' Tatiana Nsoungani.
Nottingham went 9-7 a year ago in a competitive D2W North conference but exceeded that mark this time, going 7-2 to claim Pool 3.
Coach of the Year
There's a pair of double ups amongst the coaching winners for this year, with both Sheffield and Nottingham providing dual selections.
Simon Roberts has been recognised alongside Sarah Cooney for his part in Sheffield Hatters II's success in Pool 1, whilst University of Nottingham Wildcats coach Karen Burton has added further recognition to her already storied reputation as she claims COTY honours for Pool 3.
That leaves Cardiff City's Tony Hinchey to round out this year's winners, getting the best out of his roster in South Wales to take Cardiff to a 7-5 record in 2022/23.
Process
As with the awards from previous seasons, each D2W head coach was invited to provide their top three players and top three coaches from their own pool across the regular season, without selecting themselves or their own players.
A first place vote was worth three points, a second place vote was worth two points, and a third place vote was worth one point, and the recipient with the highest number of points was the winner.
In the event of a tie, the player/coach with the most first place votes was deemed the winner.
Senior Playoff Finals
Today's awards continue the week of NBL and WNBL end of season honours in the lead up to this weekend's senior playoff finals at the National Basketball Performance Centre in Manchester.
To purchase tickets for the event, please click the button below. Coverage of the event will be available through our NBL social channels, as will the remaining awards from the rest of this week.
.

Join Basketball England for free. Whether you have a Supporter Account as a fan, follower, enthusiast or advocate, or a Full Account and have paid for a licence to play, coach or officiate in competition, you can be part of the basketball family.
Basketball has the power to change lives. Our #GameTime campaign aims to raise awareness of the positive impact that basketball can have on people no matter who they are or where they are from.
.