The EABL and WEABL might have missed a week for half term, but some players haven't lost a step.
Three games played out in the EABL, with another pair in the WEABL, after both leagues drew a blank for half term a week ago.
The layoff hasn't slowed down some of the league's finest however, with another sizable batch of worthy performances to sift through.
Have your say on this week's picks and give a shout-out to the players you think deserve one using the links below.
X:  @Academybballeng
Facebook:  @Academybballengland
Instagram:  @Academybballengland
How it works 
Player of the Week will be selected by paying attention to the following criteria:
Efficiency  
Stats  
Team and opposition strength  
Periods of influence in the game 
Being on a winning team (exceptional performances from players on losing teams will be considered)
Other players will also receive a shout out as honourable mentions as well.
EABL 
Despite only being three weeks into the new season, we already have a repeat winner in the shape of Myerscough's Danieil Nwauzu.
Much like his performances in week two against Derby, the talented guard was once again on point to help his team get a valuable win, this time against SGS College.
Coming through 88-73, Nwauzu once again did his bit, closing with a game-high 22 points on 10/19 shooting, adding 13 boards for the double-double.
That mix of efficiency and scoring also meant the 'Sco man finished the week with the highest efficiency across the EABL with a finally tally of 28.
Following the win, Nwauzu said: "One through twelve, everyone came into the game and contributed to our win, which made the game more exciting and enjoyable to play in, and to watch.
"The whole team passed the ball well, especially on the fast break where a large number of our points came from."
Head coach Troy Culley added: "I'm impressed to see Daniel secure another Player of the Week award.
"His dedication this year is evident, his performances clearly show the effort he's investing, and the example he wants to set for his teammates."
Honourable mentions
Darstin Onye (MAN) - 20P/4R/1A/21EFF
Will Taylor (ITC) - 24P/15R/1A/3S/22EFF
Shaq Furlonge (MAN) - 13P/12R/2A/5S/21EFF
WEABL
For the first time this season, the WEABL award strays for Copleston and instead heads up North to a worthy winner from Charnwood.
In their season-opening win on the road in Manchester, Erin Powell did it all for the Riders, falling just short of a triple-double in the 83-62 win.
With 19 points, 16 rebounds and eight assists, the versatile wing helped her team in a number of ways and her +/- of 18 and two steals showed her importance at both ends of the court.
Her standout performance resulted in a final efficiency rating of 36, some way ahead of her peers across the league for week 3.
After the game, Powell said: "It's always nice to receive recognition, and I want to share this award with my whole team.
"It felt great to get the year started with a road win, now we'll continue rolling into the rest of the season!"
Charnwood head coach Nick Moodey added: "It was a great team performance to get the win against a talented Manchester team.
"It was clear to see the work that Erin has been putting in over the off-season and it is great to see her get this recognition."
Honourable mentions
Emily Taylor (CHA) - 21P/9R/2S/24EFF
Liv Forster (COP) - 27P/3R/2A/3S/24EFF
Deanna Carrington (COP) - 15P/9R/4S/23EFF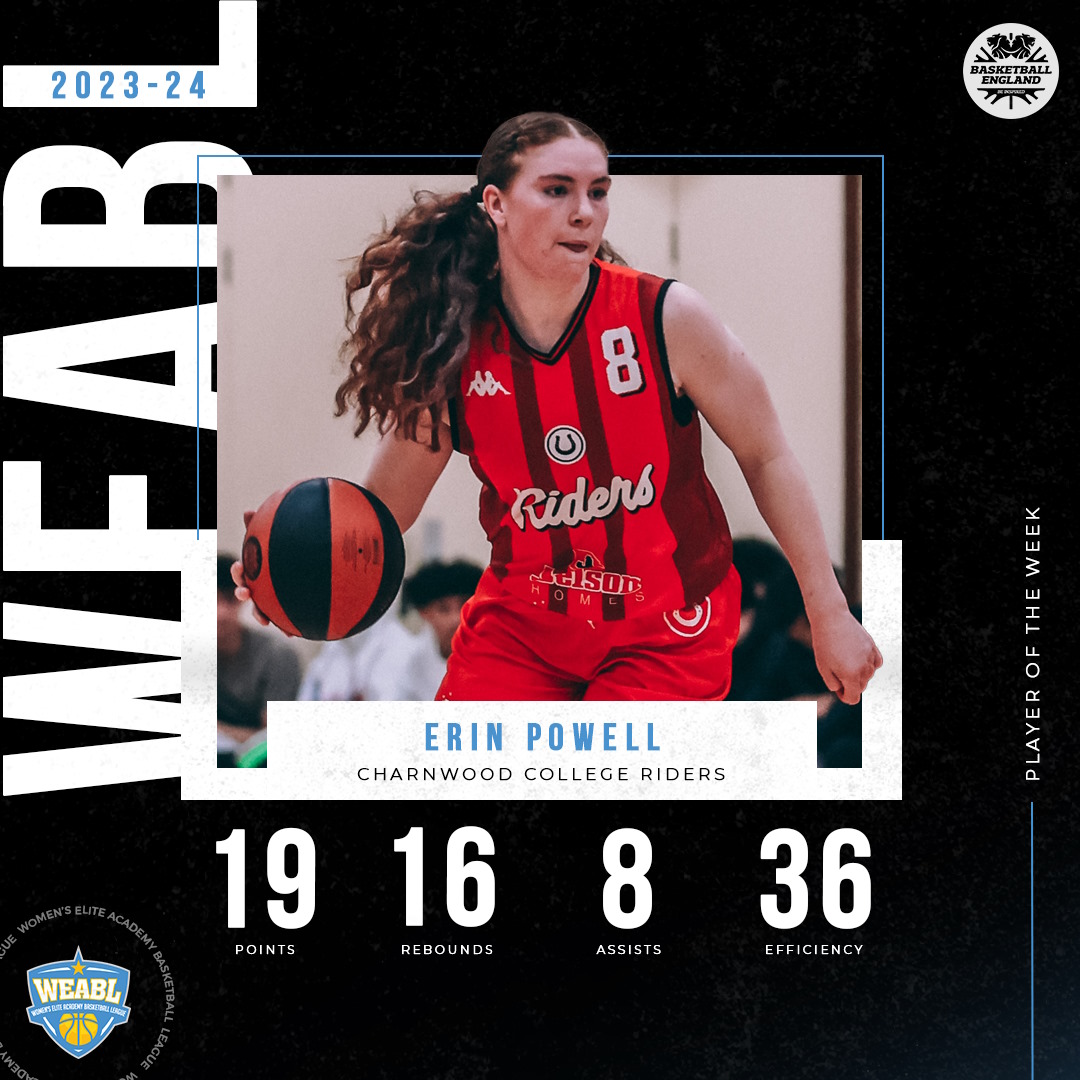 .
.
.