The EABL and WEABL are back into the groove once again.
Eight games played out across the land in week two, with six in the EABL and two in the WEABL, with all games split evenly between the North and South.
After the opening weekend, it's clear some players are already looking to put up big numbers this year, as they continue their basketball journeys. 
Have your say on this week's picks and give a shout-out to the players you think deserve one using the links below.
X:  @Academybballeng
Facebook:  @Academybballengland
Instagram:  @Academybballengland
How it works 
Player of the Week will be selected by paying attention to the following criteria:
Efficiency  
Stats  
Team and opposition strength  
Periods of influence in the game 
Being on a winning team (exceptional performances from players on losing teams will be considered)
Other players will also receive a shout out as honourable mentions as well.
EABL 
With six games to sift through, there was a lot of choice for Player of the Week consideration.
In a closely run race between five players, the pick was made to award Myerscough's Daniel Nwauzu with this week's accolade.
The talented guard played a major part in helping 'Sco pick up a key road win against Derby Trailblazers, with the North West programme coming through as 92-82 winners.
Heading into the 4th up 65-60, Myerscough were able to snuff out any prospect of a DTB comeback, as Nwauzu dropped 13 of his side's first 15 points in the frame. An 80-65 deficit with 5:21 remaining would then prove too much for the hosts to overcome.
Nwauzu would close with 30 points in 30:45 of action, adding seven boards. He also went a stunning 6/9 from downtown, including back-to-back-to-back triples in that dagger fourth quarter stretch.
Following the contest, Nwauzu said: "As a team, coming off of a loss last week, I feel like we came into this game with the right mindset to get a win.
"We did well to hit our shots and find easy baskets while also doing what we needed to defensively."
Head coach Troy Culley added: "Over the past month, Daniel has truly elevated his game on the court. His consistent performances in the NBL Division 2 and his pivotal role in our academy matchups really highlight the positive start he has had to this season.
"As his coach, I'm eager to see what happens next."
Honourable mentions
Joe Buchanan (MAN) - 28P/7R/4A/0TO/2S/1B/32EFF
Tyrese Lacey (MYE) - 21P/6R/10A/0TO/3S/29EFF
Matt Goodwin (MAN) - 29P/6R/6A/1S/25EFF
Elliot Lawrence (DTB) - 25P/9R/3A/1S/2B/24EFF
Ethan Downing (OAK) - 15P/8R/5A/5S/30EFF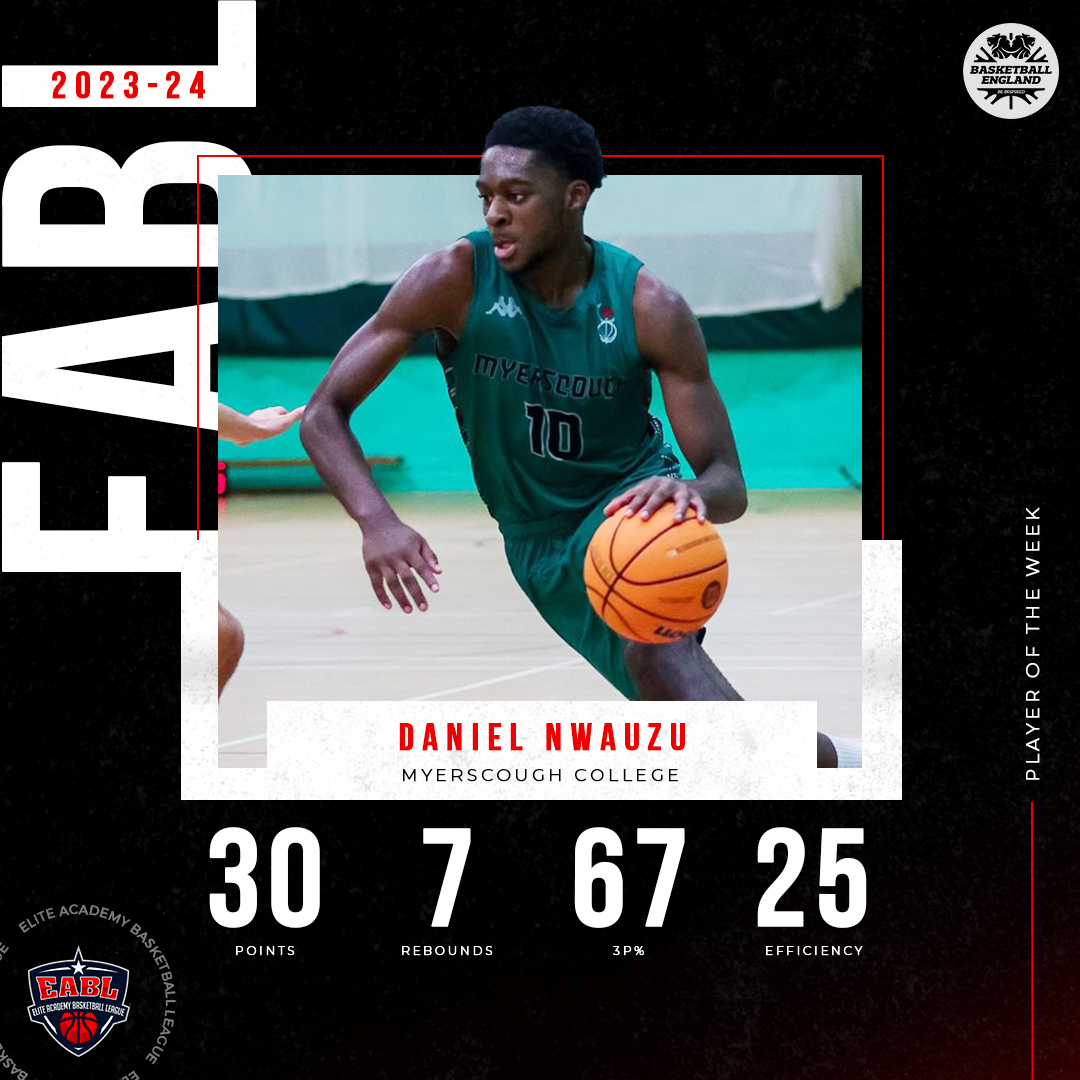 WEABL
The WEABL fixtures once again provided a smaller pool of potential selections.
As Copleston keep on rolling in the WEABL South, it's no surprise that his week's winner comes from their ranks once again to make it back-to-back weekly selections for the Suffolk programme. 
Liv Forster's efforts in the big 86-24 road win over Barking earned her the plaudits this week, following on from teammate Yazmin Edwards last time out.
Forster picked up six points in her side's 26-2 first quarter that set the tone for the contest, eventually closing with 18 total.
It was her additional contributions that got her the nod this week, chipping in seven assists, six steals and five rebounds as part of a game-long effort to bring the best out of those around her.
She was also careful with the ball when she had it, dishing those seven dimes against just two turnovers, as Copleston enjoyed a great day at the office.
After the game, Forster said: "It's always great to get a win on the road. The whole team deserves to share this award with me."
Copleston head coach Nick Drane added: "I thought Liv did a great job controlling the game and showed how she can influence the team in more ways that just scoring."
Honourable mentions
Yazmin Edwards (COP) - 20P/9R/3A/8S/18EFF
Christabel Osarobo (COP) - 12P/9R/1A/3S/16EFF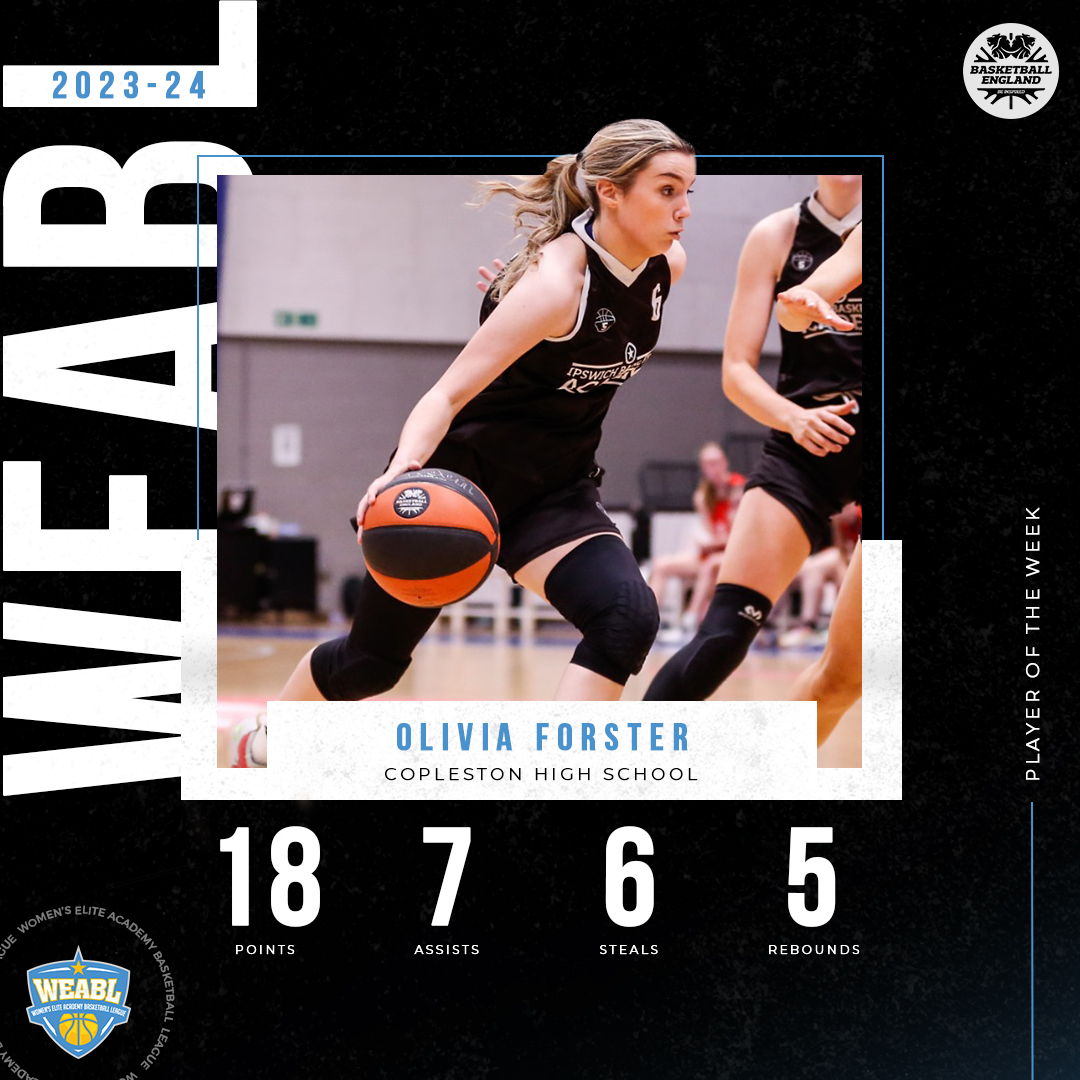 .
.
.