A group of young England girls gained 'invaluable experience' at the French national team training camp they attended last weekend.
The England Select U17 'Horizons' team - made up of current and incoming athletes from DiSE (Diploma in Sporting Excellence) academies and nominated by coaches within the programme - travelled to France on Saturday, training and playing on Sunday and Monday before returning home on Tuesday.  
Activity was part of the the French U15 Girls national team's summer training programme and England head coach Nick Drane said: "The experience was invaluable for all involved, players and staff, and gave great insight into how one of the leading nations in the world operate at a performance level.  
"Our group showed enormous growth in a very short period of time, and I was delighted with how they applied themselves and represented Basketball England and the DiSE programme. 
"We wanted this experience to give these athletes a taste of what playing at international level was like, the way they have to prepare, eat, rest, practice, recover and play – it was everything DiSE is about and this was perfect, and a real eye-opener for the girls. 
"The team played two games against the French National Team, who have been together for five weeks, losing the first game by 36 points and the second by 31. Both scorelines, while heavily in favour of the French team, don't reflect how competitive the games were – England, for long periods of both games, gave a great account of themselves, especially when factoring in the disparity in preparation time."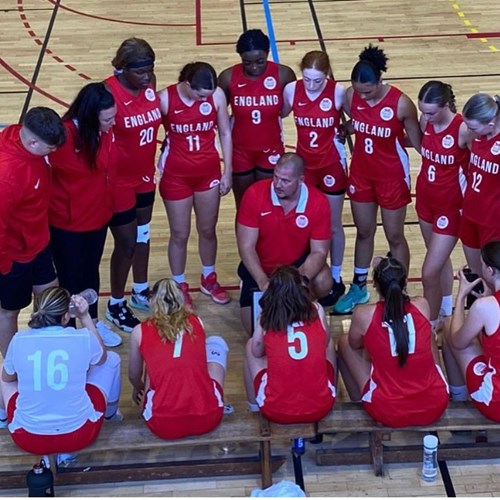 Alina Riley (Nottingham Academy Wildcats) was England's leading scorer in game one with 14 points, including four three-pointers, supported by Freya Hawkins (CoLA) with nine. 
In the second game it was a more balanced attack with Hannah Gray and Cerys Leach (both Endeavour Ipswich Basketball), Sammy Mullock (Nottingham) and again Freya Hawkings leading the attack. 
Fifteen-year-old Holly Ensoll (Kingston Lions) impressed in both games, providing a great presence at both ends of the court. 
Drane was supported by assistant coach Siobhan Prior, team manager Danny Manning and physio Leda Cox. 
He added: "In addition to the excellent growth shown by the players, I must say a huge thank you to the staff, who had not worked together before. In a very short period of time we built a great relationship, which allowed us all to be at our best for the team, so massive thanks to Siobhan, Danny and Leda." 
England U17 'Horizons' Girls
Ella Brown - Oaklands College 
Holly Ensoll - Kingston Lions 
Tilly Goddard - Team Solent Kestrels 
Hannah Gray - Endeavour Ipswich Basketball 
Freya Hawkings - CoLA Southwark Pride 
Cerys Leach - Endeavour Ipswich Basketball 
Lauren Liddamore - Endeavour Ipswich Basketball 
Samantha Mullock - Nottingham Wildcats 
Preccila Ocrah - City of Birmingham Rockets 
Jacqueline Osei - Oaklands College 
Alina Riley - Nottingham Wildcats 
Katie Yorke - Endeavour Ipswich Basketball 
Head Coach: Nick Drane 
Assistant Coach: Siobhan Prior 
Team Manager: Danny Manning 
Physio: Leda Cox 
Gallery