FocusHoops' Darren Paul had plenty of strong performances to factor into his Team and Player of the Week decisions.
As a writer, commentator, podcaster and more, Darren had five games to pick from, including Solent's victory in their top of the table clash with CoLA.
Have your say on this week's choices and give a shout-out to the players you think deserve one using the hashtag #NBL2223. Don't forget to tag us!    
Twitter: @NBLengland / @FocusHoops  
Facebook: @NBLengland  / @FocusHoops  
Instagram: @nblengland / @focushoops  
How it works  
Darren will pick a Player of the Week and four other selections to round out his Team of the Week, paying attention to the following criteria:
Efficiency  
Stats  
Team and opposition strength  
Periods of influence in the game 
Being on a winning team (exceptional performances from players on losing teams will be considered for TOTW)
The FocusHoops Team of the Week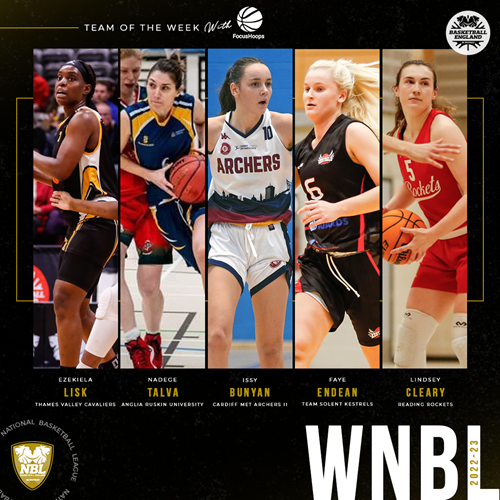 PLAYER OF THE WEEK
Ezekiela Lisk – Thames Valley Cavaliers, forward 
18 Pts/11rebs/3ast/26eff 
Lisk led the way for TVC as they took down CoLA Southwark Pride in the match-up of the weekend between the two title hopefuls, as she finished with 18 points and 11 boards in a very efficient double-double.  
She was second in scoring for her side, but hit 66% from the floor, with 2-2 beyond the arc and put in a shift on the glass on both ends with six offensive and five defensive boards, as TVC outrebounded CoLa by nine boards. Lisk finished the first period with nine points, as TVC got off to a very hot start that set the tone for victory.  
Nadege Talva – Anglia Ruskin University, forward 
30Pts/8 rebs/2ast/31eff 
Talva led ARU in scoring on Saturday as they took down a battling Worcester Wolves at home. She finished with 30 points, on 65% shooting and showed off her full range of skills in an engaging match-up.  
Talva finished with a +26 in the seven-point victory, which goes some way to demonstrate her impact on the game. She pulled down eight rebounds, dished two dimes and made two steals and Worcester had no answer for Talva, who is playing as well as we've ever seen her back in the WNBL as ARU remain in contention for a home playoff berth.   
Issy Bunyan – Cardiff Mets Archers, forward/guard 
33Pts/11rebs/1ast /36eff 
Bunyan is no stranger to Team of the Week honours and the Welsh star put on another incredible performance for Cardiff taking the league leading Solent Kestrels to the edge in an overtime thriller.  
She ended the game with 33 points on 52% scoring and went 8-9 at the stripe, having been fouled five times in the contest. Bunyan helped on the glass, pulling down 11 rebounds, all defensive, and put in more work on the defensive end finishing with four steals and three blocks. Bunyan showed her nerve as she hit the free throws to send the contest to OT, demonstrating once again her strengths in the big moments.  
Faye Endean – Team Solent Kestrels, guard 
33Pts/11rebs/7ast/38 eff 
Endean led the way for Team Solent Kestrels as they took down Cardiff on the road on Sunday with a near triple-double performance for the league leaders. She finished with 33 points on 54% shooting and went 7-9 from the stripe after drawing nine fouls. 
Endean led on the glass and in the assists column with 11 boards and seven dimes, whilst also swiping four steals in a clutch performance that also saw her score eight points in overtime to help maintain breathing room at the top of the standings.  
Lindsey Cleary - Reading, forward 
17Pts/13rebs/5ast/32eff 
Cleary was her ruthlessly efficient self as Reading took down Cardiff at home on Saturday when she finished with 17 points on 63% shooting and 13 rebounds, five offensive. She drew the attention of Cardiff defenders, being fouled six times and committing zero personal fouls in return, and also hit all three of her free throws.  
One of the signings of the season, Cleary can do it all as she dished five assists and finished with two steals and a block in her 32 minutes. Reading remain firmly in the playoff positions and more performances like this from Cleary will have them eyeing a top four finish.  
Team basketball 
Cardiff take Solent to the limit in OT Thriller 
Cardiff gave Solent a massive scare on Sunday as the bottom placed side, on the second day of a back to back weekend, took the Kestrels to overtime in a game they led for large periods. Solent were led in scoring by Faye Endean and Anna Nevison, both bagging eight points a piece in overtime to complement their work in regulation. Cardiff were led by Issy Bunyan and Solene Lemoigne in scoring and rebounding whilst also getting nine assists from Cami Barone in a fantastic encounter. They say victories like these are the sign of champions.  
TVC hurt Pride with 20-point victory 
Second met third in Uxbridge on Saturday and it was the hosts who were in control from the very start as TVC took down CoLA 84-64 in a performance that will act as a warning to the league leading Team Solent Kestrels. TVC were led in scoring by Ezekiela Lisk and Kat Goldsby, but as they always do, saw key contributions throughout their roster with Helene Trailin dominating on the glass and Faith Okwuosa shooting efficiently and working hard on the glass. CoLA, who remain in third position were led by Emilie O'Connell and Ebere Egbirika in scoring with Ana-Isabel Andersson also netting double-digits in a tough outing for the young Londoners.  
Honourable mentions 
Erin Powell - LOU 8/14/1/21EFF 
Genessa Bedoya - LON 12/7/5/22EFF 
Solene Lemoigne - CAR 13/12/4/23EFF 
.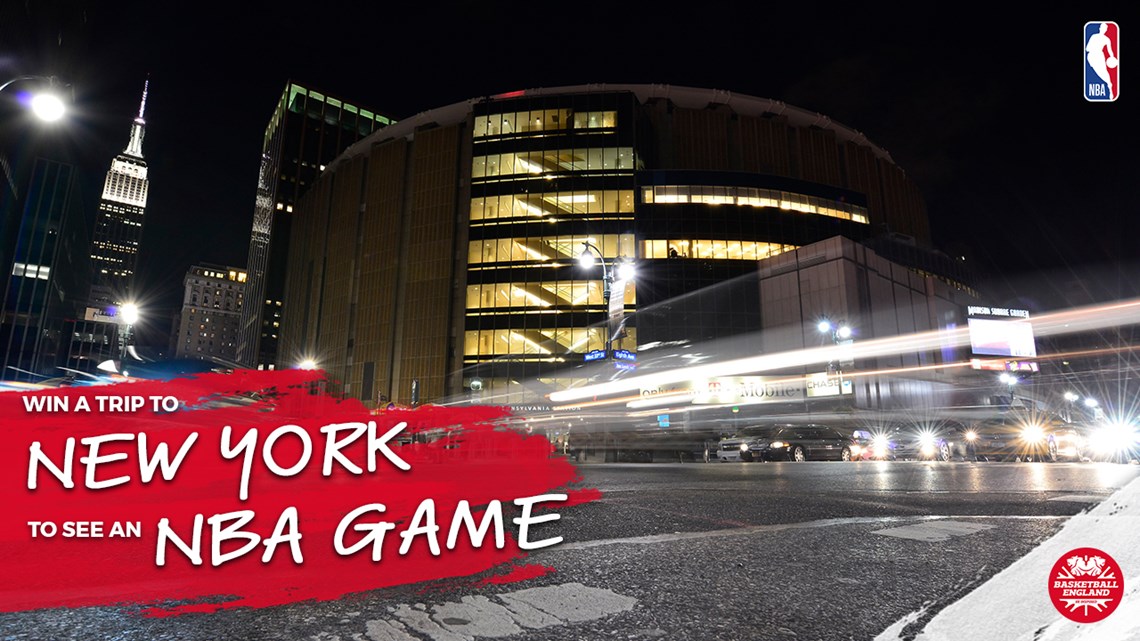 Join Basketball England for free and win a trip to New York City, courtesy of the NBA.
Whether you have a Supporter Account as a fan, follower, enthusiast or advocate, or a Full Account and have paid for a licence to play, coach or officiate in competition, you can enter our prize draw.
Basketball has the power to change lives. Our #GameTime campaign aims to raise awareness of the positive impact that basketball can have on people no matter who they are or where they are from.
.
.
Main image credit - Luke Simcock