FocusHoops' Darren Paul is back once again to single out his latest Player and Team of the Week selections.
As a writer, commentator, podcaster and more, Darren had six games to look over but with stats issues for half the games last weekend, that left a much smaller pool of options to choose from.
Have your say on this week's choices and give a shout-out to the players you think deserve one using the hashtag #NBL2223. Don't forget to tag us!    
Twitter: @NBLengland / @FocusHoops  
Facebook: @NBLengland  / @FocusHoops  
Instagram: @nblengland / @focushoops  
How it works  
Darren will pick a Player of the Week and four other selections to round out his Team of the Week, paying attention to the following criteria:
Efficiency  
Stats  
Team and opposition strength  
Periods of influence in the game 
Being on a winning team (exceptional performances from players on losing teams will be considered for TOTW)
The FocusHoops Team of the Week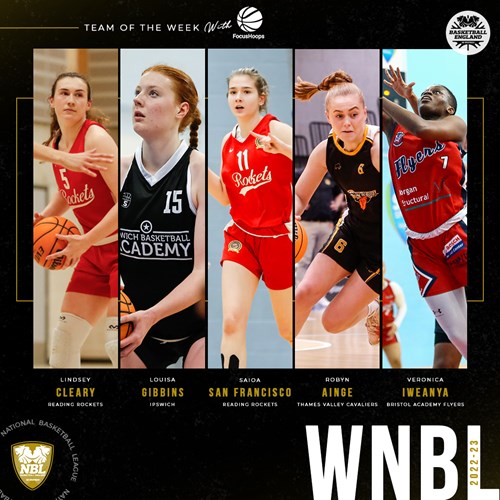 Player of the week
Lindsey Cleary - Reading Rockets, guard
19Pts/13rbs/1ast/2stl/1blk/26EFF 
Reading were comprehensive winners in Cardiff on Sunday and Lindsey Cleary's 19 point, 13 rebound double-double played no small part in that.
In 27 minutes of action, the American star made 61% of her shots, all from inside the arc, and knocked down 3-5 at the stripe.
Her interior dominance translated to the boards as well, with six offensive rebounds and seven defensive as Reading won the  battle on the glass by 17.
Cleary rounded out her game with one assist and three stops, two steals and a block, in a complete demonstration of her talents.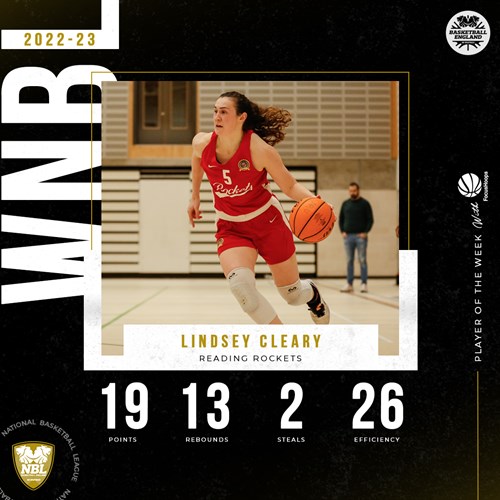 Louisa Gibbins - Ipswich, forward 
5pts/15rbs/2ast/3stl/1blk/18EFF 
Ipswich took down Bristol this weekend in dominant fashion as the Suffolk club out rebounded the Bristolians by 13, with Louisa Gibbins controlling the glass to the tune of 15 rebounds.
Gibbins finished with 2 offensive boards, the rest defensive, whilst contributed five points and two assists in the contest to remind us all that contributions aren't always about scoring.
The GB age-group selection was also a threat defensively as she ended the contest with three steals and a block, playing hard but fair on defence to only commit two personal fouls in the tie.
Saioa San Francisco - Reading Rockets, guard
21pts/5rbs/4ast/5stl/1blk/20EFF 
Saoia San Francisco top scored in Reading's win over Cardiff with 21 points on 47% shooting, with most of her output coming around the basket plus one triple, keeping defenders on their toes.
San Francisco also pulled down five rebounds, all on the defensive end, and dished four assists to her teammates.
The talented guard was a force on defence with five steals and a block as the Spaniard put in a performance that had a bit of everything.
Robyn Ainge - Thames Valley Cavaliers, guard
22pts @ ARU
23PTS/3reb/1ast/1blk/19eff @ BRE
Robyn Ainge (pictured below) has seemingly limitless range, as her outside scoring proved once again this weekend.
After hitting a buzzer beater heave on Saturday against ARU, Ainge went 6-10 from outside and a perfect 3-3 at the stripe as she scored a game-high 23 points against Brent Bulls on Sunday, sealing another crucial win for TVC.
Ainge contributed three boards, one assist and one block whilst only committing just a single foul in her 34 minutes of court time, with the WNBL National Cup winner helping TVC get off to a hot start with 12 points in a 19-9 opening period.
She also added six points in the third quarter as TVC re-established their grip on the game.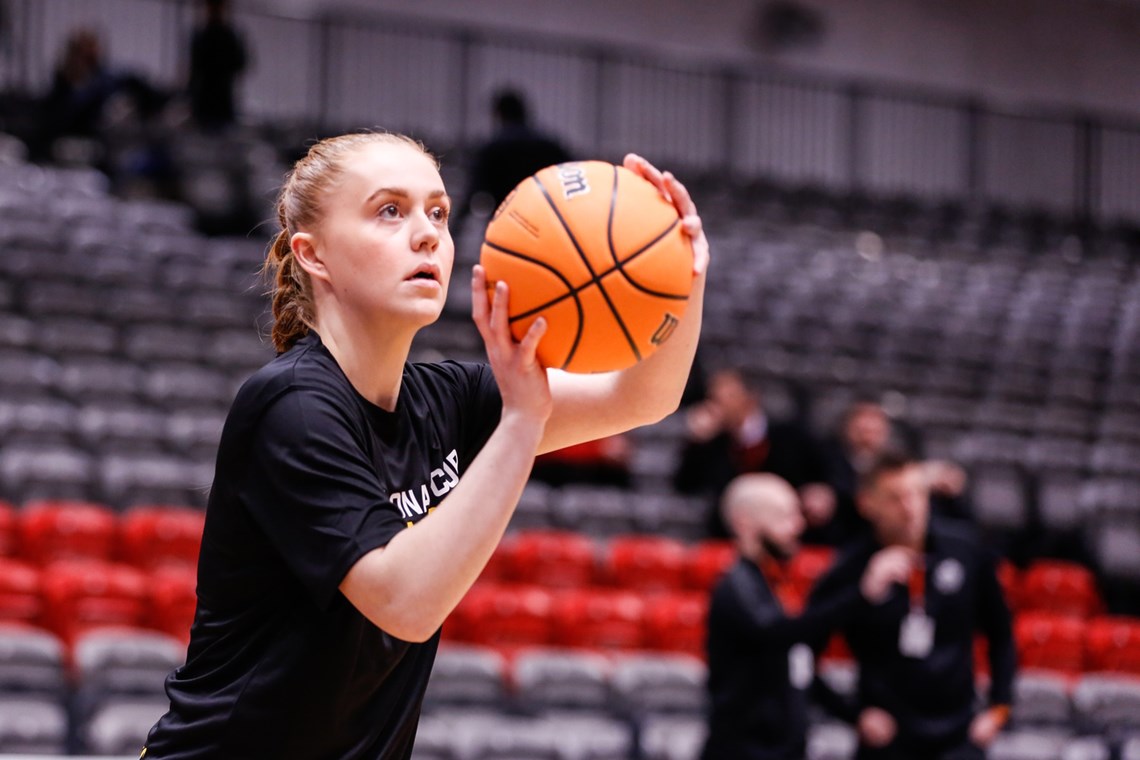 Veronica Iweanya - Bristol Academy Flyers, forward
15pts/13rbs/6stl/18EFF 
Despite being on the losing end of things against Ipswich this weekend, Veronica Iweanya was a problem for the Suffolk club as she finished with a 15 point, 13 rebound double-double.
Iweanya hit 42% from the field and was fouled five times, which goes some way to showing her impact on the game.
The Bristol forward caused Ipswich problems defensively, finishing with six steals (over half her side's total) and committed just a single foul in a disciplined display.
Iweanya continues to be a shining light in a tough season for the Flyers.
Team basketball
Double win keeps TVC in the title hunt
TVC took two from two this weekend with a pair of road victories over ARU and Brent.
Faith Okwuoasa continues to be one of the elite defenders in the WNBL and finished with five blocks and a steal against Brent as TVC sealed a 61-49 victory in North-West London.
Robyn Ainge and Kat Goldsby led the way in scoring with 23 and 13 points respectively, with Goldsby tacking on five boards and six assists whilst Brent were led by Jess Davies, who finished with an 11-8-1 stat line as she continues to impress in D1.
TVC are now tied on wins with TSK, but have played and lost one more game. The title race continues to head to the wire, but TVC are looking as impressive as they have all season.
Ipswich strengthen playoff bid with win over bristol
Ipswich took away a big home victory over Bristol this weekend, defeating the 2018/19 champs 81-47 at Copleston.
Ipswich were led in scoring by Liv Forster who bagged 29 points, with 15 points coming off the bench from Ava Battese as Louisa Gibbins did a lot of the heavy lifting in the paint and on defence.
Bristol were led by Veronica Iweanya and her 15-13 performance as Emma Bailey also hit double-digit scoring with 14 points and five rebounds. The win leapfrogs Ipswich over Brent, with coach Drane's side eyeing a top six finish.
Honourable mentions
Kristina Karpova (REA) - 11P/10R/2AST/18EFF  
Christabel Osarobo (IPS) - 8P/6R/3A/15EFF 
Jess Davies (BRE) - 11P/8R/1A/16EFF  
.

Join Basketball England for free. Whether you have a Supporter Account as a fan, follower, enthusiast or advocate, or a Full Account and have paid for a licence to play, coach or officiate in competition, you can be part of the basketball family.
Basketball has the power to change lives. Our #GameTime campaign aims to raise awareness of the positive impact that basketball can have on people no matter who they are or where they are from.
.