FocusHoops' Darren Paul certainly wasn't at a loss for quality performances this past weekend.
As a writer, commentator, podcaster and more, Darren has the unenviable job of selecting D1W's Player and Team of the Week from six games across the country.
Have your say on this week's choices and give a shout-out to the players you think deserve one using the hashtag #NBL2324. Don't forget to tag us!     
Twitter: @NBLengland / @FocusHoops   
Facebook: @NBLengland  / @FocusHoops   
Instagram: @nblengland / @focushoops   
How it works   
Darren will pick a Player of the Week and four other selections to round out his Team of the Week, paying attention to the following criteria: 
Efficiency  

 

Stats  

 

Team and opposition strength  

 

Periods of influence in the game 

 

Being on a winning team (exceptional performances from players on losing teams will be considered for TOTW)

 
The FocusHoops Team of the Week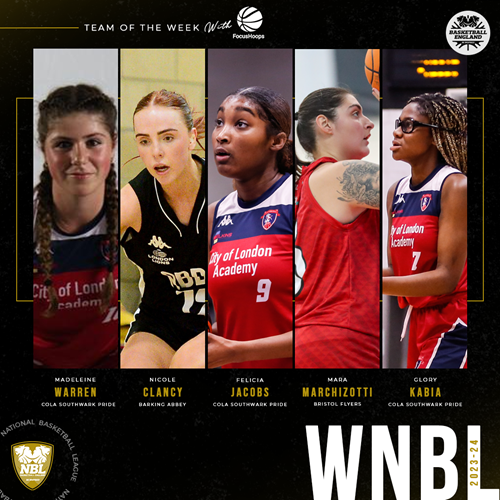 Madeline Warren - CoLA Southwark Pride, guard
18pts/1AST/18EFF 
Madeleine Warren takes Player of the Week honours thanks to her incredible three-point shooting off the bench for CoLA Southwark Pride as the Londoners handed Ipswich their first defeat of the season.
Warren played just 12 minutes of the 45, but her unanswered, back-to-back threes in the game's final minute sent the contest to overtime after Ipswich had led by nine points a minute earlier.
The young guard also came up huge in OT with a dagger three-pointer with 38 seconds to go to send CoLA up by six and clinch victory.
Warren's 18 points all came from outside, hitting 6/8 beyond the arc in a performance that was hugely impactful for her team in one of the biggest games of the weekend.
Nicola Clancy - Barking Abbey, guard
20pts/7reb/1ast/20EFF 
Nicole Clancy bagged 20 points on 50% shooting, including a huge three-pointer in the final 30 seconds, to give Barking the chance they needed to beat ARU on Saturday.
Clancy had five points in the pivotal final period, in addition to seven boards and one assist, as BA picked up their third win of the season.
Felicia Jacobs - CoLA Southwark Pride, forward
21pts/12reb/1ast/24EFF 
Felicia Jacobs was a key figure in CoLA Southwark Pride's win over Ipswich on Sunday with a huge 21-12 double-double.
Jacob's 21 points came from 6/9 shooting, all inside the paint, and an impressive 9/14 from the stripe having drawn nine fouls in the contest.
Additionally, Jacobs pulled down 12 boards, four offensive and recorded one block in a fine display from the young forward.
Mara Marchizotti - Bristol Academy Flyers, forward
8pts/10reb/6ast/19EFF 
The wins keep coming for Bristol, who took a home victory over Thames Valley Cavaliers thanks in part to a very efficient performance from Argentine international Mara Marchizotti.
Marchizotti was just two points shy of a double-double but pulled down a team-high 10 rebounds and dished a team-high six dimes as the Flyers made it back-to-back wins.
Glory Kabia - CoLA Southwark Pride, guard
20pts/3reb/20EFF  
Kabia hit six triples for CoLA Southwark Pride as they took down Ipswich in OT this weekend, going 50% from downtown in the enthralling contest.
Six of Kabia's points came in the overtime period, the first cancelling out an Ipswich three within seconds to regain the lead, the second stretched CoLA's advantage heading into the final minute.
Kabia also pulled down three boards, dished three assists and recorded one steal without committing a single turnover.
Team basketball 
CoLA take down Ipswich in OT thriller
CoLA Southwark Pride handed Ipswich their first loss of the season in an enthralling game that took overtime to find a winner.
CoLA, defending their home floor, shot an incredible 45 three-pointers in the contest, sinking 16 of them, including six a-piece for POTW Madeleine Warren and Glory Kabia.
Ipswich competed throughout and were led by high-scoring performances from Harriet Welham (31pts), Liv Forster (22pts) and Yazmin Edwards (22pts), but CoLA's top four scorers also averaged 20 points and that was enough to clinch the victory.
CoB come out on top in the battle of the rockets
City of Birmingham Rockets downed the Reading Rockets at home on Saturday, withstanding a late surge from the visitors to pick up an impressive victory in their debut season in the top flight.
CoB were led in scoring by Nuri Seyedagha and Michelle Turner, who finished with 16 and 14 points respectively, and both players found teammates for four assists.
Turner was a key defensive piece for the hosts with five steals and a block, whilst only committing one foul.
CoB's win came off the strength of their three-point game, outshooting their guests 9-2 and scoring an excellent 31 points from turnovers, finishing with 16 steals as a team.
Reading were led by Ezekiela Lisk and Lindsey Cleary, who both finished with impressive double-doubles.
CoB started the game brightly and their 12-point first-half lead was enough to weather Reading's response in the fourth.
Honourable mentions
Violet Stutz (CoLA) - 19P/10R/2A/19EFF 
Michelle Turner (CoB) - 14P/4R/4A/16EFF 
Harriet Welham (IPS) - 31P/9R/2A/4S/24EFF 
.