FocusHoops' Darren Paul is back, returning to oversee the start of a new D1W season this past weekend.
As a writer, commentator, podcaster and more, Darren had a full compliment of six games to look over, picking out the best performances for his Player and Team of the week selections.
Have your say on this week's choices and give a shout-out to the players you think deserve one using the hashtag #NBL2223. Don't forget to tag us!    
Twitter: @NBLengland / @FocusHoops  
Facebook: @NBLengland  / @FocusHoops  
Instagram: @nblengland / @focushoops  
How it works  
Darren will pick a Player of the Week and four other selections to round out his Team of the Week, paying attention to the following criteria:
Efficiency  
Stats  
Team and opposition strength  
Periods of influence in the game 
Being on a winning team (exceptional performances from players on losing teams will be considered for TOTW)
The FocusHoops Team of the Week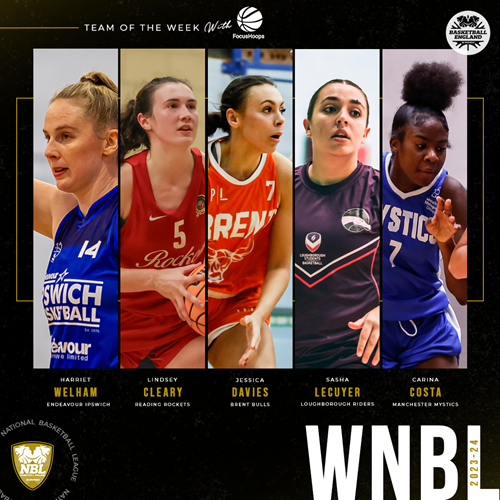 Player of the week
Harriet Welham - Endeavour Ipswich Basketball Club, guard
26pts/9reb/7ast/7stl/+/-74/38eff
Welham made a statement in her first game back in the WNBL, finishing with 26 points from 57% shooting, including 4/8 from three, plus nine boards, seven dimes and seven steals in a massive +74 performance.
She was incredibly efficient during the win, with all her points coming from inside the paint or beyond the arc, along with a solid performance on the glass with five offensive boards.
All in all, it was an impressive return to Ipswich for the former MVP.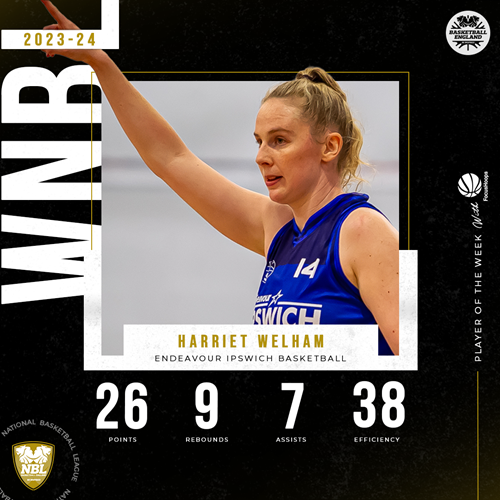 Lindsey Cleary - Reading Rockets, forward
28pts/10reb/4ast/4stl/2blk/31eff
Cleary picked right back up where she left off last season with a 28-point, 10-rebound double-double in Reading's narrow road win over Barking Abbey on Saturday.
She was a consistent problem for Barking throughout the contest, scoring in bunches throughout the game and helping control the glass at both ends.
Jess Davies - Brent Bulls, guard
21pts/14reb/1ast/22eff
Davies and Brent got off to a strong start in the 2023/24 season with a home derby win over CoLA, thanks in part to her team-high 24 points and 14 rebounds, with five of her boards coming on the offensive glass.
Davies is a known threat inside the paint and she hit the two to tie up the contest before expanded her range, sinking a dagger three to effectively clinch the contest in the final minute.
Sasha Lecuyer - Loughborough Riders, guard
18pts/10reb/5ast/6stl/25eff
Lecuyer is back in Loughborough and back performing with a game-winning effort in the Riders' statement win over TVC.
She netted an 18-10 double-double, leading the way in scoring for her side along with a joint team-high in rebounds.
The talented guard hit 50% from two point land and 41% from three in an important early season victory over the reigning WNBL National Cup holders.
Carina Costa - Manchester Mystics, guard
17pts/9reb/1ast/19eff
Manchester Mystics made their debut in the WNBL this weekend and took a vital road win over newly-promoted City of Birmingham Rockets, with Costa the pick of the Mystics this weekend.
With 17 points off the bench, including sinking a three to all but clinch the game in the fourth, she also pulled down nine rebounds (five offensive) to help give her side a crucial opening day victory.
Team basketball
Ipswich bring the heat
Ipswich were at their brutal best this weekend with their 118-42 home victory over the rebuilding Team Solent Kestrels.
Harriet Welham, Olivia Forster and Yazmin Edwards all contributed massive performances, all scoring over 20 points, with Forster finishing with a guard's double-double of 25 points and 11 assists.
Ipswich finished with an eye-wateringly high 159 efficiency as a team, with the aforementioned trio accounting for over 100 of that alone.
Up 46-7 after the first period, Ipswich controlled the contest from start to finish to see out a huge win on opening day.
Loughborough battle back for opening day win
Loughborough Riders' come from behind victory over last season's title challengers Thames Valley Cavaliers could have huge implications this season.
Lecuyer led the way with 18-10-5 but didn't do it alone. Emma Dunsire also brought it with an 11-10 double-double and another Riders stalwart, Erin Caldwell, tacked on 13 points, including her side's final make to keep TVC at bay in a tightly-contested match up.
Honourable mentions
Ruchae Walton (BA) - 32P/6REB/4AST/6STL/33EFF
Olivia Forster (IPS) - 25P/5R/11A/9S/36EFF
Yazmin Edwards (IPS) - 21P/14R/5A/7S/35EFF
.