With the 2022/23 Junior Final Fours now completed, we take a look back at some of the best performances from last weekend.
Whilst each of the six competitions had a finals MVP, all 24 games from across the two days were covered by live stats, allowing for a look back at some of the best efforts across the weekend.
We've pulled together All-star fives for each age group, with the MVP of each final being automatically selected into the line ups. There's also a selection of honourable mentions, highlighting top performances that didn't make the cut.
All stats below are averages across both games played. The abbreviations are as follows:
PPG = Points Per Game
RPG = Rebounds Per Game
APG = Assists Per Game
SPG = Steals Per Game
BPG = Blocks Per Game
TOPG = Turnovers Per Game
EPG = Efficiency Per Game
U14 Girls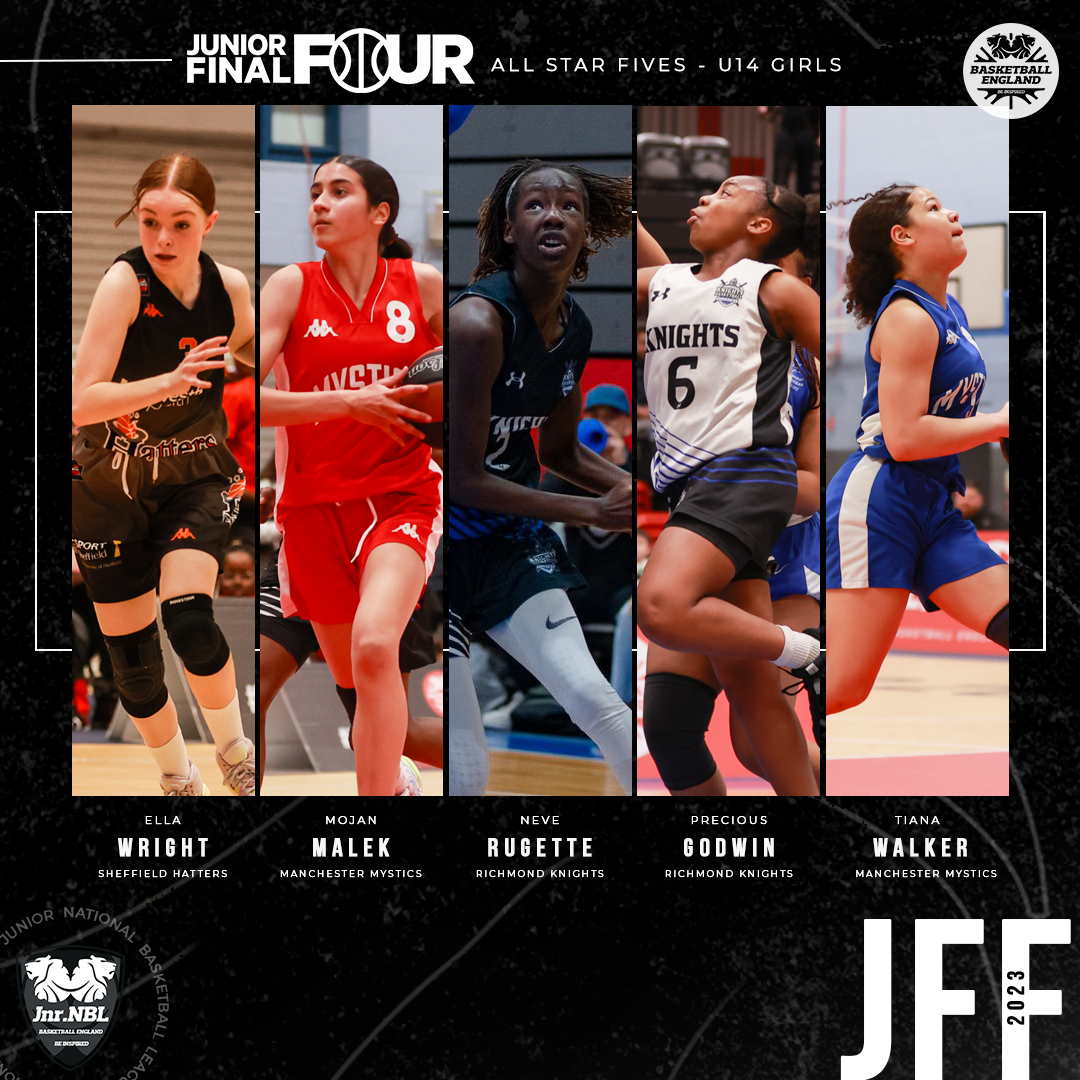 Neve Rugette - Richmond Knights (MVP)
16.5pPG, 5.5rpg, 3.0apg, 3.0spg, 24.5epg
Precious Godwin - Richmond Knights
18.0ppg, 2.5apg, 3.5SPG, 12.0epg
Mojan MAlek - Manchester Mystics
23.0ppg, 6.0rpg, 4.0spg, 23.5epg
Tiana Walker - Manchester Mystics
9.0ppg, 6.0rpg, 6.5apg, 4.0spg, 18.5epg
Ella Wright - Sheffield Hatters
14.0ppg, 8.5rpg, 9.5apg, 3.0spg, 14.0epg
It's back-to-back selections for Richmond's Neve Rugette as she also made this team a year ago.
The talented young guard did a bit of everything, including putting together a 35 efficiency performance in Sunday's final, but her most impressive stat may be that she coughed up just two turnovers across the entire weekend (49:12 minutes of court time).
Team mate Precious Godwin joins Rugette in the five after two solid performances, dropping 36 points across the weekend as the eventual champions' leading offensive option.
No U14G player scored more points than Manchester's Mojan Malek though, she dropped 46 across the two days (23.0PPG), and her 34 efficiency effort on Saturday went a long way to pushing the Mystics into the final.
Tiana Walker shot efficiently, rebounded well, provided assists and snagged passes on defence to showcase her all-round skillset for the Mystics as well, she had a great trip to the NBPC.
Finally, Sheffield's Ella Walker led the age-group in both total rebounds (17) and assists (19), tacking on 14.0PPG and 3.0SPG for a solid weekend's work.
U14 Boys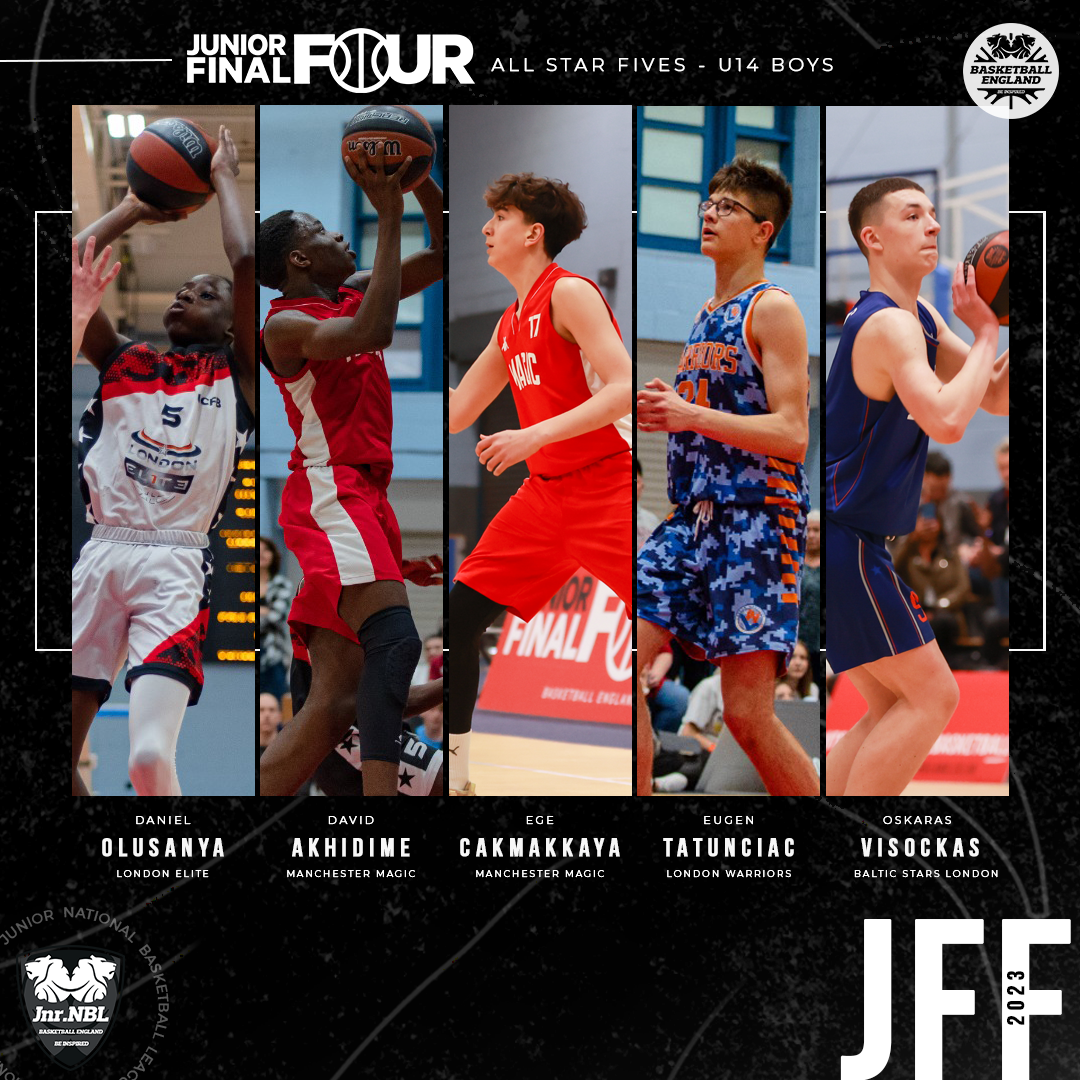 David Akhidime - Manchester MAgic (MVP)
24.0PPG, 16.0rpg, 3.0apg, 5.0spg, 27.5epg
Ege Cakmakkaya - Manchester Magic
17.0ppg, 7.5rpg, 2.0spg, 17.5epg
Eugen Tatunciac - London Warriors
19.5ppg, 12.5rpg, 1.5bpg, 19.5epg
Oskaras Visockas - London Baltic Stars
27.5ppg, 19.5rpg, 4.5apg, 2.0spg, 2.5bpg, 38.5epg
Daniel Olusanya - London Elite
21.0ppg, 9.0rpg, 2.5spg, 2.5BPG 20.5epg
Magic won both their games this past weekend by a combined seven points, with MVP David Akhidime doing his bit to earn both hard-fought Ws.
Averaging a 24.0PPG, 16.0RPG double-double, the young forward also broke up his opponents' offensive rhythm with 5.0SPG to boot.
Magic running mate Ege Cakmakkaya (17.0PPG, 7.5RPG) impressed throughout, as did London Warriors' Eugen Tatunciac (19.5PPG, 12.5RPG).
London Baltic Stars' Oskaras Visockas was one of only two players this weekend to score over 50 points. His total of 55 plus 39 boards and nine assists were all age-group highs, whilst Saturday's three point loss to London Warriors saw Visockas record one of only two 40+ efficiency efforts (42) across the entire weekend.
London Elite's Daniel Olusanya rounds out the five, he made key buckets across both games to close with impressive figures of 21.0PPG, 9.0RPG and 2.5BPG.
Honourable mentions
Jeremi Dutka - London Warriors
23.0PPG, 8.5RPG, 2.5SPG, 12.5EPG
U16 Girls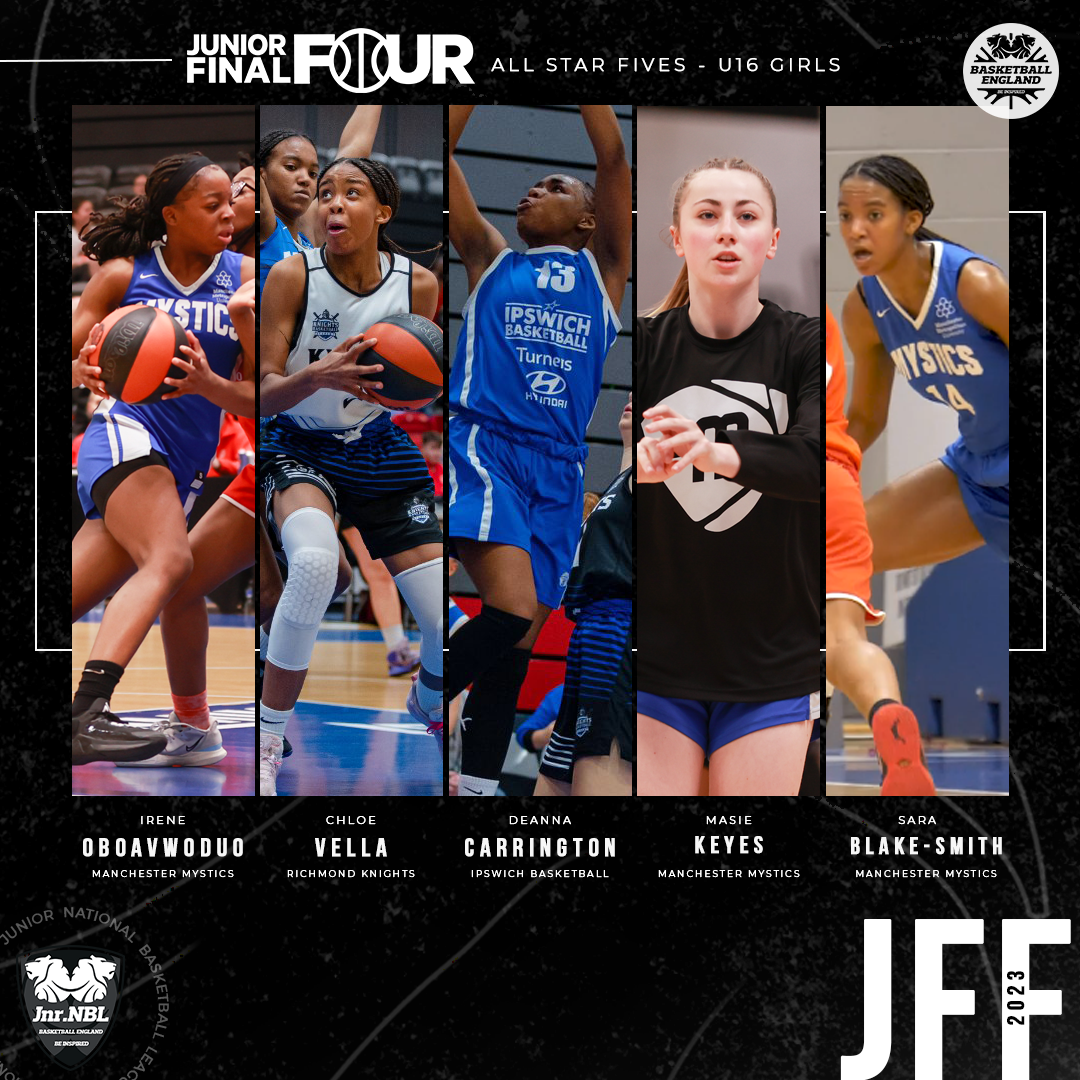 Irene Oboavwoduo - MAnchester Mystics (MVP)
13.0pPG, 15.5rpg, 3.0apg, 2.0TOPG, 14.5epg
Masie Keyes - Manchester Mystics
15.5ppg, 6.0rpg, 5.5apg, 3.5spg, 22.5epg
Chloe Vella - Richmond Knights
10.5ppg, 17.5rpg, 2.0spg, 2.0bpg, 25.0epg
Deanna Carrington - Ipswich Basketball
12.0ppg, 17.0rpg, 3.0apg, 1.5bpg, 17.0epg
Sara Blake-Smith - Manchester Mystics
6.0ppg, 13.0rpg, 1.0apg, 17.5epg
Manchester duo Irene Oboavwoduo and Masie Keyes both graduate from last year's U14 line up to the U16s after another impressive campaign.
Oboavwoduo stepped up during a tight final against Richmond, taking on a leadership role and plenty of responsibility to get her team over the line in the fourth quarter, putting the finishing touches on a 13.0PPG, 15.5RPG double-double across the weekend.
Keyes showed her shot making ability to lead all U16G scorers (31pts), adding 6.0RPG and 5.5APG to her output as a complete guard for the Mystics. Her triple with 6:07 remaining of the final was a key play for the North West side as well, stifling Richmond's momentum at just the right time.
Sara Blake-Smith makes it a trio of Manchester players, demonstrating there's more to the game that scoring. She had just one shot in Saturday's semi-final win over CoLA, and she didn't make it. She did however pull down 11 boards for her team, dished a pair of assists, and stayed turnover free in nearly 27 minutes of action to anchor a real team effort.
She got the scoring touch back in Sunday's final, going 6/8 for 12 points whilst also cleaning the glass with another 15 boards to show her value as one of the age groups' top forwards this weekend.
Blake-Smith's battle with Richmond's Chloe Vella (10.5PPG, 17.5RPG) was one of the highlights of the playoff final, with the two forwards going at it down low. Vella pulled down an age-group high 35 boards across the weekend.
Despite the rebounding prowess of both Vella and Blake-Smith, Ipswich's Deanna Carrington was also in the conversation on that front. Her 34 boards helped Ipswich across their two games, with Carrington adding 12.0PPG and 3.0APG into the mix as well.
Honourable mentions
Neve Rugette - Richmond Knights
9.0PPG, 11.0RPG, 6.5APG, 3.5SPG, 12.5EPG
U16 Boys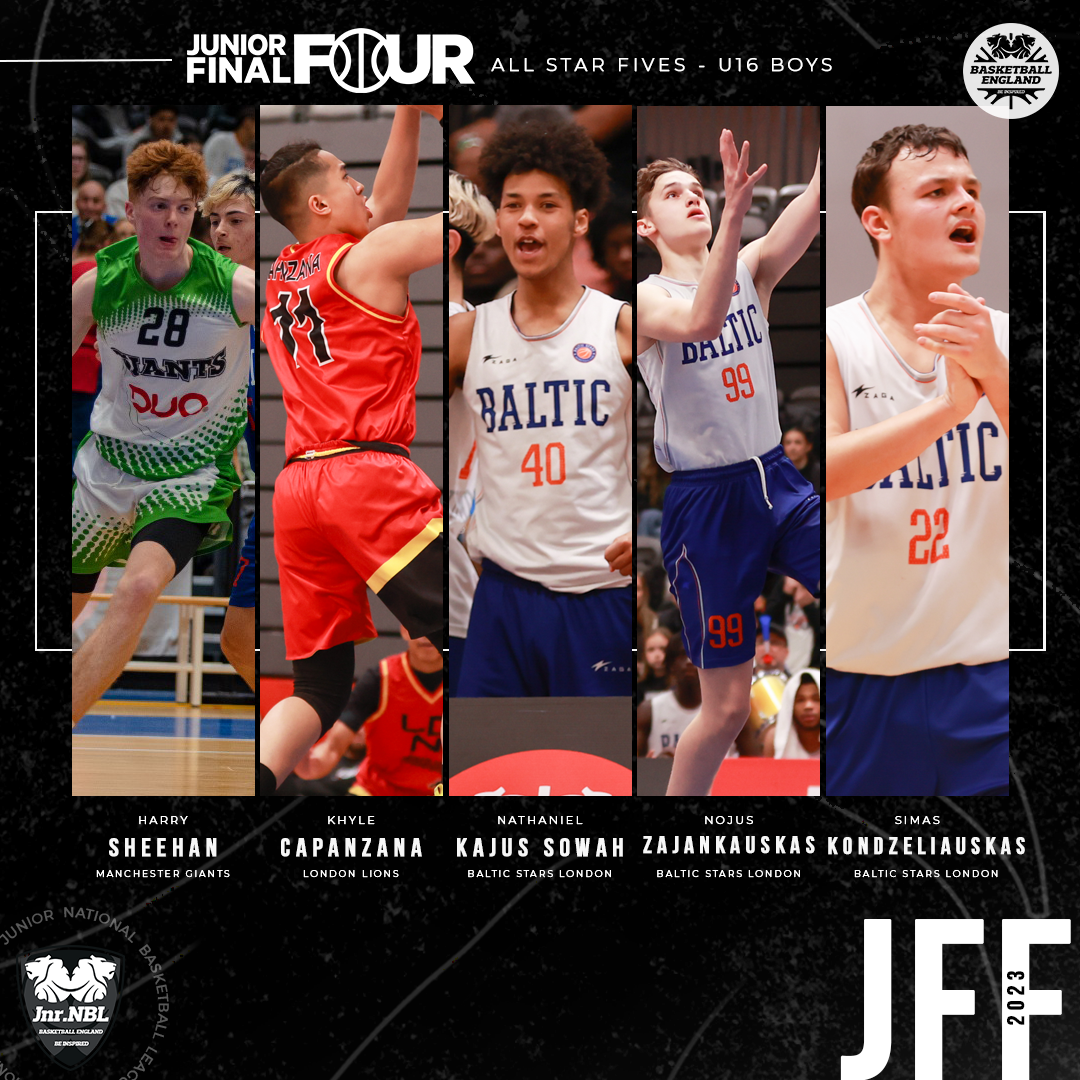 Simas Kondzeliauskas - London Baltic Stars (MVP)
17.5pPG, 15.0rpg, 2.5apg, 3.5spg, 31.5epg
Nojus Zajankauskas - London Baltic Stars
29.0ppg, 5.0rpg, 4.5apg, 28.5epg
Nathaniel Kajus Sowah - London Baltic Stars
12.0ppg, 6.5rpg, 3.5apg, 1.5topg, 5.0spg, 21.0epg
KhyLe Capanzana - London Lions
20.0ppg, 8.0rpg, 20.0epg
HArry Sheehan - MAnchester Giants
14.5ppg, 8.5rpg, 4.0apg, 3.5spg, 17.5epg
Simas Kondzeliauskas' MVP outing in Sunday's final will no doubt go down as one of THE Junior Final Four performance after he shot a perfect 11/11 from the floor.
His 43 efficiency performance was the single highest amongst any player in any game this weekend, and only the second total over 40 along with Oskaras Visockas' Saturday effort in the U14 boys.
Not only did Kondzeliauskas showcase his scoring ability, he also led the age-group in rebounds with 30 across the two games.
It was no surprise to see Baltic Stars dominate the U16 competition, factoring in Konzeliauskas' output plus a weekend-high across all-groups of 58 points from team mate Nojus Zajankauskas.
Nathaniel Kajus Sowah makes it a Stars triple up after a productive weekend. With a 16 point, 12 rebound double-double to help get his team into Sunday's final, Kajus Sowah took a back seat in in the showpiece but despite playing less than 10 minutes, he still went an efficient 4/7 for eight points, grabbing four steals in the process.
London Lions' talented point guard Khyle Capanzana (20.0PPG, 8.0RPG) did his bit to push the Lions to a third place finish, winning the 3rd/4th place shoot out against Harry Sheehan (14.5PPG, 8.5RPG, 4.0APG) and the Manchester Giants.
Honourable mentions
Jamaul McAllister - Sussex Storm
10.0PPG, 9.5RPG, 5.0APG, 2.0SPG, 13.5EPG
Oluwatobiloba Aina - London Lions
15.5PPG, 7.5RPG, 2.0SPG, 15.5EPG
U18 Women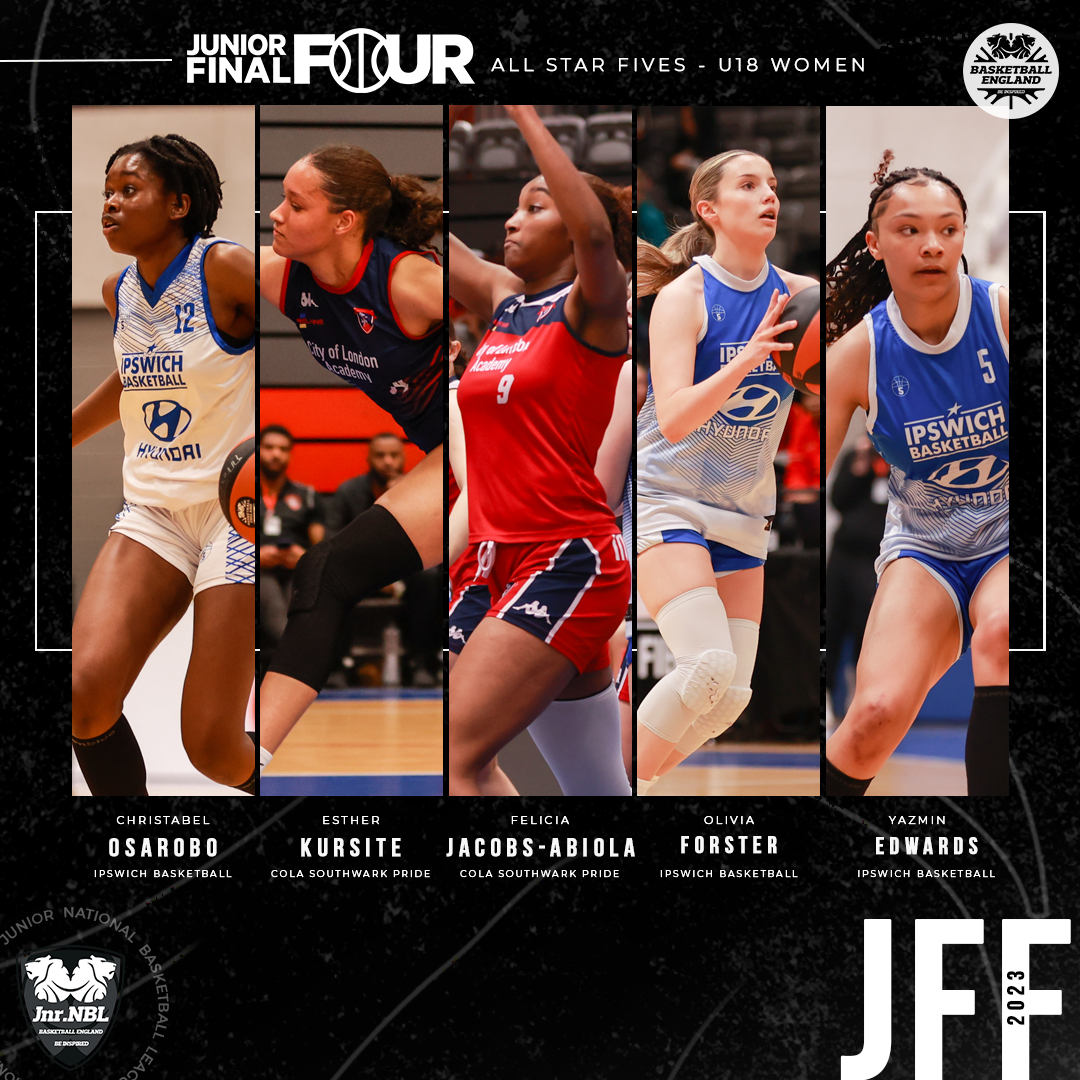 Olivia Forster - Ipswich basketball (MVP)
24.0pPG, 4.0apg, 8.5spg, 16.0epg
Yazmin Edwards - Ipswich Basketball
20.0ppg, 13.0rpg, 2.5apg, 4.0spg, 23.5epg
Christabel Osarobo - Ipswich Basketball
13.0ppg, 11.0rpg, 5.0apg, 3.5spg, 2.0bpg, 24.0epg
Felicia Jacobs-Abiola - CoLA Southwark Pride
11.0ppg, 11.5rpg, 2.0spg, 2.5bpg, 15.5epg
esther kursite - cola southwark pride
12.0ppg, 11.0rpg, 1.5bpg, 15.5epg
MVP Liv Forster came up big for Ipswich at both ends of the court to lead the age-group with 48 points as well as a stunning 17 steals across the two days.
Yazmin Edwards (20.0PPG, 13.0RPG) continues to impress following her MVP honours at January's U18 National Cup final, whilst Christabel Osarobo makes it a trio of Ipswich standouts following her versatile 13.0PPG, 11.0RPG, 5.0APG, 3.5SPG weekend.
Fellow finalists CoLA round out the selections, with both Felicia Jacobs-Abiola and Esther Kursite getting the nod.
Jacobs-Abiola (11.0PPG, 11.5RPG) progresses from last season's U16 team when she was with GCA Haringey Angles, and fellow forward Kursite (12.0PPG, 11.0RPG) was an honourable mention in 2021/22 during her time with Richmond.
Honourable mentions
Favour Elabour - Manchester Mystics
8.5PPG, 12.0RPG, 3.5BPG, 12.5EPG
U18 Men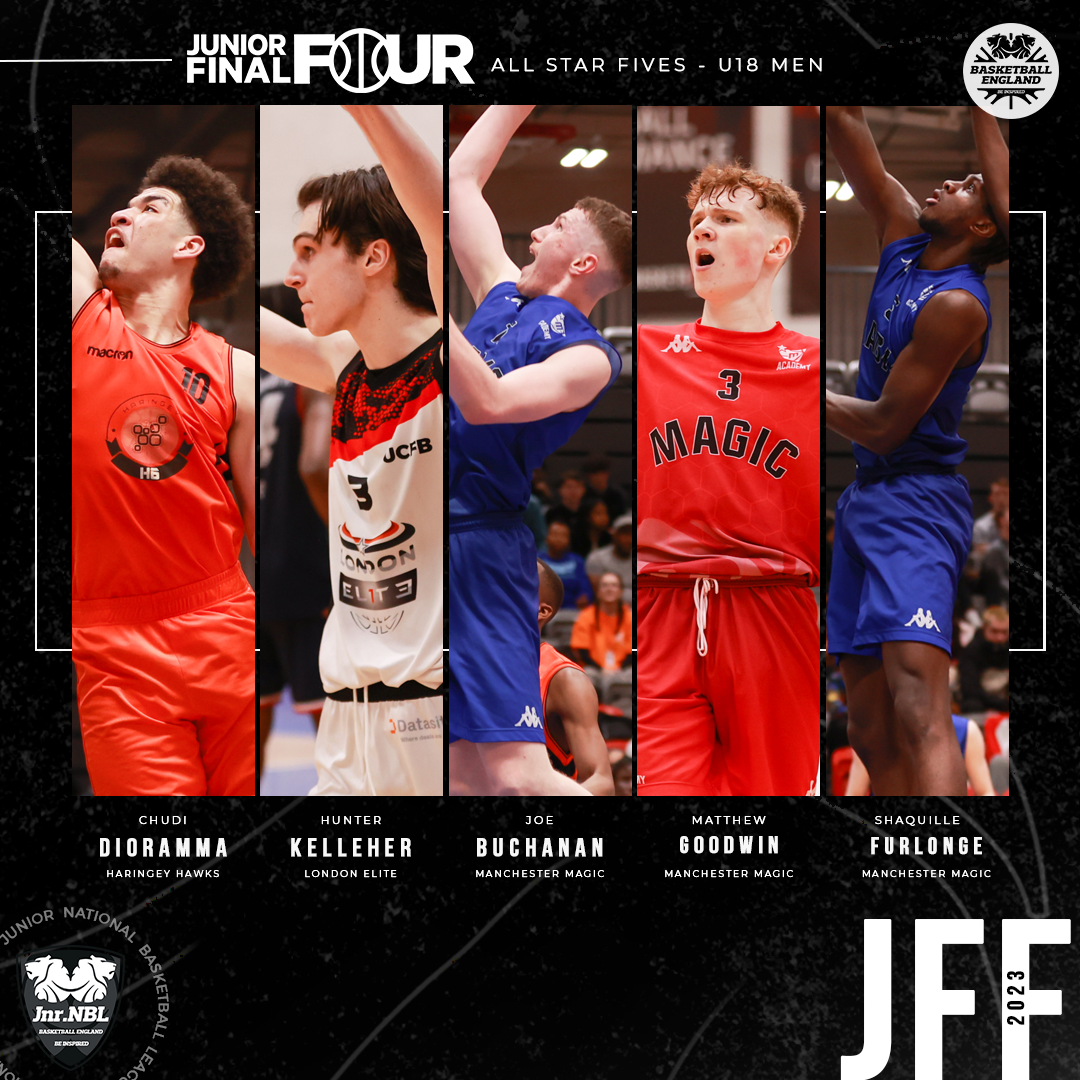 Matthew goodwin - manchester magic (MVP)
21.0pPG, 4.0rpg, 6.0apg, 2.0spg, 21.0epg
shaq furlonge - manchester magic
16.5ppg, 17.0rpg, 2.5apg, 27.0epg
Joe buchanan - Manchester Magic
23.5ppg, 7.5rpg, 21.5epg
Hunter Kelleher - London Elite
11.5ppg, 10.0rpg, 2.0apg, 3.0bpg, 13.5epg
Chudi Dioramma - HAringey hawks
20.0ppg, 13.5rpg, 3.0apg, 2.0spg, 18.0epg
Matthew Goodwin made it repeat MVPs, claiming U16 honours a year ago and the U18 award this past weekend.
Continuing to highlight his considerable talent, Goodwin dropped 34 points in Sunday's final, whilst only Neve Ruggette (13, U16 Girls) had more assists than the Magic man this weekend.
While Goodwin was doing his thing, team mates Shaq Furlonge (age-group high 34 rebounds) and Joe Buchanan (age-group high 47 points) both moved out to statistical milestones of their own.
London Elite's Hunter Kelleher (11.5PPG, 10.0RPG) goes back-to-back after making this five last year. The talented forward put an exclamation point on his weekend's work with a highlight reel block on CoLA's Noah Myers with just a few seconds remaining in Saturday's semi-final.
Haringey may have come fourth this weekend but it wasn't any slight on Chudi Dioramma. The exciting young forward averaged a solid 20.0PPG, 13.5RPG double-double across the two days to continue his development.
Honourable mentions
Liam Campbell - London Elite
14.5PPG, 4.5RPG, 5.0APG, 2.5SPG, 10.0EPG
Ben Csernak - CoLA Southwark Pride
14.5PPG, 6.0RPG, 17.5EPG
Clemson Edomwonyin - CoLA Southwark Pride
6.5PPG, 10.5RPG, 3.0APG, 2.0BPG, 14.0EPG
.

Join Basketball England for free. Whether you have a Supporter Account as a fan, follower, enthusiast or advocate, or a Full Account and have paid for a licence to play, coach or officiate in competition, you can be part of the basketball family.
Basketball has the power to change lives. Our #GameTime campaign aims to raise awareness of the positive impact that basketball can have on people no matter who they are or where they are from.
.