To celebrate the release of the new comedy film Champions, starring Woody Harrelson, Basketball England and Universal Pictures UK are partnering to regenerate a basketball court in Manchester this spring.
From the producers of Pitch Perfect, and hitting UK cinemas on 10 March 2023, Harrelson stars in the hilarious and heart-warming story of a former minor-league basketball coach who, after a series of missteps, is ordered by the court to manage a team of disabled players.
He soon realises that, despite his doubts, together, this team can go further than they ever imagined.
To celebrate the launch of the film, Universal has donated to BE's initiative #ProjectSwish, which is improving outdoor basketball courts across England, to renovate a court at Platt Fields Park and create an attractive space for the community to play basketball.
Speaking ahead of the film's UK launch, Champions Producer Paul Brooks said:
"Champions is a celebration of inclusivity and accessibility within sport. We are thrilled that this sentiment will be honoured at Platt Field's Park for years to come."
Basketball England Head of Participation Pete Griffiths said:
"We are extremely excited to be working with Universal and grateful for its generosity in wanting to leave a basketball legacy because of Champions.
"The film depicts the inclusive nature of the sport and what it means to people who play it. The common denominators across all formats of the game – whether running, wheelchair or learning disability basketball – are friendship, personal development, a sense of belonging and fitness benefits and we're glad a global brand and a Hollywood personality in Harrelson want to bring that to life with our help and through #ProjectSwish.
"Platt Fields Park is one of the most popular outdoor courts among players in Manchester. But despite the popularity, the condition of the equipment and surface are dilapidated. The legacy of this film means a reenergised, good-looking space for every basketball player to work on their game and have fun."
Film launch event at National Basketball Performance Centre
Additionally, on the 11 March a film launch event will be hosted at the National Basketball Performance Centre, showcasing the inclusive nature of sport. Activities will include learning disability basketball sessions run by Disability Opportunities in Sport UK (DOSportUK) coaches – specialists in sporting and physical activity opportunities to people with a disability – and supported by Special Olympics Great Britain.
One of the coaches is Director of DOSportUK Jacob Meaton, who welcomes the spotlight on learning disability basketball as coach of the Special Olympics GB 3x3 basketball team at the Berlin 2023 Special Olympics World Games.
"We are super-excited to see the release of Champions and showcase the wonderful work that we do in partnership with Basketball England and Special Olympics GB.
"Basketball for people with an intellectual disability does not get much media coverage and we hope that this movie from Universal can help put people with an intellectual disability into the limelight and offer people an insight into the benefits of basketball on the groups we work with."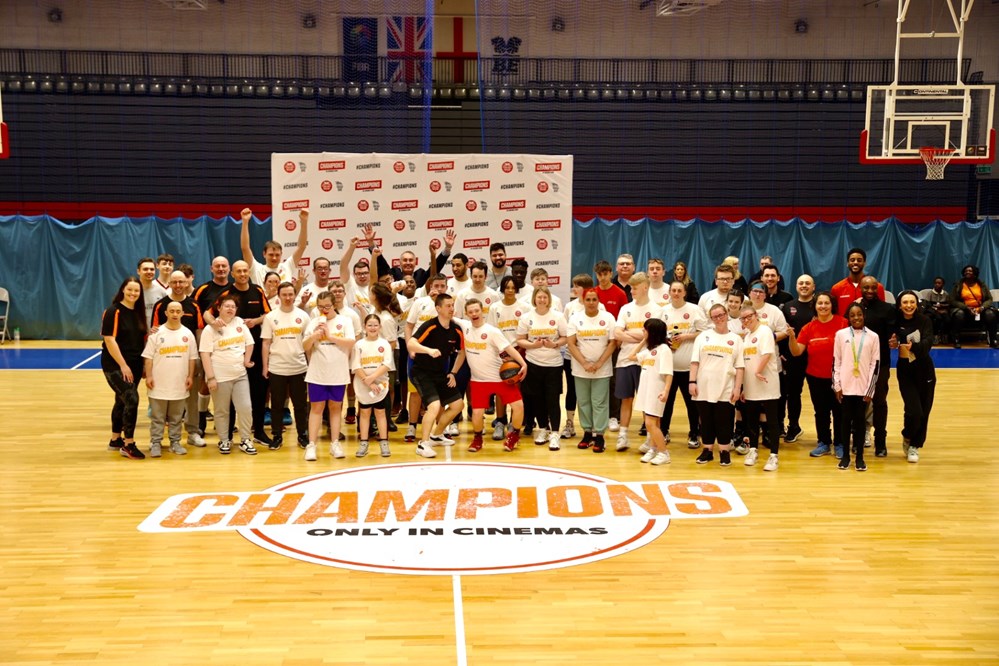 Competing against other nations from around the world
This summer Special Olympics GB is sending a team of five women's basketball players to the Berlin 2023 Special Olympics World Games, where they will compete in a 3x3 competition against other nations from around the world.
Adi Fawcett, Head of Sport at Special Olympics GB, said: "The launch of Champions is coming at a fantastic time for the Special Olympics movement around the world with more than 7,000 athletes with intellectual disabilities gathering in Berlin 2023 in June to participate at the Special Olympics World Games.
"We're committed to using the power of sport to make a difference to the lives of people with intellectual disabilities and it's great that the film can really highlight just how transformational the work of Special Olympics can be."
Champions is in cinemas on March 10.
.
.