We're back for a new season and Rebound's Chris Hughes returns once again to cast his eye over the NBL1 landscape.
Chris, the All-Star organiser, content producer, YouTube host and producer, commentator and social media observer, had a hefty 10 KitKing Trophy ties to sift through over the past weekend.
Have your say on this week's choices and give a shout-out to the players you think deserve one using the hashtag #NBL2324 and #ReboundTOTW. Don't forget to tag us!    
X:  @NBLengland / @Rebound__  
Facebook:  @NBLengland  / @ReboundNBL  
Instagram:  @nblengland / @reboundnbl  
How it works 
Chris will pick a Player of the Week and four other selections to round out his Team of the Week, paying attention to the following criteria:
Efficiency  
Stats  
Team and opposition strength  
Periods of influence in the game 
Being on a winning team (exceptional performances from players on losing teams will be considered for TOTW)
Other players will also receive a shout out as honourable mentions at the bottom of the piece.
The Rebound Team of the Week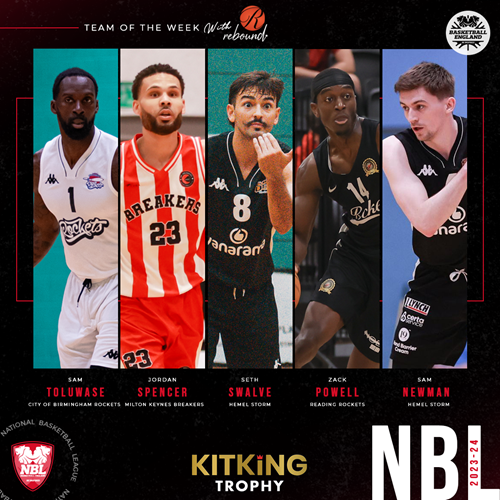 PLAYER OF THE WEEK 
Sam Toluwase - City of Birmingham Rockets, forward
26PTS/5REB/2AST/5STL/30EFF vs NOT
13pts/5REB/1AST/11EFF @ LOU
Sixteen of Toluwase's 26-point contribution in an 18-minute cameo on Saturday came at key times. Firstly, after falling behind to a 30-17 in the  first quarter, the forward helped quickly cutdown the Hoods' lead with seven points at the start of the second quarter as the Rockets finished the half up by five. Toluwase would go on to add a further nine points in the final quarter to ensure Birmingham got off to a winning start.
In Sunday's clash with the Riders he contributed five defensive boards, as the former Reading Rockets forward limited the damage.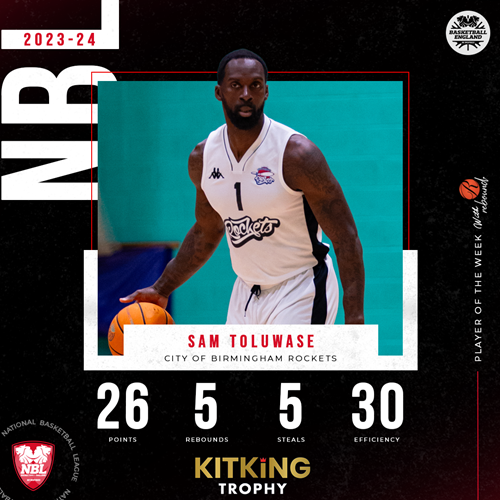 Jordan Spencer – Milton Keynes Breakers, guard
19pts/10reb/7ast/1stl/30eff
Spencer put on an efficient masterclass flirting with a triple-double. The guard has BBL pedigree and his eight-point first-quarter performance set the pace as he created spacing for Milton Keynes to find easy looks to hit seven of their 11 opening-quarter three-point attempts.
Seth Swalve – Hemel Storm, guard
29PTS/4REB/3AST/3STL/29EFF
Swalve sported a moustache akin to the logo of a famous crisp brand, that's tagline is 'once you pop, you can't stop'. That mantra was applied to the sharp-shooter's form as he led all scorers in a tough 11-point win.
Zack Powell – Reading Rockets, guard 
17pts/10reb/8ast/3stl/25eff 
'The General' was a walking highlight as well as controlling proceedings. An impressive first-quarter performance at both ends was the catalyst for an early 12-point lead.
Sam Newman – Hemel Storm, guard
23pts/4reb/7ast/1stl/28eff
Newman put on a three-point shooting and assist masterclass, showing his pedigree as one of the premier guards in NBL1. A top-class performance against his former side's strong back-court.
Team basketball 
COB are ready to play
Birmingham had multiple players net nine or more points (six on Saturday, seven on Sunday) and with multiple providers, three of the five starters in both games delivered two or more assists while protecting the ball with limited turnovers.
Barking beat the Bears, nearly a Thunderstorm too
In a double-header weekend Barking took Worthing Thunder all the way  in a narrow loss, splitting the double-header with .500 record. It was a team performance as the bench contributed to over half of the weekend's point tally
Honourable mentions 
Sam Masten (DTB) – 23P/4R/5A/4S/28EFF
Elijah Bailey (LOU) - 35P/2R/2A/2S/25EFF
Hakeem Sylla (HEM) – 21P/12R/3S/2B/28EFF
Luke Rooney (NEW) - 27P/1R/2A/3S/1B/25EFF @ BRA & 26P/4R/2S/19EFF vs MAN
Hafeez Abdul (WOR) - 28P/9R/4A/24EFF @ REA & 18P/5R/1A/10EFF vs BA
.
.