The KitKing Trophy quarter-finals played out last weekend, providing no shortage of quality performances for Chris Hughes.
Chris, the All-Star organiser, content producer, YouTube host and producer, commentator and social media observer, had four exciting contests to sift through, with Hemel, Reading, Bradford and Derby all punching a ticket to the next round.
Have your say on this week's choices and give a shout-out to the players you think deserve one using the hashtag #NBL2324 and #ReboundTOTW. Don't forget to tag us!    
X:  @NBLengland / @Rebound__  
Facebook:  @NBLengland  / @ReboundNBL  
Instagram:  @nblengland / @reboundnbl  
How it works 
Chris will pick a Player of the Week and four other selections to round out his Team of the Week, paying attention to the following criteria:
Efficiency  
Stats  
Team and opposition strength  
Periods of influence in the game 
Being on a winning team (exceptional performances from players on losing teams will be considered for TOTW)
Other players will also receive a shout out as honourable mentions at the bottom of the piece.
The Rebound Team of the Week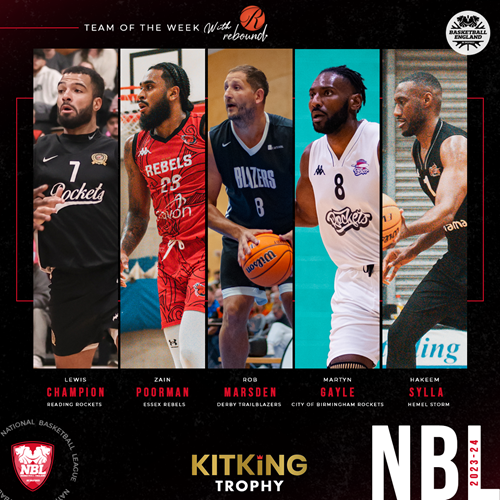 PLAYER OF THE WEEK 
Lewis Champions - Reading Rockets, guard
32pts/2reb/4ast/5stl/29eff
The Reading captain stepped up when it mattered to secure a final four spot with an impressive all-round performance in the 17-point win.
Champion led his team with an impressive two-way performance, including a solid shooting stat line to go with with five steals.
Those forced turnovers were part of a team effort of disrupting the Rebels' offence, and proved to be a catalyst as the Rockets recorded an impressive 36 points from turnovers.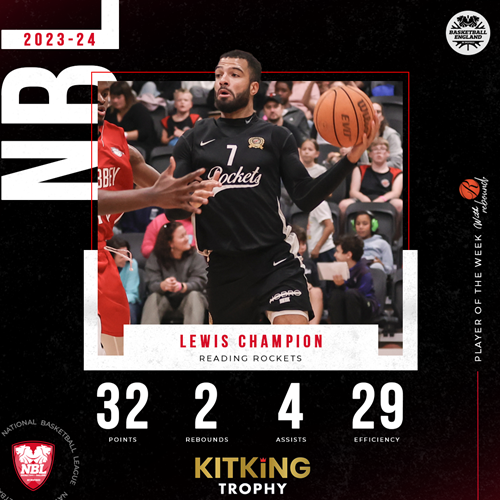 Rob Marsden – Derby Trailblazers, forward
15pts/10reb/8ast/1blk/29eff

The former Sheffield Sharks' forward was a predator in the paint in an all-round performance which was just two dimes short of a triple-double.
Marsden's box score contribution in the first quarter was one of the keys to the Trailblazers' success as the hosts raced to a 17 point lead at the end of the opening frame, leaving Barking to chase for the duration.
Zain Poorman - Essex Rebels, guard
32pts/6reb/3ast/4stl/1blk/35eff
A loss to my Player Of The Week Lewis Champion is the only slight preventing Poorman from receiving this week's top individual honour for himself, as the Rebels eventually went down 102-85 against Reading.
The explosive guard posted a highly-efficient performance in his duel with Champion, with the former Solent man being trusted to shoot a third of the Rebels' shots as he knocked down bucket after bucket with ease.
Defensively, Poorman's four steals also ensured the Rebels matched the Rockets with 13 steals each.
Martyn Gayle – City of Birmingham Rockets, guard 
26pts/14reb/2ast/35eff
Gayle put together a mammoth 26 point, 14 rebound double-double performance against an imposing Bradford Dragons side.
The CoB captain was the only player to record double digits in the paint, limiting the damage from a top rebounding side to take the game down to the wire.
Hakeem Sylla - Hemel Storm, forward
17pts/15reb/1st/2stl/1blk/26eff
Hemel and Sylla had to pull out all the stops to eke out a narrow win over Milton Keynes this weekend, but the victory came thanks to the ever-reliant forward putting on a masterclass down low with a routine double-double and key free throws down the stretch.
Sylla's dominance in the paint at both ends was key in an otherwise tight game as Hemel outscored Milton Keynes by 16 points in the paint.
Team basketball 
Rockets lift off into final four
Behind a top performance from their captain, Reading set Loddon Valley ablaze in a dominant win, disrupting the Rebels time and time again.
Reading achieved success by forcing turnovers, scoring their share of points in transition and using fast breaks to find easier looks in the paint. That gameplan allowed all but one shooting player to record points in what was an excellent team performance.
Honourable mentions 
Raheem May Thompson (DTB) – 24P/9R/4A/1S/4B/25EFF
Fin Porter (REA) - 16P/7R/1A/1B/20EFF
Brayden Inger (HEM) – 20P/4R/4A/1B/21EFF
Corey Johnson (DTB) - 22P/10R/3A/1B/26EFF
Rihards Sulcs (BRA) - 9P/7R/6A/2S/15EFF
.
.