Rebound's Chris Hughes encountered a familiar face as he selected his Player of the Week plus four others to make up the Team of the Week.
Chris, the All-Star organiser, content producer, YouTube host and producer, commentator and social media observer, had nine games to look over across the weekend, and with so many games to choose from, he didn't have a shortage of worthy candidates.
Have your say on this week's choices and give a shout-out to the players you think deserve one using the hashtag #NBL2223 and #ReboundTOTW. Don't forget to tag us!    
Twitter:  @NBLengland / @Rebound__  
Facebook:  @NBLengland  / @ReboundNBL  
Instagram:  @nblengland / @reboundnbl  
How it works 
Chris will pick a Player of the Week and four other selections to round out his Team of the Week, paying attention to the following criteria:
Efficiency  
Stats  
Team and opposition strength  
Periods of influence in the game 
Being on a winning team (exceptional performances from players on losing teams will be considered for TOTW)
Other players will also receive a shout out as honourable mentions at the bottom of the piece.
The Rebound Team of the Week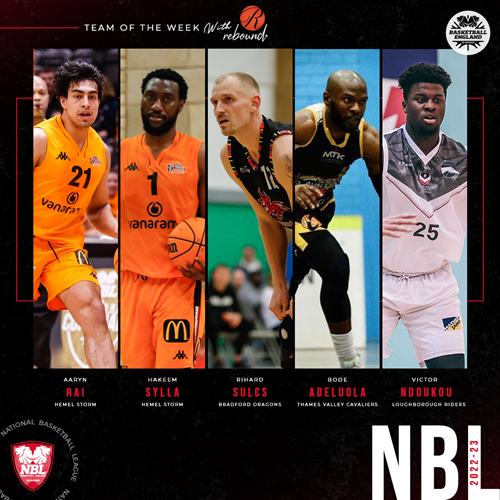 Player of the week
Aaryn Rai – Hemel Storm, forward 
20PTS (8-12FGM/1-3 3PM/3-3FTM)/10REB/1STL/+-34/33EFF v NOTT 
33PTS (12-16FGM/3-6 3PM/6-6FTM)/18REB/6AST/2STL/1BLK/+-23/52EFF @ DER 
For four weeks running Aaryn Rai has done everything he can to make the 'Player of the Week' award a certainty. This weekend the British passport holder put in two double-double performances including an astronomical 52 efficiency game.  
In Sunday's clash at Derby, Rai was the catalyst in a tone-setting 31-18 second quarter flirting with a double-double from just the second quarter's performance alone. 
Once again Aaryn Rai proved how consistent he is at an elite shooting level posting identical shooting percentages from all areas (75/50/100)! 
Hakeem Sylla – Hemel Storm, forward 
22PTS(9-12FGM/4-6FTM)/9REB(4 O-REB)/1AST/2STL/+-21/28EFF V NOTT 
26PTS(11-13FGM/4-5FTM)/9REB(3 O-REB)/1AST/1STL/+-27/37EFF @ DER 
Sylla was one board shy of a double-double on both occasions this week as the Guinean international's work under the basket contributed to Hemel taking the advantage from second-chance opportunities against two good rebounding sides. 
The former Thames Valley Cavaliers' forward was a key figure in both games with lights-out shooting as Hemel breached the 100-point mark twice this weekend to keep the unbeaten run going.  
Rihards Sulcs – Bradford Dragons, forward 
11PTS(5-8FGM)/11REB(5 O-REB)/4AST/3STL/+-24/24EFF 
Sulcs enjoyed a super-efficient game in the 38-point road trip dub over Essex posting an 11/11 double-double. 
The veteran NBL forward was a threat in a dominant 34-8 second quarter, padding his stats with an impressive five points, three boards, two assists and steals. 
Bode Adeluola – Thames Valley Cavaliers, guard 
26PTS(10-21FGM/4-4FTM)/5REB/6AST/1TUR/25EFF V SOL 
13PTS(5-13FGM/1-1FTM)/4REB/4AST/2STL/+-28/13EFF V ESS 
Adeluola was on it this weekend, first in helping the Cavaliers take down a top Solent side in overtime to boost their own top-four aspirations, and then was the most impactful player in the 15-point win versus Essex. 
Saturday's game needed overtime to decide the fate with the hosts besting the visitors 12-5, a three from Bode helping sealed the deal. 
Victor Ndoukou – Loughborough Riders, forward 
19PTS(7-9FGM/3-4 3PM/2-2FTM)/4REB/3AST/1STL/+-9/25EFF  
Ndoukou (below) capped of an impressive cameo from the bench to clinch a 'Team of the Week' honours with great shooting to clinch a six-point win on a tough road trip to Reading.  
The forward demonstrated is full shooting range, make shots at an efficient in a variety of ways.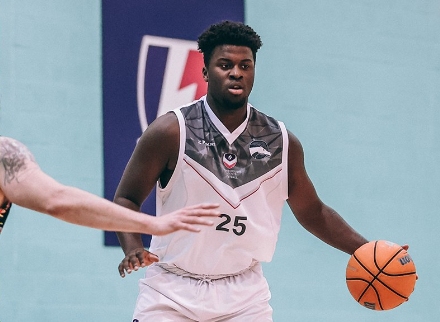 Team basketball 
DOMINANT HEMEL 
Hemel produced two fine performances against two top NBL sides, only ever trailing by maximum of three points across a double-header weekend. 
What makes the wins even more impressive is the fact they managed it without MVP candidate Taylor Johnson, as the talented guard was ruled out with injury. 
In both wins, four of the starting five recorded double digits in points in both games. 
NEWCASTLE's BRAVE BATTLE 
Newcastle played strong and hard against a Derby side that went toe-toe in the BBL Trophy. 
The side that has had to rebuild put in a performance that would rival any performance from last year's roster. 
It was a truly team performance with the entire eight-man roster contributing in scoring and rebounding, with only one player not contributing an assist or a steal. 
Honourable mentions 
RONALD BLAIN (WOR) – 13P/6R/4A/3S/+-22/20EFF 
LEWIS CHAMPION (REA) – 14P/2R/7A/0TO/1S/21EFF  
RICKY MADISON (SOL) – 32P/13/2A/1S/1B/35EFF 
ELIAS POORMAN (SOL) – 14P/9R/15A/3TO/26EFF  
AJ ROBERTS (TVC) - 21P/10R/4A/1S/3B/28EFF V SOL & 16P/1R/1A/16EFF V ESS 
.
System.NullReferenceException: Object reference not set to an instance of an object.
   at Umbraco.Web.PublishedContentExtensions.Value[T](IPublishedContent content, String alias, String culture, String segment, Fallback fallback, T defaultValue) in D:\a\1\s\src\Umbraco.Web\PublishedContentExtensions.cs:line 165
   at ASP._Page_Views_Partials_grid_editors_mosquito_Media_cshtml.Execute() in E:\webs\basketballengland.co.uk\htdocs\Views\Partials\grid\editors\mosquito\Media.cshtml:line 7
   at System.Web.WebPages.WebPageBase.ExecutePageHierarchy()
   at System.Web.Mvc.WebViewPage.ExecutePageHierarchy()
   at System.Web.WebPages.WebPageBase.ExecutePageHierarchy(WebPageContext pageContext, TextWriter writer, WebPageRenderingBase startPage)
   at Umbraco.Web.Mvc.ProfilingView.Render(ViewContext viewContext, TextWriter writer) in D:\a\1\s\src\Umbraco.Web\Mvc\ProfilingView.cs:line 25
   at System.Web.Mvc.Html.PartialExtensions.Partial(HtmlHelper htmlHelper, String partialViewName, Object model, ViewDataDictionary viewData)
   at ASP._Page_Views_Partials_grid_editors_mosquito_Base_cshtml.Execute() in E:\webs\basketballengland.co.uk\htdocs\Views\Partials\grid\editors\mosquito\Base.cshtml:line 19
Join Basketball England for free.
Whether you have a Supporter Account as a fan, follower, enthusiast or advocate, or a Full Account and have paid for a licence to play, coach or officiate in competition, you can be part of the basketball family.
Basketball has the power to change lives. Our #GameTime campaign aims to raise awareness of the positive impact that basketball can have on people no matter who they are or where they are from.