Rebound's Chris Hughes had a tough job this weekend, singling out player and team of the week selection.
Chris, the All-Star organiser, content producer, YouTube host and producer, commentator and social media observer, had eight games to sift through, including Hemel's win away to Newcastle as Storm sealed the D1M regular-season title.
Have your say on this week's choices and give a shout-out to the players you think deserve one using the hashtag #NBL2223 and #ReboundTOTW. Don't forget to tag us!    
Twitter:  @NBLengland / @Rebound__  
Facebook:  @NBLengland  / @ReboundNBL  
Instagram:  @nblengland / @reboundnbl  
How it works 
Chris will pick a Player of the Week and four other selections to round out his Team of the Week, paying attention to the following criteria:
Efficiency  
Stats  
Team and opposition strength  
Periods of influence in the game 
Being on a winning team (exceptional performances from players on losing teams will be considered for TOTW)
Other players will also receive a shout out as honourable mentions at the bottom of the piece.
The Rebound Team of the Week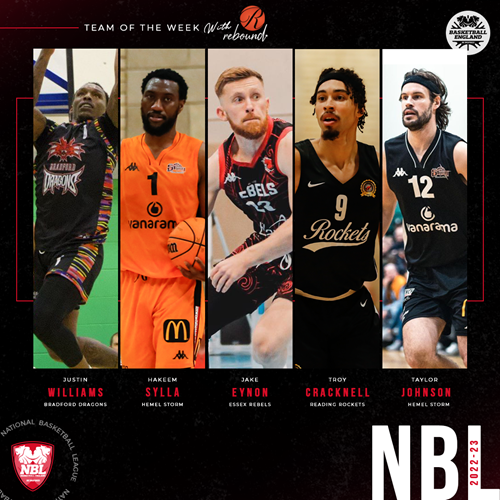 player OF THE WEEK
Justin Williams – Bradford Dragons, guard
37pts
The Indianapolis guard raced to a 37-point tally at Newcastle to fire Bradford up to fifth spot with the playoff bracket almost confirmed. 
In a tight game, Williams hit 17 of Bradford's final 27 points to get the six-point road win. 
It's been a great rookie season for the Rebound All Stars guard and a well-deserved Player of the Week award caps it.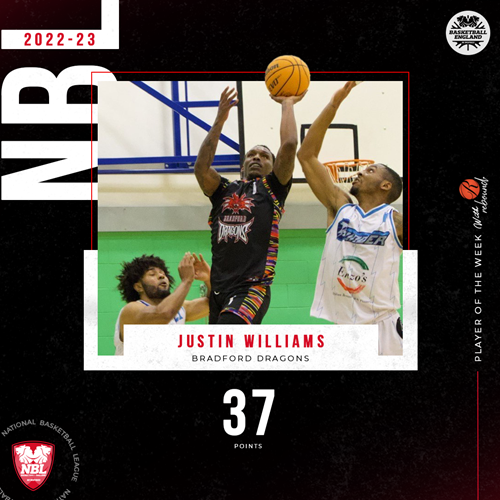 Jake Eynon – Essex Rebels, guard 
40PTS/5REB/11AST/45EFF  
Eynon put in what could be the best individual performance of the season on the road with the only caveat preventing him from receiving his POTW flowers is that it came in a loss. 
Eynon showed his credentials with 40 points from under 20 field goal attempts with a crazily-efficient 6/11 from downtown, hitting all but one of his 11 shots from the line!  
Hakeem Sylla – Hemel Storm, forward
25PTS/11REB/5AST/1stl/36EFF
Last week's 'Player of the Week' is unfortunate not to go back-to-back with another strong performance, helping secure the 'chip for Hemel in the win over Newcastle. 
Sylla put in an efficient performance with another double-double, making Hemel almost unstoppable in the paint as the Sylla-Rai connection helped them secure 64 points under the basket. 
Troy Cracknell – Reading Rockets, guard
28PTS/10REB/3STL/34EFF
Cracknell is elite. The Rockets guard was on hand to help secure another home win against a valiant rebellion from Essex with an even influence across the game. 
His three steals on the defensive end further demonstrated that Cracknell has game as the former Augusta University star led his team in points, and all players in rebounds and steals in a big two-way performance. 
Taylor Johnson  – Hemel Storm, guard
26PTS/8REB/2AST/30EFF
Johnson was there for this excellent Hemel side as this season's two-times final MVP put in a shooting clinic to help secure the title with a game to spare. 
The American closed with 26 points and eight boards, going 10/16 from the floor and an impressive 4/7 from beyond the arc as Hemel sealed their history-making win.
Team basketball 
CAVS win the battle of the hot streaks
Thames Valley are hot going into the playoffs. They are on a 6-0 run with Loughborough their latest victims. The Riders headed into this game in good form themselves, with this weekend's loss moving them to back to 6-1 across their last seven. 
The Cavaliers found their scorers with 22 assists, but it was on the defensive end that the Cavs stood out. Honourable mention to Robert Banks Jr. with a game-high three blocks and Victor Olarerin with three steals and a block. 
Warriors go down fighting
In a basement battle, Westminster Warriors clawed a win in Manchester, condemning Magic to a bottom two spot in the process.
A dominant all-round team performance saw Westminster shoot a tasty 56 FG% and outscore the opposition on all box score stats in the 15-point win. 
Honourable mentions 
Raheem May-Thompson (DTB) - 24P/8R/4A/4B/26EFF @LL2 & 25P/8R/3B/20EFF @MAN
Ryan Bruggeman (DTB) - 19P/3R/8A/1S/22EFF @LL2 & 15P/5R/6A/2S/22EFF @MAN
Jordan Gray (WES) - 11P/4R/9A/1S/21EFF
Andre Arissol (WOR) - 5P/3R/9A/4S/12EFF
Reis Pinnock (DTB) - 19P/3R/5A/2S/21EFF
.

Join Basketball England for free. Whether you have a Supporter Account as a fan, follower, enthusiast or advocate, or a Full Account and have paid for a licence to play, coach or officiate in competition, you can be part of the basketball family.
Basketball has the power to change lives. Our #GameTime campaign aims to raise awareness of the positive impact that basketball can have on people no matter who they are or where they are from.
.