D1M was back in full force this past weekend, providing plenty of action for Chris Hughes to look through.
Hughes, the All-Star organiser, content producer, YouTube host and producer, commentator and social media observer, had a full complement of six games to study in order to pick out a Player and Team of the Week.
Have your say on this week's choices and give a shout-out to the players you think deserve one using the hashtag #NBL2324 and #ReboundTOTW. Don't forget to tag us!    
X:  @NBLengland / @Rebound__  
Facebook:  @NBLengland  / @ReboundNBL  
Instagram:  @nblengland / @reboundnbl  
How it works 
Chris will pick a Player of the Week and four other selections to round out his Team of the Week, paying attention to the following criteria:
Efficiency  
Stats  
Team and opposition strength  
Periods of influence in the game 
Being on a winning team (exceptional performances from players on losing teams will be considered for TOTW)
Other players will also receive a shout out as honourable mentions at the bottom of the piece.
The Rebound Team of the Week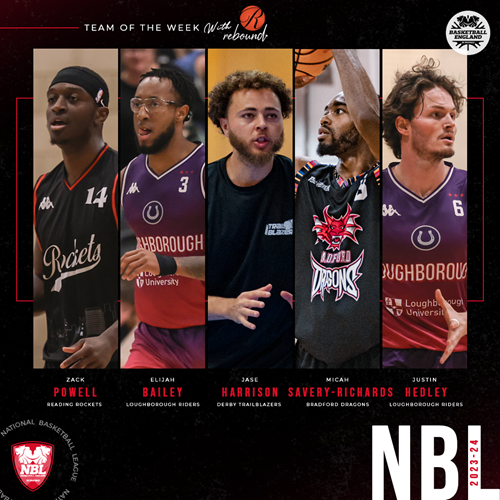 PLAYER OF THE WEEK 
Zack Powell - Reading Rockets, guard
21pts/12reb/9ast/36eff
Zack Powell was one dime short of a triple-double but it was the Hoods who were left to pay, struggling to guard my Rebound Player Of Week.
In the first half, Reading went toe-to-toe with Nottingham as Powell directly contributed to almost two thirds of Reading's first half points, meaning the Hoods never amassing more than a six point lead.
Powell also got the offense moving quickly after the break, netting the first shot of the third quarter as his triple tied up the game.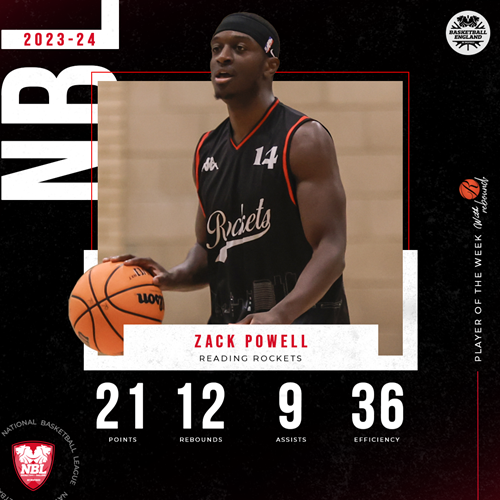 Justin Hedley – Loughborough Riders, guard
19pts/14reb/4ast/28eff

Justin Hedley posted an efficient 19-point and 14-rebound double-double as the Loughborough captain was an influential figure in Riders' the 20-point road trip win.
Hedley also contributed as part of a team effort under the Loughborough basket, restricting Birmingham to just two second-chance points.
Elijah Bailey - Loughborough Riders, guard
22pts/5reb/5ast/2stl/23eff
Elijah Bailey was a problem for Birmingham this weekend as the one time Rebound All-Star led all players in points, offensive rebounds (tied) and assists in a dominant performance.
Bailey's six points, two offensive boards and a steal in the first quarter helped Loughborough capitalise with 26-14 lead after the opening ten minutes.
The visitors never looked back from there as Birmingham struggled to get any real foothold in the game.
Jase Harrison – Derby Trailblazers, guard
18pts/2reb/8ast/3stl/25eff
Jase Harrison returned from injury with a big performance to be that guy for Derby in their 10-point win over Worthing. It was an impressive shooting and playmaking performance off the bench, racking up his totals in 24:31 of action.
In the last four minutes of the second quarter, Harrison was on a mission and some lights out shooting plus zero turnover helped stretch an already impressive DTB lead.
8 points and two dimes in that span took the Trailblazers into the half up 53-33, a strong position they converted into a W.
Micah Savery-Richards - Team Newcastle, guard
27pts/6reb/5ast/2stl/31eff
In the 32-point statement win in the capital, Savery-Richards but on an efficient scoring performance to lead Bradford to the blowout dub.
From beyond the arc, the Bradford sharp shooter was an issue with an 80 3P% to space the floor for Bradford to find easy looks when needed.
Team basketball 
Riders End Rockets' run
Five of Loughborough's shooters made double digits against City of Birmingham, with a strong team 44FG%, 40 3P% and 84FT% split.
In what was a solid offensive performance, the Riders also bested their opponents in points from turnovers and second chance opportunities.
Defensively, strong rebounding and limiting points from turnovers contributed to Loughborough keeping the lead for most of the game, with the hosts never enjoying more than a one point advantage.
Honourable mentions 
Emmanuel Kanwei (NEW) - 25P/6R/2A/1B/27EFF 
Justin Hopkins (NEW) - 16P/12R/3A/2S/1B/20EFF
Justin Williams (BRA) - 18P/5R/5A/2S/25EFF
Joshua Guddemi (NOT) - 17P/10R/3A/1S/2B/24EFF
Juan Manning (BAR) - 24P/8R/2A/4S/1B/26EFF 
.
.

Main image credit - Luke Simcock