D1M didn't disappoint this past weekend, providing one of the highest-efficiency Team of the Week selections in some time.
Chris Hughes, the Rebound All-Star organiser, content producer, YouTube host and producer, commentator and social media observer, had a six games to look over, with some players making their contributions impossible to ignore.
Have your say on this week's choices and give a shout-out to the players you think deserve one using the hashtag #NBL2324 and #ReboundTOTW. Don't forget to tag us!    
X:  @NBLengland / @Rebound__  
Facebook:  @NBLengland  / @ReboundNBL  
Instagram:  @nblengland / @reboundnbl  
How it works 
Chris will pick a Player of the Week and four other selections to round out his Team of the Week, paying attention to the following criteria:
Efficiency  
Stats  
Team and opposition strength  
Periods of influence in the game 
Being on a winning team (exceptional performances from players on losing teams will be considered for TOTW)
Other players will also receive a shout out as honourable mentions at the bottom of the piece.
The Rebound Team of the Week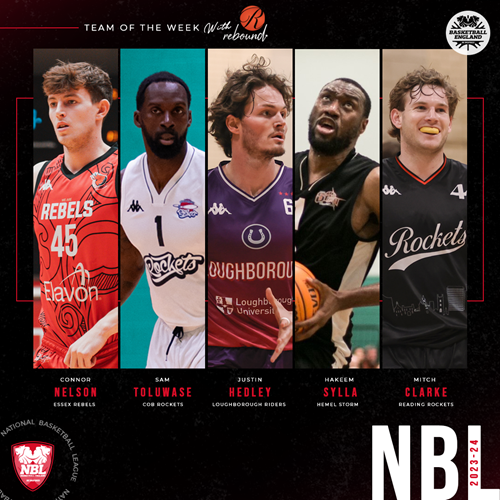 PLAYER OF THE WEEK 
Connor Nelson - Essex Rebels, forward
31pts/4reb/3ast/3BLK/38eff
The former NCAA D1 forward produced a top-tier performance against Reading, highlighting his strengths as a shooter, both from the line and beyond the arc.
The Essex man hit 5/8 from long range, going a perfect 10/10 from the charity stripe to make the Rockets pay every time they fouled him.
Nelson was composed in the third quarter and his 14 points efficiently pushed the Rebels into a commanding position in an otherwise tight contest.
In a weekend full of top performances, Nelson highly efficient outing against a previously undefeated Reading side was just enough to earn my Player Of The Week award.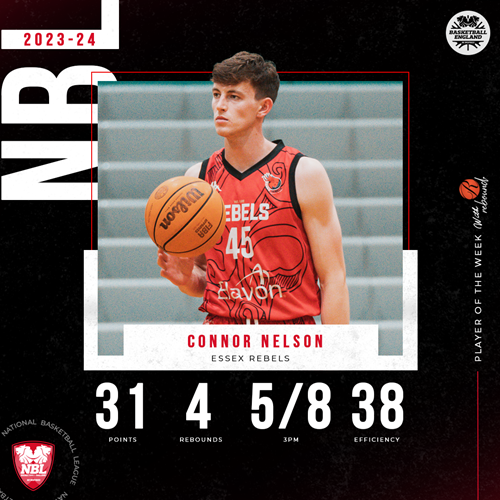 Samuel Toluwase – City of Birmingham Rockets, guard
45pts/15reb/1stl/1blk/44eff

Toluwase is unfortunate not to have received the nod for the Player Of The Week award as he ensured Birmingham got the dub with 11 points in overtime against Nottingham.
He produced the weekend's most efficient performance from a mouth watering 45-point and 15-rebound double-double.
A game-high 10 turnovers was the only slight on an otherwise stunning performance, with Birmingham conceding 39 points from 33 turnovers across the afternoon.
Justin Hedley - Loughborough Riders, guard
33pts/8reb/3ast/1stl/36eff
Hedley took care of business with 11 points in the fourth quarter, including the winning bucket, to lift Loughborough to a win over the much-fancied Derby Trailblazers.
He also led all players in rebounds, contributing to Derby's struggle to get more than six-second-chance points.
Hakeem Sylla – Hemel Storm, forward
24pts/16reb/1ast/2stl/1blk/37eff
Sylla put in a monster 24-point and 16-rebound double-double performance for Hemel this weekend, and his dominance as part of a team effort ensured that the reigning champs not only dropped 48 points in the paint, but led from tip to buzzer in the process.
Sylla led all scorers in the first quarter as Hemel ran out to a 15-point lead, one from which they'd never looked back.
Mitch Clarke - Reading Rockets, guard
31pts/5reb/5ast/3stl/0TO/38eff
The former Australian pro-baller put in a mammoth performance in the loss to Essex and +/- of eight in a 104-96 defeat suggests he was unfortunate to be on the losing side this weekend.
The guard showed his shooting prowess and playmaking ability to dish five assists without a turnover, also nabbing three steals as part of a two-way performance.
Clarke effectively kept Readings' three point clip to a solid 44% as the hosts tried to maintain pace with POTW Connor Nelson and Essex's 51% from range.
Team basketball 
Thunder come out on top in basement clash
Worthing grabbed their second win of the season on Saturday night, outshooting Barking from beyond the arc as the bench also contributed a cool 45 points.
It wasn't just the shooting from the bench that impressed me, as the bench also racked up more assists than the starters.
Honourable mentions to Ishmael Fontaine and Josh Palmer who both added an efficient 11 points and assisted three and five dimes respectively.
Honourable mentions 
Tyler Fairbairn (WOR) - 21P/4R/2S/1B/21EFF 
Zion Tordoff (BRA) - 20P/12R/3A/2S/30EFF
Joe Buchanan (BRA) - 26P/9R/3A/30EFF
Victor Ndoukou (LOU) - 14P/7R/2A/2B/17EFF
Landon Taliaferro (Not) - 21P/1R/4A/5S/23EFF 
.
.

Main image credit - Kay Lu