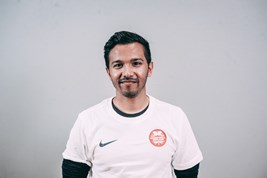 DR. DANE VISHNUBALA
MBBS PGCME DipSEM (UK & I) FFSEM MRCGP PGCert (MSKUS) MSc SEM FHEA
Chief medical officer
Dane graduated from Hull York Medical School and initially trained as a GP before completing specialist training in Sport and Exercise Medicine. Dane currently works as Consultant in Sport and Exercise Medicine for the NHS, Yorkshire Sports Medicine Clinics, Football Association, in Rugby League as well as in basketball. Dane still does emergency department shifts as an urgent care GP to maintain old skills. Dane has been working in basketball since 2016 initially as the GB Basketball Seniors Men's team Doctor before moving into the Chief Medical Officer position for Basketball England. Prior to basketball, Dane has worked in a consultant or permanent role for a variety of organisations including Leeds Rhinos, variety of professional football teams, boxing and MMA.
Outside of Sport and Clinical Work, Dane has a passion for Education and is a Senior Medical Tutor for the Hull York Medical School and the Clinical Lead for the MSc in Sport and Exercise Medicine at the University of Leeds. He is currently the Vice-Chair of Education for the British Association of Sport and Exercise Medicine. Outside of Clinically related Education, Dane runs a fitness training provider qualifying personal trainers for the last ten years called corefitnesseducation. Dane's other passions is exercise and health and he is currently the Lead Doctor for Public Health England's Healthcare Professionals Education programme (Physical Activity Clinical Champions Programme).
Academically Dane has completed medical school training, GP training and Specialist Sport and Exercise medicine Training and can be found on the GMC GP Register and the GMC Specialist register. He has completed postgraduate training in musculoskeletal ultrasound and holds a postgraduate certificate in medical education. He attained his masters in Sport and Exercise Medicine form the University of Nottingham. He is currently completing his PHD at the university of York in Sport and Exercise Medicine and Medical Education.
Outside of work, Dane's passion is basketball, and has captained his University 1st team in the BUSA/BUCS competitions as well as playing many years of local league since. Dane has completed his coaching awards with Basketball England approximately 12 years back and has coached university and local league teams in the past. Having recently got married, he is striving to find the elusive work life balance sweet spot!