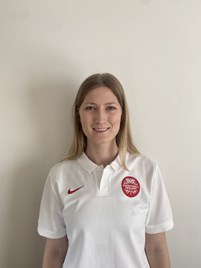 EMILY MOORE
ATHLETE SUPPORT ADVISOR
Emily Moore graduated from the University of Chester in 2018 after having completed an undergraduate degree in Sports and Exercise Sciences with German and a postgraduate degree in Psychology. Whilst at university Emily held several internships as a welfare officer and athlete support advisor respectively at Caldy Rugby Club and WESPA, a young elite sports academy. Emily's work was centred around athlete wellbeing and support, specifically looking at goal setting, motivation, performance strategies and athlete wellbeing. 
Since moving to Manchester in 2019, Emily has worked for British Taekwondo as a membership officer, supporting grassroots clubs and athletes whilst also leading on a mental health and wellbeing campaign. 
Emily is extremely passionate about athlete support and holistic development, and in early 2022, qualified as a Performance Lifestyle Advisor with TASS and 1st4Sport. Emily is qualified to coach and mentor talented athletes in managing their personal development and lifestyle. She is fully equipped with the skills to support athletes on career management and development, transition periods, support networks, anti-doping responsibilities and mental health and wellbeing management.
As well as the freelance performance lifestyle work that Emily does, she has come on board to support the holistic development of our Basketball athletes, specifically through focusing on support networks and transitioning onto, through and off the performance pathway. 
Outside of work, Emily enjoys following the rise of the Women's Super League (WSL) and plays regularly for a local women's football club in Manchester.