2022 Basketball England Awards
Basketball England is proud to announce the winners of the 2022 North West Region Volunteer Awards. 
The Basketball England awards programme has returned for 2022 and sees nominations gathered from the public across the 10 English regions, with winners selected in partnership with the Regional Management Committee Chairs.  
Commenting on the achievements of the winners, Basketball North West Manager Kate Lewis said: "Congratulations to all the North West Region Winners for this year's Basketball England Awards. The North West Region is proud to celebrate the contributions of all involved, your work and dedication is invaluable to the development of our sport in the North West." 
Amongst the winners are Jay Jackson (Referee of the Year). Jay is an established referee but it is his contribution to supporting others referees that has made the biggest impact. Jay is an active mentor for new officials across the Region and he places the needs of other referees before his own. He continues to explore every avenue to develop himself to be able to develop others. 
Also recognised is Tim Martyn-Jones (Media/Photographer of the Year). Despite being in his 70s, Tim continues to have a passion for pushing the envelope and encouraging others to get involved. Tim has established a video production system within the Liverpool club and operates with a five-camera system to ensure he can capture the best moments, all whilst doing it voluntarily.  
The full list of winners is as follows: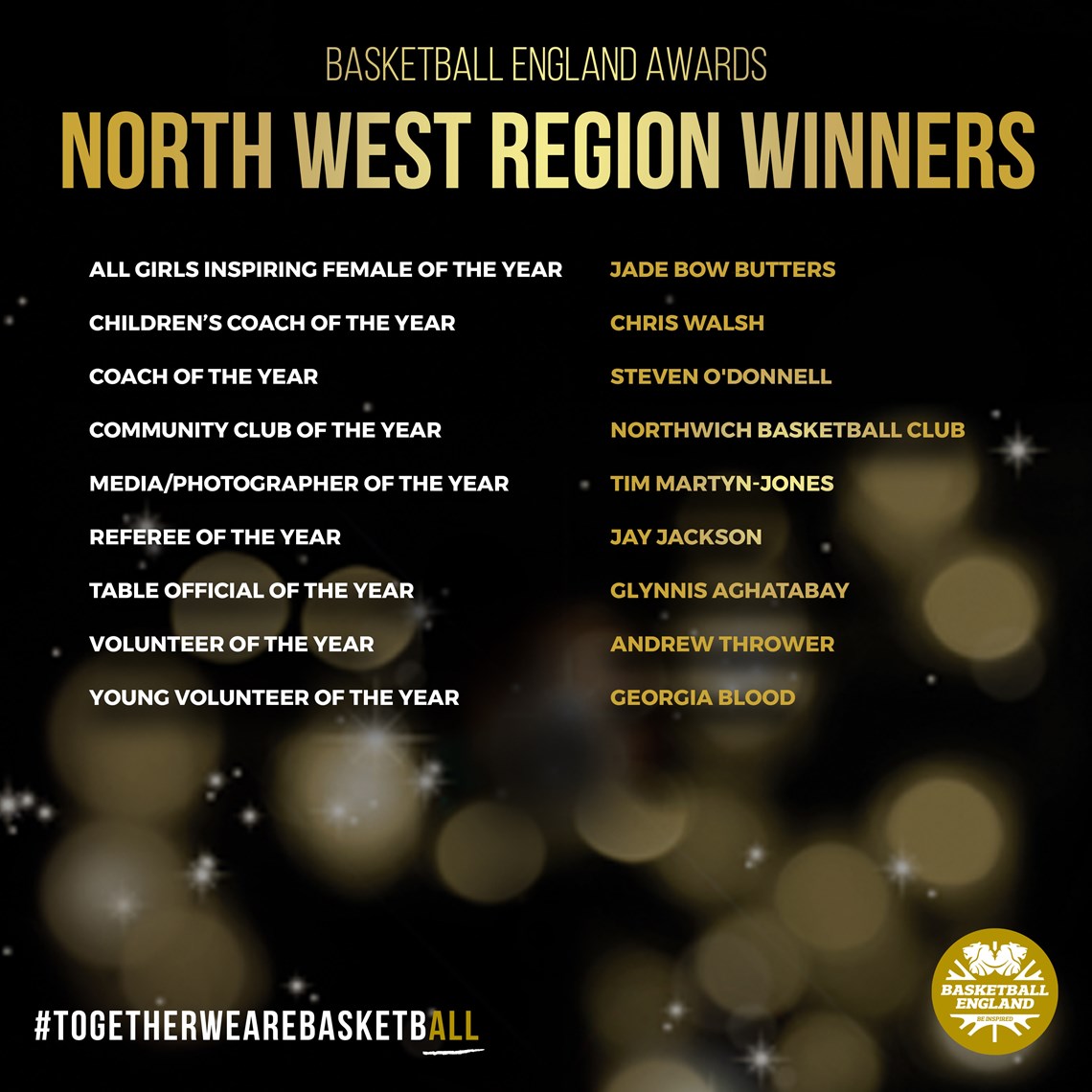 "Congratulations to all of our winners in the North West!" said Duncan Whalley, Chief Operations Officer for Basketball England. "Basketball continues to thrive at a grassroots level thanks to the efforts of those recognised today. I want to extend my thanks to all of them for their hard work and dedication on behalf of the sport in the North West." 
All of the regional winners across the 12 award categories will be reviewed by a panel, with a total of three nominees per category then being shortlisted to be considered for National Awards. Basketball England will be hosting the awards online once again this year with further information to be released in due course. 
North West Regional Management Committee
.
What is the purpose of a Regional Management Committee?
The Regional Management Committee (RMC) is made up of volunteers who truly have passion for the sport. They are elected/appointed to their roles and believe in developing the sport for all. They have a rich knowledge of sport with expertise in all aspects of the game; clubs, officiating, coaching, women and girls to name a few. The Regional Management Committee work with local leagues and Area Associations to ensure quality basketball delivery occurs in the region as well as to help develop the sport across the region.
The Regional Management Committee contribute feedback from a regional level into the national discussion and direction that Basketball England take in its' strategy.
Regional Management Committee:
Chair - Kate Lewis
Secretary - Divya Gorsia
Treasurer - Andrea Garland
Regional Registrar - TBA
Welfare Officer - Pam Hollister
Regional Talent Manager - Neal Hopkins
Communication and Feedback Officer - Darren Taylor
Officiating Officer - Paul Walton
Manchester Area Basketball League - Gareth Keith
Sport for All - Dave Bonwick