Following the launch of the Basketball England Jr. NBA Season 2018-19 draft schools from across the country have been sharing their reactions.
The draft video goes through each NBA team one by one and reveals to our 390 schools who they have been drafted to.
Lots of schools have tweeted their reactions, showing us how excited they are to start their Jr. NBA campaign. The kits have gone down especially well and we've received some really positive comments and thanks from our Jr. NBA Coaches, Teachers and players.
Basketball England Jr. NBA lead Laura Doherty attended Round 1 of the Pacific Division league in the East Midlands and was pleased to see the number of players in attendance.
Laura said, "To see so many players from the three schools here tonight is great. They're all having fun and giving their all. For some players it's the first competitive game but that hasn't stopped them from getting stuck in. I'm looking forward to coming back and seeing how the players improve over the season."
"Tonight is extra special for me as this is the Borough I grew up in and I'm really proud that we now have an East Midlands League thanks to our extended partnership with the NBA – I played here and volunteered as a Sports Leader like the guys officiating here tonight, it's fantastic to see there is still a culture for the older students helping out."
Laura spoke with lots of the players and had a chat with Henry and Ben from the LA Lakers – Arnold Hill Academy (East Midlands Year 7 Co-Ed League) about how they felt on game night.
"It's good to play against other schools and learn their tactics and how we can beat them," said Henry. "I think we're kind of mid-table standard at the moment but if we listen to Mr Smith and Mr Phillips more and do lots of training we could do even better."
"I love the Jr. NBA League already, the kit is sick!" added Ben.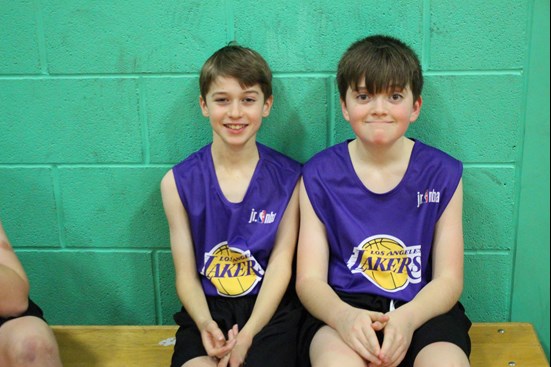 Henry & Ben sporting their new LA Lakers kit at Round 1 of the East Midlands Basketball England Jr. NBA League.
LA Lakers Coach Jordan Phillips of Arnold Hill Academy (East Midlands Year 7 Co-Ed League) said, "The Jr. NBA has brought great attention to basketball at Arnold Hill, not just with Year 7 but for all years either spectating, organising the event or officiating. The first round was a huge success and we're excited for the rest of the season."
Be sure to visit again soon to check out our round-up of the Basketball England Jr. NBA League Round 1!
Got some content you'd like to share with us? 
For more information on the Jr. NBA League: