Local designer Lois O'Hara's colourful renovation of a run-down court in Saunders Park, Brighton was opened to the public last weekend and proved to be a huge success. With over 100 people in attendance and Venice Beach League and Dunk Elite on hand to provide coaching and some 3x3 competition, the court is already putting itself on the map for local players.
With the event offering prizes, giveaways, free coaching and competition for all, plenty of people were able to turn up and get their first taste of a court that should serve the community for many years to come.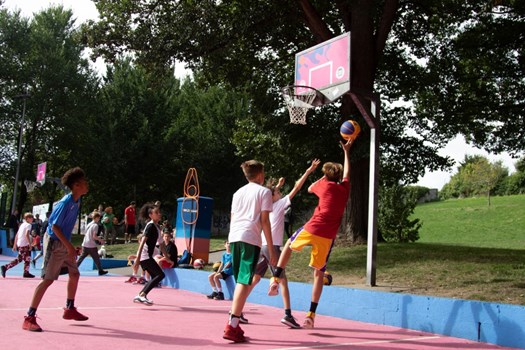 "The court before was hardly used and had such a negative vibe," said O'Hara. "I hope that now there's colour everywhere, new lines, new backboards, that people can be encouraged to play sport and be involved in a positive way."
"All of my artwork is very colourful and my style is very fluid and full of motion. I think that fits in perfectly with basketball as the game has that flow. The two go together so nicely."
The project took a year to plan, including linking up with Valspar Paint to help with the court's distinctive floor. Permissions, funding and consulting with the local council also had to be considered before work could begin.
"Lois came to us about a year ago looking for some support and advice on how she could get this amazing concept off the ground," said Basketball England's Senior Delivery Manager Peter Griffiths. "We were able to offer some advice and expertise, as well as link her up with a couple of our partners, Dynamik Sports Floors and Sportserve, who provided some really invaluable input and work into the finished project."
"Outdoor basketball is easily accessible and doesn't cost anything compared to an indoor space. It's often the first place that people will go to try out basketball and making more courts like this will definitely attract more people to the game."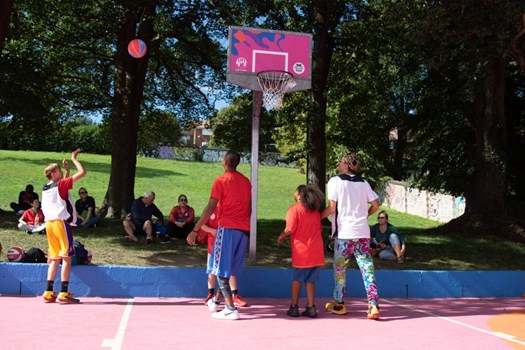 One of the locals eager to try the court was Brighton Cougars' and GB Under 16's player Amelia Sandie, "I think this is amazing! What Lois has done, with all the colours and designs, and how she's put it together, the area really needed it," she said. "This is a part of the Brighton that nobody really comes to. But I think it will definitely bring more of the community together now and that's really nice."
Saunders Park now joins six other courts across Sheffield, Manchester and London that have been renovated in the last few years. Basketball England continues to invest in outdoor spaces as a way of unlocking opportunities for more people to play the game and become more active.
If you want more information on what you can do to help with your local court, click on the button below:
.