Barking Abbey Crusaders
2017-18 Record: 9-15 (10th)
Notable Departures: Caleb Fuller, Sean Nealon-Lino, Alexander Ferguson, Micah Savery-Richards, Andre Lavinier, Pierce Maslen, Dwayne Orija
Notable Returners: Theo Hughes, Jonathan St Hiliare
Notable Additions: Ade Adebayo, Nathaniel Powell, Robin Bedford, Jonathan Brown, Chris Feeney
National Trophy Pool Games: 22 Sept vs Thunder, 29 Sept at Kestrels
Division One First Five: at Leopards, vs Kestrels, at Hoods, vs Riders, vs Derby
A mixed 2017-18 campaign saw Barking Abbey Crusaders narrowly miss out on a place in the post-season as their 9-15 record was good for the 10th spot in NBL Division One. There's plenty of change to the roster as numerous talented young athletes move on from Barking Abbey to pastures new, including Great Britain Under 20 international Caleb Fuller heading stateside to join UC Davis. Returning for his second season in the top flight of the NBL is big man Theo Hughes, who spoke highly of his teammates, "I am really looking forward to my second year in the league.  We have a good team and we are hoping to be successful despite the fact that we have an almost entirely new roster." Hughes, who averaged 7.0 points & 4.4 rebounds in just under 19 minutes per outing last season, added, "It will be a tough year but a great learning curve for me as a young player and the rest of our team and we cannot wait for the season to get underway."
More young talent joins Hughes on the roster, as Barking Abbey will be both promoting from within, from their second team which was promoted up into NBL Division Three this season, and adding new recruits. Ade Adebayo, Robin Bedford and Nathaniel Powell all make the jump up from the Barking Abbey second team, while Great Britain Under 18 international point guard Chris Feeney also joins the programme after a season plying his trade at CB L'Hospitalet in Spain. Fellow Great Britain Under 18 guard Jonathan Brown will also be suiting up for Barking Abbey, after making the move from Kent Crusaders II in NBL Division Four. 
Coach Lloyd Gardner is expecting a difficult, but rewarding year in Division One, "We are looking forward to another good year in Division One. This year will be another tough season with a number of teams looking like they have taken major strides forwards in the off-season." Coach Gardner continued, "Our young team will aim to be competitive in every game and I am confident that we have the ability to be a worthy opponent to everyone in the league."
Bradford Dragons
2017-18 Record: 13-11 (6th)
Notable Departures: N/A
Notable Returners: Ricky Fetske, Joaquin Calvo, Jermayne Laing, Rafi Saipe, Rihards Sulcs
Notable Additions: Drexler Clark, Allie Fullah, Clayfell Harris, Andreas Lycoudis, Matthew Armstrong
National Trophy Pool Games: 29 Sept at Newcastle, 30 Sept vs Magic
Division One First Five: vs Hoods, at Riders, vs Magic, at Derby, vs Thunder
A winning record in 2017/18 saw Bradford Dragons finish 6th in NBL Division One, but a loss on the road at Reading ended their post-season at the quarter-final stage. With no notable departures reported at the time of writing, the Dragons have returned their solid core from last season, while adding talent to bolster their roster; a group that is ready to be highly competitive once again. 
A vital returning piece for the Dragons is 6'8" forward Ricky Fetske who shouldered a big load inside last season, averaging 16.0 points and 9.8 rebounds. Fetske is looking forward to another campaign in the Dragons Den, "I am really excited to be entering into my fifth season with the Bradford Dragons. We are bringing back a core group of veterans, plus we have an arsenal of both talented and experienced teammates joining the squad."
A key addition to the roster, filling the Dragons' second import spot, is Drexler Clark, a 6'0" point guard who recently graduated from Belmont Abbey College with senior year averages of 11.5 points and 5.7 assists. Coach Chris Mellor spoke highly of his new floor general, "Drexler is eager to prove himself in his first venture overseas as a player, but I'm already sensing an old head on young shoulders. He seems a humble young man, with a team first attitude and it's not only a great opportunity for Drexler to showcase his talents, but also, I feel, it's going to be a great fit overall for the team."
Bradford have also strengthened their presence inside the paint with the additions of Clayfell Harris and Allie Fullah, both making moves across the Pennines. Harris makes his move over from Manchester Giants in the BBL, while Allie Fullah ended the season with Lancashire Spinners. Also joining the Dragons are Matthew Armstrong, a 6'2" guard who recently graduated from the Reading Rockets programme at John Madejski Academy, and Andreas Lycoudis, who joins Armstrong as a new recruit in the back-court after a number of years with Derbyshire Arrows.

Derby Trailblazers
2017-18 Record: 6-18 (12th)
Notable Departures: Leighton Elliot-Sewell
Notable Returners: Kayne King, Jake Wesselingh, Oliver Stanley
Notable Additions: Malcolm Smith, Benson Arogbo, Charlie Brown, Luke Ptak
National Trophy Pool Games: 22 Sept vs Hoods, 29 Sept at Riders
Division One First Five: at Rockets, at Newcastle, vs Dragons, at Leopards, at Crusaders
A disappointing 2017-18 campaign for Derby Trailblazers saw them near the foot of the table, as their six wins on the season only bettered the win-less Lancashire Spinners. Departing the East Midlands club is academy stand-out Leighton Elliot-Sewell, as the 6'4" forward joins Polk State College in Florida, to ply his trade in NJCAA Division I. However, the next generation of Trailblazers academy talent is on the rise, as both Charlie Brown and Luke Ptak make the move to the first team for this season. Last season, both Brown and Ptak were members of the highly successful Trailblazers II Division Four side which earned promotion into Division Three, so the youngsters will be looking to continue their success in the top flight.
A major addition for the Blazers this year sees Malcolm Smith make the move from Team Northumbria, as the former NBL Division One Most Valuable Player will now call the Clarence Wiggins Sports Centre his home. With impressive averages of 19.5 points, 6.4 rebounds and 2.0 assists per outing last year, Smith is sure to have a big impact on the Trailblazers fortunes this season. 
Finally, there is a return home for swingman Benson Arogbo, a Trailblazers academy product who recently completed his studies at the University of Maine-Fort Kent. The versatile Arogbo stands at 6'5" and is pleased to be back in his old stomping ground, "It's good to be back. The league has changed quite a bit since I left for the States but I'm eager to get back in it and get to work. It's been a great experience to spend the last four years in the States." Arogbo continued, "As to what I've learnt, I think the American experience just takes whatever you were good at before you left and makes it better still, but the main thing for me was that it really helped to improve my overall understanding of the game."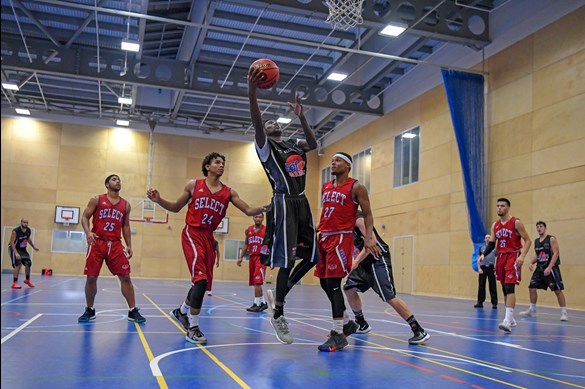 Derby Trailblazers in pre-season action against USA Select - Alan Mousley
Essex Leopards
2017-18 Record: 14-8 (4th, Division Two)
Notable Departures: N/A
Notable Returners: Wesley Moore
Notable Additions: Lee Hodges, Chuck Duru, Tom Childs, Sam Newman
National Trophy Pool Games: 29 Sept at Cavaliers, 25 Nov vs Rockets, 6 Jan at Storm
Division One First Five: vs Crusaders, vs Hoods, at Riders, vs Magic, vs Trailblazers
A surprise return to the top flight of the NBL sees Essex Leopards take up the place of Team Northumbria after their withdrawal from the competition. With plenty of changes made to the roster after a departure from the Brentwood Centre and new partnership with the University of Essex, the Big Cats have made some crucial additions to the roster ahead of the new season. 
Wesley Moore is one of the few returners to the Leopards' roster, as the Oaklands College product makes the move to the University of Essex to continue his studies and build on a solid campaign last year, where he became a contributor down the stretch, after playing only sporadic minutes for the Big Cats prior to the Christmas break.
Coach Thomas Baker is pleased to have him back on his squad, "Wesley has matured a lot in recent years. I have known him since he was a junior playing in county teams as an under-13. Fast forward a few years and he was my captain in the EABL for Oaklands last season where under his stewardship we had some really successful moments." Baker added, "He had to remain patient for his opportunity at times last season for the Leopards but I feel he has huge potential and I am really excited to be working with him again and being a part of his journey as a student-athlete.
A number of key additions to the Leopards' roster include Lee Hodges (formerly Leigh Greenan) and Chuck Duru making the move over from National Cup winners Hemel Storm, while Sam Newman returns to the NBL after completing his studies at the University of Alberta. Another fruitful return from the partnership with the University of Essex is adding Tom Childs, as the former Barking Abbey guard makes the step up from the Essex Blades Division Three program to join the Big Cats in Division One.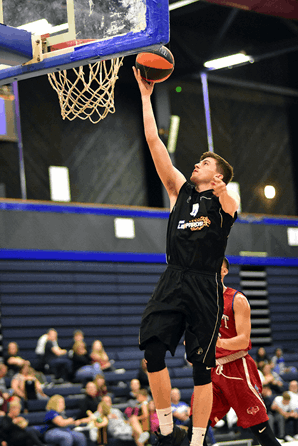 The Big Cats new signing Sam Newman flying high for the lay-in - Essex Leopards

Hemel Storm
2017-18 Record: 12-12 (7th)
Notable Departures: Lee Hodges, Chuck Duru, AJ Roberts
Notable Returners: Bode Adeluola, Tom Adorian, Mike Darlow, Jack Burnell
Notable Additions: Brett Cannon, Levi Noel, Blayne Freckleton, Leome Francis
National Trophy Pool Games: 22 Sept vs Cavaliers, 21 Oct at Rockets, 6 Jan vs Leopards
Division One First Five: vs Thunder, at Cavaliers, vs Warriors, at Newcastle, vs Dragons
A promising start to the 2017-18 campaign saw Hemel Storm riding high in the standings for the first couple of months of the season. Their strong early form also saw them snag the first silverware of the season, as they took home the National Cup in January. A difficult second half of the season saw the Storm slide down the table, eventually finishing 7th in Division One - and pulling off a big upset in the first round of the play-offs as they knocked off Team Solent Kestrels. 
Looking ahead to the 2018-19 season, Hemel will be without big man and guard duo Lee Hodges (formerly Leigh Greenan) and Chuck Duru who have departed to join Essex Leopards, while leading scorer AJ Roberts has joined BBL newcomers London City Royals. Captain Bode Adeluola returns and has had an impressive preseason, as he notched 24 points in an exhibition game against USA Select. Also returning is starting power forward Mike Darlow, whose averages of 8.2 points and 5.4 rebounds per game were a vital contribution last season. 
The new pieces in town for Hemel make for an exciting back-court as 6'3" wing Brett Cannon joins the Storm form East Central University in Oklahoma, after leading his team in assists throughout his senior year. Blayne Freckleton also makes the move to Hertfordshire, after the 6'1" guard averaged 12.9 points, 5.2 rebounds and 4.2 assists for Team Northumbria last season. The final piece in the new look Storm back-court is former Great Britain Under 20 international Levi Noel, who joins Hemel after spells with Leicester Riders and Surrey Scorchers in the BBL.
After an injury ravaged preseason, Coach Robert Youngblood is looking to use these early games to settle his side, "We've got to make some adjustments in these early games because, before the string of injuries, we had a settled front-line." Youngblood added, "I've been pleased to see other guys in the squad stepping up to the challenge."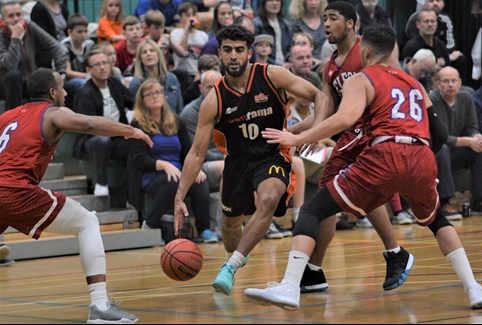 New face for Hemel Storm, Blayne Freckleton, breaks down the defence - Lin Titmuss

Leicester Warriors
2017-18 Record: 9-15 (9th)
Notable Departures: Carl Pearson, Rodney Sanders, Case Bruton
Notable Returners: Martyn Gayle, Lamin Willan, Emile Hopkins
Notable Additions: Brian Orr, Pak Chingombe
National Trophy Pool Games: 22 Sept vs Riders, 29 Sept at Hoods
Division One First Five: vs Magic, vs Thunder, at Storm, vs Rockets, at Newcastle
A mixed season saw Leicester Warriors once again on the outside looking in at the business end of the season, as they maintained their Division One status but were unable to make the jump up into the playoff race. The Warriors' last appearance in the post-season was back in 2013, so they will looking to end their draught when the 2018/19 playoff race heats up. 
A raft of roster changes makes that task look mighty difficult, as the East Midlands side lose three of their key starters from last season. Point guard Carl Pearson moves on after a solid year averaging 13.5 points, 5.1 rebounds and 4.6 assists in 34 minutes per game. Losing both imports from last season will also be a blow to Leicester, as dynamic scorers Rodney Sanders and Case Bruton both depart after averaging 18.9 points and 15.5 points, respectively.
Returning guard Martyn Gayle will likely have to shoulder more of a load for the Warriors this season, after just two appearances for the club last campaign. Gayle was a big contributor in those two outings however, as he scored in double figures while playing almost 30 minutes per game. Lamin Willan is the most consistent performer that is returning this season, having played in just over half the Warriors' games last year - it shows just how much of a roster overhaul has taken place. 
Leicester's new import Brian Orr will likely have his number called regularly this season, as the 6'6" guard joins the programme after completing his studies at South Dakota School of Mines. Orr averaged 9.4 points per game throughout his career in NCAA DII with the Rockers, so look for him to make an impact on his new squad. Coach Karl Brown is eager to get going with his new group, saying "I am looking forward to new season and working again with my team again."

Loughborough Riders
2017-18 Record: 20-4 (1st)
Notable Departures: Max Richardson, Sesan Russell, Morgan Carter, Pak Chingombe
Notable Returners: Lucien Christofis, Reis Pinnock, Alex Roberts, Hosana Kitenge, Jonas Dieterich, Tim Fava
Notable Additions: David Forsyth, Kyle Jimenez, Ethan Damerum, Niall Harris
National Trophy Pool Games: 22 Sept at Warriors, 29 Sept vs Trailblazers, 30 Sept vs Hoods
Division One First Five: at Newcastle, vs Dragons, vs Leopards, vs Solent, at Crusaders
After snatching the NBL Division One title away from Team Solent Kestrels right at the end of the regular season last year, Lougborough Riders will be eager to get going this season to see if they can replicate their success from the previous campaign. Players departing the programme include Max Richardson, who has signed with Kongsberg Miners in Norway, and Morgan Carter, who heads stateside to join the University of the Cumberlands in NAIA DI. Dynamic back-up guard Sesan Russell also leaves to cross the Atlantic, heading to UMass Lowell in NCAA DI. 
An exciting core of returners bodes well for the Riders, as guard Lucien Christofis will hope to build on solid averages of 10.2 points, 2.3 assists and 1.2 steals per outings from last campaign. Other returning starters include Alex Roberts and Reis Pinnock, both of whom will be vital once again in the back-court for the East Midlands squad. There will likely be an increased role for big man Hosana Kitenge, as the NBL Under 18 National Cup Final MVP from a season ago enjoyed a successful summer with the Great Britain Under 18's.
The new faces in the Loughborough squad for their NBL Division One campaign are hardly new to Riders fans, as NBL Division Three North MVP Niall Harris moves up from the Riders second team to join the top flight, and there is also a promotion from within for young big man Ethan Damerum. Kyle Jimenez makes a return to the programme spending some time with Glasgow Rocks since his studies at Charnwood College. 
Coach Mark Jarram is enthusiastic about the year ahead, "I am excited to get going with a new group. Every year is different and presents its own unique challenges." Jarram continued, "We have similar make up in terms of our roster. A nice mix of returners and new guys and I look forward to continuing with a group of young British players all full-time students and embrace the teachable moments that are coming our way as we support this chapter in their careers."

Manchester Magic
2017-18 Record: 11-13 (8th)
Notable Departures: Lee Goldsborough, Stefan Gill, Ryan Lewis, Donte Gittens
Notable Returners: Kayin Darbey
Notable Additions: Joshua Davenport, Jonathan Barnes, Kaphel Ulett-Waul, Daniel Pilkington, Joshua Houghton, Andre Gayle
National Trophy Pool Games: 22 Sept vs Newcastle, 30 Sept at Dragons
Division One First Five: at Warriors, at Dragons, at Leopards, at Kestrels, vs Hoods
Last season saw the perennial powerhouses Manchester Magic falter a little as they fell out of the top four for the first time since 2013/14 to sneak into the post-season as the 8th seed. It's all change this year at the club as former Head Coach Paul Middleton steps down to be replaced by the up-and-coming Aurimas (Ollie) Verbukas, who was the apprentice coach with the England U15 Boys last season. The roster also sees a shake-up, as plenty of the big names from last season depart. Donte Gittens will be a big loss for the squad, as the exciting wing averaged 17.9 points, 6.3 rebounds and 5.2 assists per game last season. 
The only returning player is point guard Kayin Darbey, who will be joined by a number of familiar faces to the Magic programme. Former Magic juniors Joshua Houghton and Daniel Pilkington make a cross-town move after representing Manchester Giants II last season in NBL Division Three. Also making a return after spending their early days with the club are Andre Gayle and Kaphel Ulett-Waul, who both featured for Liverpool in NBL Division Two last year. Ulett-Waul & Gayle will be hoping to make a similar impact to last campaign as their averages of 14.6 points and 11.8 points per game, respectively, show they can be key scorers in the NBL. 
Strengthening the young, local Magic squad are imports Joshua Davenport and Jonathan Barnes. Davenport, a 6'6" forward, makes the move to the North West after graduating from Winthrop University and playing a season with Georgia Grizzlies. Barnes will provide key rim protection for the Magic, as the 6'10" centre makes the journey across the Atlantic after averaging 6.8 points and 4.6 rebounds per game for the University of Colorado-Colorado Springs in his senior year. 
Coach Verbukas is excited by his young roster, exclaiming "This is a very young and new team, with only Kayin Darbey returning from last year's team. The group will need time to jell together, but I believe we will surprise many teams. A young but very talented squad that make us a very exciting team to watch this season!"
His thoughts are backed up by Pilkington, who has been named team captain, "I think with the coaching staff and the players coming in for this season we can do some real damage in the league. Coach Ollie shares my passion for developing young talent, so I'm looking forward to being a part of that journey this season."

Nottingham McDonald's Hoods
2017-18 Record: 20-2 (1st, Division Two)
Notable Departures: N/A
Notable Returners: Kieran Wright, David 'Tintin' Watts, Euan James, Luke Mitchell, Andrej Slavik, Curtis Williams
Notable Additions: Aaron Maher
National Trophy Pool Games: 22 Sept at Trailblazers, 29 Sept vs Warriors, 30 Sept at Riders
Division One First Five: at Dragons, at Leopards, at Kestrels, vs Crusaders, at Cavaliers
A highly successful regular season in 2017/18 saw Nottingham McDonald's Hoods take home the NBL Division Two title with a stand-out 20-2 record. The Hoods were pipped to the post in the playoff final however, as fellow promoted side Thames Valley Cavaliers got the better of them in Manchester. The recent title sponsorship deal with McDonald's also sees a slight re-brand for this season for the Hoods. 
Returning a solid core should see the Hoods make a smooth transition into the top flight, although there is no news as of yet whether the East Midlands programme have been able to return the services of their dynamic wing duo Tevis Robinson and Delaney Powell. David 'Tintin' Watts returns, as the Nottingham veteran and ex-England international has been named captain for the upcoming campaign.
Also returning are guards Luke Mitchell and Euan James, while 6'9" centre Andrej Slavik will also be suiting up in green once again. A new face for the Hoods NBL Division One side will be guard Aaron Maher who makes his return to the club after a previous spell with Birmingham Knights in the BBL. 

Reading Rockets
2017-18 Record: 17-7 (3rd)
Notable Departures: Tim Gill, Jerrod 'Scotty' Hendricks
Notable Returners: Danny Carter, Sydney Donaldson
Notable Additions: Trae Pemberton, AJ Carr, Adrian O'Sullivan
National Trophy Pool Games: 30 Sept at Cavaliers, 21 Oct vs Storm, 25 Nov at Leopards
Division One First Five: vs Trailblazers, at Thunder, at Cavaliers, at Warriors, at Dragons
A strong end to their 2017/18 campaign saw the Rockets safely into the top four once again, but they couldn't put the pieces together for a long post-season run. Another change to the NBL Division One sidelines sees Manuel Pena Garces depart the club and England Under 18 head coach Alan Keane step into the hot seat. The Berkshire side have lost two of their major pieces from last season, as imports Tim Gill and Jerrod 'Scotty' Hendricks move on. Gill was a monster inside for the Rockets last year, averaging a double-double of 16.0 points and 12.0 rebounds. Hendricks was also vital, and his scoring punch of 15.8 per outing will be tough to replace. 
Replacing Americans Gill and Hendricks are AJ Carr, a 6'6" forward out of Shepherd University, and Trae Pemberton, a 6'4" forward who recently starred for Tralee Warriors in the Irish Superleague. Also making the move over from Ireland to join compatriot Coach Keane are cousins Adrian and Ronan O'Sullivan, who both hail from Cork.
Meanwhile, former Stonybrook University star Danny Carter returns for another season at Rivermead, his 14th year with the club, as he has been named club captain for the upcoming campaign. Carter spoke fondly of the club, saying "I'm really pleased to be returning to Reading Rockets once more. The club is truly a home for me and I couldn't see myself playing in another jersey." Carter continued, "It's a new chapter in the club's history with a new coaching staff and also for me as I broaden my role. The league is getting more competitive this year and I can't wait to get out and compete and try to bring back some silverware to Reading."
On the sidelines, new play-caller Coach Alan Keane is ready to embrace the Division One Head Coach experience, "I see many challenges that excite me in every coaching job I have done. Having assisted with this team for the past two years we can be more demanding and have higher expectations from the players individually and collectively. Players fighting to meet those expectations and execute to a high standard each day excites me. The challenge that comes with that journey excites me too."

Team Newcastle
2017-18 Record: 7-17 (11th)
Notable Departures: Joey Bennett, Patrick Wrencher
Notable Returners: Ben Seipt, Zephi Sharman, Alei Wol, Laurie Owen
Notable Additions: Tosan Evbuomwan, Ben Hogg
National Trophy Pool Games: 22 Sept at Magic, 29 Sept vs Dragons
Division One First Five: vs Riders, vs Trailblazers, at Thunder, vs Storm, vs Warriors
A successful 2017/18 campaign for NBL Division One newcomers saw them maintain top flight status and challenge for a playoff spot until late in the season. Coach Ian Hewitt will be hoping the North East side can kick on from this success and contend for a playoff spot this year. 
With it looking like imports Joey Bennett and Patrick Wrencher have moved on, Newcastle will be relying on a young core to get the job done this campaign. Returning Ben Seipt, Zephi Sharman, Alei Wol and Laurie Owen will provide some continuity for the programme, while there will also be local young additions to the programme. Big man Ben Hogg joins Newcastle from Tyne Met College where he featured in the ABL, while Tosan Evbuomwan also joins the side from Newcastle Eagles after stellar summer which saw him represent Great Britain Under 18 in Latvia. 

Team Solent Kestrels
2017-18 Record: 20-4 (1st)
Notable Departures: Joe Tagarelli, Jake Eynon
Notable Returners: Elliot Dadds, Herm Senor II, Louie Kirkman, Chris Scarlett, Tayo Oyefusi
Notable Additions: Jon Averkamp, James Chute, Sam Turner, Ben Maranan
National Trophy Pool Games: 29 Sept vs Crusaders, 30 Sept at Thunder
Division One First Five: vs Cavaliers, at Crusaders, vs Hoods, at Riders, vs Magic
It was a season of "what-ifs" for the Kestrels last year, as they led the title race right down to the last few weeks of the season before the young Lougborough Riders snatched the title away. They did manage to bring some silverware down to the South coast however, as they picked up the National Trophy in an exciting final against Team Northumbria. 
Coach Guymon brings back a solid core, but will be without the services of star Joe Tagarelli. The 6'6" forward moves on after a stand-out year, averaging 18.6 points, 10.0 rebounds and 3.2 steals, while adding 1.7 steals and 1.0 block per game. Returning guard Herm Senor II will be shouldering much of the load this season, but is looking forward to the battle, "I'm really looking forward to this season. With a good core of returners plus new additions, we will be a tough team in the league." Senor continued, "The coaching staff has put together a good preseason that will more than prepare us for this season. We will compete every day and prove to be one of the toughest teams in the league once again."
Also returning in the back-court is Elliot Dadds and Chris Scarlett, while the front-court will be patrolled by Tayo Oyefusi, Louie Kirkman and new signing Sam Turner. Turner, a 6'8" centre who recently graduated from Emmanuel College in NCAA DII, will be joined by 6'6" forward Jon Averkamp, who also played NCAA DII, at St. Cloud State. 
Coach Matt Guymon is happy with his roster, saying "We are pleased to bring back the core of last years group, we are confident this will be a big advantage for us in our pre-season preparations. We are looking forward to the season ahead, every team around the league looks to have recruited well which will no doubt make for an even more competitive league." Guymon added, "For us the challenge now is to build on the success we have had over the last season, the guys we have had added to the roster will hopefully be the key pieces to help us do that."

Thames Valley Cavaliers
2017-18 Record: 18-4 (2nd, Division Two)
Notable Departures: Robert Banks, Phil Perre
Notable Returners: Martelle McLemore, Hakeem Sylla, Prince Lartey, TeeJay Amu & Andre Baptiste
Notable Additions: Elliott Defreitas, Mark Reynolds & Walid Mumuni
National Trophy Pool Games: 22 Sept at Storm, 29 Sept vs Leopards, 30 Sept vs Rockets
Division One First Five: at Kestrels, vs Storm, vs Rockets, vs Hoods, at Riders, vs Warriors
An 18-4 record was good enough to safely see Thames Valley Cavaliers into the top flight for the 2018/19 season as the second placed team in NBL Division Two. After the bitter disappointment of losing out by a single point in the Patrons Cup to Westminster, the Cavs bounced back to upset Nottingham in the playoff final and take home the silverware. 
Big losses for the Cavaliers will be veteran forward Phil Perre, and young dynamic guard Robert Banks Jr. Banks Jr, who had an exciting scoring performance in the NBL Division Two Playoff Final MVP, departs to attend Gould Academy prep school in the USA.
A highly talented returning core for Thames Valley bodes well in their preparations for Division One action, as Martelle McLemore and Hakeem Sylla, among others, will surely be able to impact the game at this level. Adding Mark Reynolds from London Greenhouse Pioneers, and Walid Mumuni from Hemel Storm, bolsters the lineup from the West London squad. 
Head Coach Robert Banks Sr had short but sweet thoughts about the upcoming season, saying "We have been working hard preparing and looking forward to the challenge of Division One competition."

Worthing Thunder
2017-18 Record: 16-8 (4th)
Notable Departures: Jorge Ebanks, Marquis Mathis
Notable Returners: Zaire Taylor, Brendan Okoronkwo, Tom Ward, Josh Goddard
Notable Additions: Alex Owumi, Ishmael Fontaine, Nick Lewis, Kalil Irving, Kevin Moyo
National Trophy Pool Games: 22 Sept at Crusaders, 30 Sept vs Kestrels
Division One First Five: at Storm, vs Rockets, at Warriors, vs Newcastle, at Dragons
A mixed regular season for the Thunder saw them sneak into the top four as their 16-8 record clinched home court advantage in the first round of playoffs. This sparked a playoff run that led Worthing all the way to picking up the national championship in Manchester, with Marquis Mathis being named Playoff Final MVP. Mathis will be a big loss for the South coast programme this year, as his 21.4 points, 10.0 rebounds and 2.4 assists were a big factor in many a victory for the Thunder. With Jorge Ebanks also departing, the Worthing roster required some reinforcements.
Reinforcements came, and they came in bunches. Joining an already talented returning core that includes BBL veteran Zaire Taylor is Alex Owumi, Ishmael Fontaine, Nick Lewis, Kalil Irving and Kevin Moyo. Owumi makes his move from Surrey Scorchers, while Fontaine returns to the UK from overseas from Roseheim in Germany, after previous spells in the BBL. Lewis was previously named in the BBL All-British 1st team, as the 6'4" combo guard lit up the capital with London Lions. Finally, Irving was a successful part of the Worcester Wolves programme a few years ago and has since featured for Barking Abbey and Surrey Scorchers; while Kevin Moyo makes the move from Essex Leopards after also previously featuring for the London Lions.
Newly appointed player-coach Josh Goddard is eager to work with this roster, "After winning the playoff championship last season, for the first time in 12 years, we've been able to attract high profile players who will be able to make an impact not only on the court but also in the community whilst developing younger players. I strongly believe that with the talent we have acquired for this season, we will be in strong contention for all pieces of silverware available!"
New recruit Fontaine added, "We have an excellent team of skilful players on paper; More importantly, we have an excellent group of players with amazing personalities and charisma, this might be more important than the skill set of the individuals. This will give us the ability to sacrifice for each other and work together way more efficiently. The way teams have recruited and retained talent on their respective rosters is a testament to how good and competitive this league will be."