National Trophy
Pool A

 Team Newcastle 51-88 Bradford Dragons 
A busy weekend of Pool A action saw Bradford Dragons put in impressive back-to-back performances to book their place in the semi-finals as they progress as group winners. The Dragons had to sit and wait for their season to get underway, watching Team Newcastle and Manchester Magic battle it out in overtime last weekend; but the wait was worth it for Dragons fans. 
Saturday evening saw the Dragons head north to face off with Team Newcastle, as the visitors came away with a routine win, gradually increasing their lead throughout the contest. The complete performance saw five Dragons hit double digits in a team win. Ricky Fetske led all scorers with 18 points, adding seven rebounds, four assists and two blocks. Meanwhile, joining their captain in double figures were Andreas Lycoudis (17 points), Rihards Sulcs (16 points), Allie Fullah (12 points) and Drexler Clark (10 points). Tosan Evbuomwan and Eric Stafford again led their team, as they combined for 28 points in the loss.
 Bradford Dragons 94-71 Manchester Magic  

The maths was simple on Sunday evening, the young Magic team had to enter the Dragons Den and win by 21 points to progress out of the pool. Despite competing well early on, the experience of the Dragons showed in the second half as they stretched their lead with strong offensive showings in the third and fourth period. Jermaine Laing was the lead scorer for the Dragons with 23 points, joined by his back-court partner Drexler Clark who added 22. Josh Houghton shot the ball well for the Magic en route to 30 points in the loss, joined in double digits by Manchester's new signing Loick Pouale. 
Dragons' Coach Chris Mellor looked back on the weekend, saying "It's nice to start with two wins in the Trophy and we can forget about that 'til January now. It's still early days but I'm happy with how we are progressing, and we executed some of the things we've been working on at both ends in pre-season."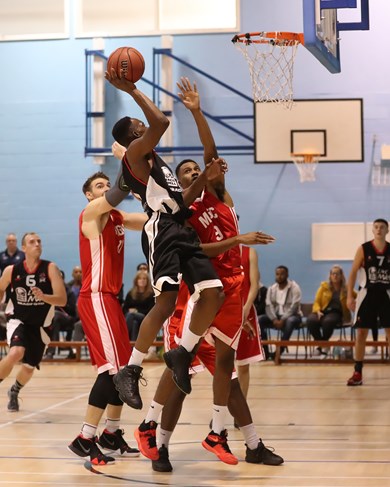 Jermayne Laing get to the basket against Manchester - Alex Daniel Photography
Pool B
A busy weekend in Pool B saw back-to-back home games for Loughborough Riders, while Derby Trailblazers were on the road making two trips over to Leicestershire. Saturday evening saw two polar opposite ties take place, as the Blazers won a close won at the Riders, while the Hoods had a dominant performance against the travelling Warriors. 

 Nottingham McDonald's Hoods 96-67 Leicester Warriors 

A routine win for the Hoods was sparked by an excellent third quarter in which the hosts outscored the Warriors 36-16, after previously having a solid defensive start to the match-up which saw them concede just seven points in the opening stanza. The lop-sided scoreline saw Coach Ryan Westley rotate in his bench and share the limelight, as five players hit double figures. Kieran Wright led all scorers with 21 points, as David Watts and Euan James added 17 and 13 points, respectively. Tom Ballantine and Delaney Powell also got in on the act as they contributed 12 points apiece. A bright spot for the Warriors was a 20 point outing from Brian Orr on his debut. 

 Loughborough Riders 78-83 Derby Trailblazers 

A much closer game was happening just across the East Midlands as the Riders and Blazers went blow for blow. The visitors led in the early going, but the Riders quickly made amends and led throughout much of the second and were up early in the third quarter. The Blazers then went on a tear as they took a commanding double digit lead late on, only for Loughborough to rally and make it interesting with key baskets down the stretch; but Derby would hold on. Lucien Christofis paced the Riders in the loss with 19 points and four rebounds, while David Forsyth came off the bench to 13 points in an efficient shooting effort. Malcolm Smith showed his prowess for Derby as he led all scorers with 34 points, while adding 10 rebounds. Matthew Ward-Hibbert was also clinical as he scored seven from down-town en route to 30 points, with four rebounds and three assists.
Hoods' Head Coach Ryan Westley commented, "The guys had great execution and were assertive and aggressive whilst showing good composure when needed."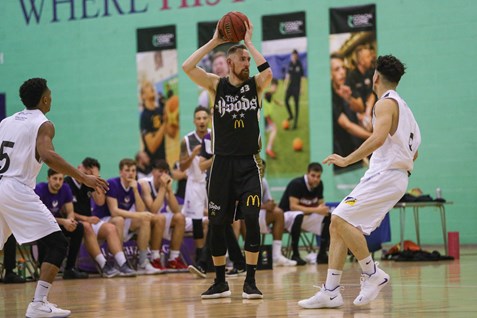 Hoods' veteran David Watts in action - Joe Pinchin

 Leicester Warriors 80-88 Derby Trailblazers 

Sunday saw all four East Midlands sides return to action to all but complete the Pool B schedule (with only the abandoned Leicester vs Loughborough game to complete). A matinee game between the Warriors and Blazers saw Leicester compete well early on and lead after the first period, but Derby came out hot in the second, scoring 28 to the Warriors' 19. An even second half wouldn't turn the tie back in the home sides favour, as the Blazers held on for their second single digit win in as many nights. Pakadashe Chingombe led the Warriors with 19 and was supported by Brian Orr and Martyn Gayle who added 14 and 12, respectively. Meanwhile, Smith was again outstanding for the Blazers, dropping 25 points, with Tre-Shawn Wilford and Matthew Ward-Hibbert adding 18 points apiece.
Blazers' Coach Matt Shaw reviewed their Trophy pool stage, "Our press was effective and we did a good job mixing the defensive up and stopping them getting into rhythm, so all in all, it was a great weekend for us. I felt we improved a lot over the two games as the guys are getting to understand each other's strengths and how to play together."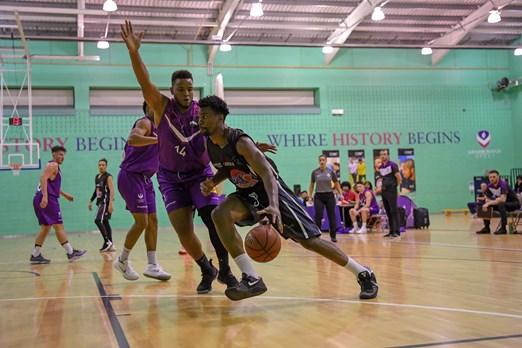 Malcolm Smith made a statement for Derby with a 59-point weekend - Alan Mousley

 Loughborough Riders 90-63 Nottingham McDonald's Hoods 

The final game of Pool B action for the weekend saw the Riders host the Hoods, needing a win after their narrow loss at the hands of the Blazers a night before. Balanced in the early going, the Riders really stamped their authority on the game late in the second quarter, and continued that momentum after the half-time break, as they went on to outscore Nottingham 48-26 in the second half. Niall Harris caught fire off the bench for Loughborough, scoring 20 points on 8-12 shooting, while adding eight rebounds. Starting guard Reis Pinnock was also a key factor, as he added 18 points, seven rebounds, six assists and four steals. David Watts scored well in the loss for Nottingham as he had 15 points, while adding five rebounds.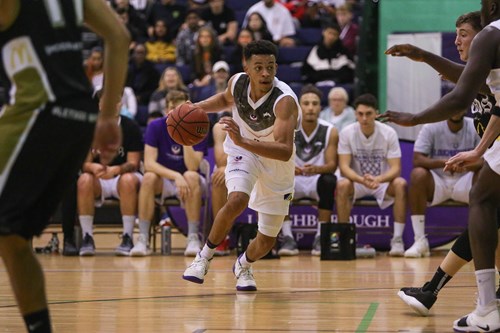 Riders' leading scorer Niall Harris looking to attack - Joe Pinchin
Loughborough Head Coach Mark Jarram reflected, "An interesting weekend for us and always is at this stage of the season as we figure out and learn about the team and the group. Two very different performances but ultimately we responded well after addressing some things from Saturday into Sunday. That's something we are proud about and something we have to continue. Another young team that have to get better throughout the season, every week!"
The completion of the abandoned game between Leicester and Loughborough will now decide the group as a Riders win would create a three-way tie at the top of the group, so keep your eyes peeled for the rearranged date for this one!
Pool C

 Thames Valley Cavaliers 114-105 Essex Leopards 

 Thames Valley Cavaliers 68-83 Reading Rockets 

A home back-to-back was the action that we were treated to in Pool C this weekend, as its all to play for with plenty of action still to come. Thames Valley's home opener on Saturday night against Essex was one which kept the scorers busy, as both teams played an exciting brand of basketball that led them both into triple figures. The Cavs jumped out to a narrow early lead which was quickly reversed by a re-focused Leopards' side in the second quarter. The two squads went blow for blow in the third quarter to see Essex edge ahead, but home side were not done for the night. A massive 40 point quarter from the Cavaliers saw them storm into the lead, and take the contest by nine points, 114-105. Luke Mascall-Wright was impressive in the loss for Essex, as he poured in 33 points to go along with 11 assists. Lee Hddges was clinical around the paint as he added 24 points and five rebounds. Meanwhile, the offensive explosion from Thames Valley was led by Elliott Defreitas who had 29 points on an efficient 12-15 shooting display. Andre Baptiste added 24 points, five rebounds and four assists, backed up by a 16 points from Martelle McLemore in a quiet, but efficient, outing from him.
The Cavaliers returned to Uxbridge College for the second outing of their back-to-back on Sunday as they faced the travelling Reading Rockets. The visitors lead throughout in a complete performance, taking a double digit lead after the first quarter and not looking back, despite a resilient challenge from the hosts out of the half-time break. AJ Carr led the Rockets with 27 points, while captain Danny Carter chipped in 19. Abdoulaye Sylla was the top scorer for the hosts in the loss, as his 15 points were backed up by 12 points from Martelle McLemore.
Pool D

 Team Solent Kestrels 95-60 Barking Abbey Crusaders


 Worthing Thunder 89-78 Team Solent Kestrels 

Pool D wrapped up this weekend as Worthing Thunder progressed, going 2-0 in the group stage. Saturday evening's match-up on the south coast saw the Kestrels produce a commanding display as the kept the young Crusaders at arms length early on and gradually extended their lead throughout the contest. In a routine win where they lead from tip to buzzer, the home side were able to get contributions from up and down their newly formed roster. Jon Averkamp lead all scorers with an efficient 28 points (13-17 field goals), while adding eight rebounds and three assists. Averkamp was backed up by double-digit scoring displays from Chris Scarlett (12 points), Herm Senor II (11 points), while Sam Turner and Tayo Oyefusi added 10 points apiece. Barking were led by guard Ade Adebayo's 19 points and five rebounds, while Nathaniel Powell contributed well off the bench, adding nine points and seven rebounds.
Pool D headed into Sunday with a deciding game to be played at Worthing Leisure Centre, with the Thunder and Kestrels both 1-0 with wins under their belt against the Crusaders. Worthing got out to a hot start in this one, outscoring the visitors 15-3 in the first five minutes. The Kestrels settled for a much more even second period, but Coach Matt Guymon's squad headed into the half down 48-29. The Southampton-based side rallied and won the second half, but it was not enough as they went down by nine points to see Worthing through to the knockouts. The visiots were led by 25 points from Herm Senor II, who struggled with Worthing's pressure as he had six turnovers. Jon Averkamp was against clinical, adding 17 points on 8-13 shooting. Nick Lewis showed out for Worthing in this one, with a jaw-dropping 35 points, as he hit six from behind the arc, while adding four rebounds and three steals. Captain Brendan Okoronkwo was a crucial contributor also, as he added 11 points, three rebounds and three blocks. Last week's NBL Division One Player of the Week, Zaire Taylor, was also a factor across the box score with 11 points, eight rebounds, six assists and two steals. 
Patrons Cup
Pool B

 East London All Stars 91 v 75 Derbyshire Arrows 

A cagey game in the early going on Saturday evening saw the visiting Arrows hold a narrow lead after the first ten minutes, but East London quickly countered. A 26-16 second quarter for the All Stars gave them the impetus to pull away to a double digit lead and not look back as they maintained this throughout the second half. The visitors were paced by 23 points from Sheu Matewe, while Joseph Baugh added 18. The young duo of Jonathan James and Aaron Badibo led the All Stars, as they scored 20 and 17, respectively.
Pool B will now be decided by a winner-takes-all match-up next Saturday at Copleston Sports Centre between Ipswich and East London. 
Pool D

 London Westside 65 v 96 London United 

London United bounced back from their tough 82-85 home loss to Westminster Warriors last week to take this one against Westside. The win United's chance to progress in the competition alive, but only if Westside manage to defeat Westminster next weekend.
Despite the final score-line, this game was competitive early on, as United took only a narrow lead into the second quarter. From there they clamped down on defense, limited Westside to just 12 points in the quarter, holding on to their double-digit lead from then on. Stefan Campbell scored well in the loss for Westside, with 17 points on 8-11 shooting. Kadeem Crabbe was also a factor as he added 14 points and seven rebounds. Leading the visitors to their impressive win was 22 points on 8-11 shooting from Modestas Krasuskas, including four from behind the arc. Marius Talijunas added 16 points and six rebounds, while Sarunas Antanavicius contributed 10 points, four rebounds and four assists.
WNBL Division One

 Ipswich 103-37 Oxford Brookes University 

As newcomers to WNBL Division One, Ipswich Basketball Club made a statement on Saturday with their commanding win over Oxford Brookes. The WNBL Division Two champions from a season ago opened up their campaign in the top flight with a dominant first quarter as they outscored the visitors 35-7. Not looking back, the home side continued to pour in the points and stand firm defensively en route to their big margin of victory. 
The new-look Oxford squad were led by 14 points and six rebounds from Tessa O'Connor, while Marta Artiles Perez added 11 points, four rebounds and four steals. Meanwhile, for Ipswich, Harriet Welham led all scorers with 25 points, despite struggling from behind the arc, also adding 11 rebounds and seven assists. Cameron Taylor-Willis added 19, while Amy Linton had 17 points and 10 rebounds. Esther Little had a quiet scoring outing with just eight points, but managed to pull down 23 rebounds and add eight assists. 
 Barking Abbey 55-51 Bristol Academy Flyers 

Barking Abbey got their Division One campaign off to a good start on Saturday with a win over the travelling Bristol Academy Flyers. The game was tied up at the half, at 25 points apiece, and the second half was played out in two drastically differing quarters. The third period saw Barking take control and open up a double digit lead, limiting Bristol to just nine points. However, in the fourth, it was the Flyers' turn to clamp down on defense, limiting Barking to just nine points of their own, but they didn't quite have the scoring fire-power to take the contest.
Jolicia Cadogan's 17 points were crucial in the Barking win, as she was backed up by 10 points from Sade Orija. Newcomer to the South West, Flo Ward, lead the visitors with 12 points, supported by eight points apiece from Rebecca Cantin and Hannah Wallace.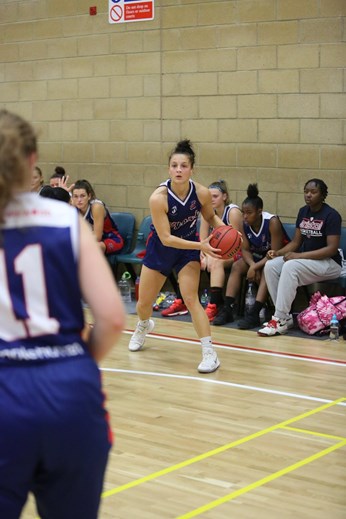 Bristol newcomer Flo Ward in her first action - Sam Neter, Hoopsfix

 Sevenoaks Suns II 63-64 Team Solent Kestrels 

It wasn't quite the fairy-tale start for Sevenoaks Suns II in the top flight, as a back-and-forth contest went the way of the visiting Kestrels. An even game throughout saw the Suns and Kestrels changing leads numerous times, as the Suns lead even in the last couple of minutes before the Kestrels took the spoils.
The young Sevenoaks side led as the game headed into the last two minutes thanks to a four-point play from Katie Bennett, followed by a jump shot from Kenisha Whyte. Kestrels veteran Melanie Curson then hit a three to give the visitors the lead, but this was quickly countered by Ellie Hutchinson who tied the game up at 63 apiece. A cagey final minute saw no one break the deadlock until Hutchinson fouled Geena Gomez, who split the pair at the line. Whyte would have a shot to win it with the final possession, but couldn't get the game-winner to drop.
Gomez lead all scorers with 19 points and four assists, backed up by Krisztina Velkey who added 15 points and six rebounds. Meanwhile, Bennett had 17 points to pace Sevenoaks, while Whyte added 11 points and four rebounds. Olivia Partridge made her presence felt on the day, contributing a double-double performance of 10 points and 10 rebounds. 
Coach Lee commented after the game, "This is the first time I've left this court with a win in over 5-years, so I'm thrilled with the result. Although we might feel like we should have won by more, it's the manner in which we won that should be the major takeaway from today's game. Sevenoaks never quit and put us under pressure the whole game. We didn't always make good adjustments, but we executed our game plan when it mattered the most."

 Team Birmingham Elite 61-66 Southwark Pride 

A close game between Birmingham and Southwark was played out at The Factory on Saturday, as Pride took the spoils in both teams' season opener. The visitors jumped out to a commanding 15-5 lead after the first five minutes, but Elite countered and the score was tied 23 apiece at the half. A refocused Southwark side came out firing in the third, as they dropped a 30 point quarter to take the lead. Elite were able to narrow the gap throughout the final period, but the Pride held on to take it by five. 
Rebecca Brindley and Jessica Cooper shouldered the scoring load for Birmingham, as they lead all scorers with 13 points apiece. Meanwhile, Maya Hyacienth was able to lead her team to victory with 12 points and four rebounds, backed up by 10 points apiece from Division One debutantes Jade Guidolin Duncan and Amelia Sandie.
Around the NBL
Men's National Cup
Javel Small's 24 points were enough to spur Stoke-on-Trent Knights to a win over Liverpool Stars, as they progress to face Loughborough Riders in the next round. City of Birmingham Rockets also progressed to host London United with their home win over Southwark Pride, behind Emmanuel Bradshaw's 28 point outing.
Mical-Ryan Boyd's 34 points was enough for Team Derby Spartans to challenge Essex Leopards, but it was the Big Cats who progressed to face Westminster Warriors as Luke Mascall-Wright dropped 30. Myerscough College will face Team Newcastle in the next round after safely defeating Bristol UWE Flyers II, as new signing Sanmi Fajana led with 24 points.