Anglia Ruskin University
2017-18 Record: 10-12 (7th)
Notable Departures: N/A
Notable Returners: Katrin Hulme, Marianna Maddaloni, Nadege Talva, Jazmin Gyulai
Notable Additions: Sofia Koutsourelaki
Division One First Five: at Rockets, at Barking, vs Pride, at Oxford, vs Kestrels
Anglia Ruskin University were one of the stories of the NBL last season, with them winning the WNBL Division One Playoff Final being the fairy-tale ending to their up-and-down campaign. The Cambridge-based side were in the lower rungs of the league table at the Christmas break, but an incredible second half of the season saw them crawl into the playoffs. An early exit from the post-season was on the cards, but the Rhinos defeated multiple higher seeds to eventually knock off the regular season champions, Essex Blades, in the final. 
With no departures of note, a strong returning core for Coach Matt Harber includes Playoff Final MVP Katrin Hulme, alongside exciting guard Jazmin Gyulai who lit up defences throughout the second half the season. 
Coach Harber reflected on last season, saying "With such a terrific finish to the 2017-18 season, our team has entered the 2018 pre-season with a great level of energy and motivation to build on our momentum from our Playoff success." Harber continued, looking ahead, "Our team's challenge now is to become a consistent, high performing team within WNBL D1 on a week-to-week basis. My responsibility is to push the team from a physical, technical, tactical and mental perspective from the start to the end of the season. I'm very excited about the potential this group has."
Returning guard Marianna Maddaloni added, "WNBL Division One is an exciting and very competitive league. We have reasons to believe we can have a successful season by enhancing our individual skills, on top of the great team confidence we achieved last season."

Barking Abbey
2017-18 Record: 3-19 (12th)
Notable Departures: Dami Adeyinka, Elizabeth Esan
Notable Returners: Sade Orija, Yasemin Charles, Jolcia Cadogan, Elizibeth Osilaja
Notable Additions: Lilly Annim, Patricia Pawlata , Precious Adediran
Division One First Five: vs Flyers, at Rockets, at Suns, vs Anglia, vs Ipswich
A difficult season for Barking Abbey in WNBL Division One last year saw them finish bottom of the league with a 3-19 record. The young squad grew throughout the campaign and will no doubt be up the battle again this year as the WNBL gets going once again. The East London side were able to remain in Division One due to Lancashire Spinners voluntary relegation, after a reshuffle in the club.
Departing the Barking Division One programme is dynamic guard Dami Adeyinka, who heads stateside to attend Quincy University, meanwhile, a core group of returning young talent in Sade Orija, Yasmin Charles, Jolicia Cadogan and Elizibeth Osilaja will no doubt be hungry for the challenge this season. Bolstering the Barking squad is academy newcomers Lilly Annim, who moves from Southend Swifts, Precious Adediran, who joins BA from Haringey Angels, along with Patricia Pawlata. 
With the departure of Karen Burton from the programme, new head Coach Tope Alli-Balogun said this ahead of his debut campaign in the hot seat, "I am really excited to get to work with this group this season. We have a core group of players experienced in this league now, so we expect them to take the next step and lead us going forward."
Returning guard Yasmin Charles echoed her coach's eagerness, "I'm really excited for this season, we have a really hard working group of girls. I'm ready to get to work."

Bristol Academy Flyers
2017-18 Record: 14-7 (3rd)
Notable Departures: Hannah Watkins, Hannah Till, Trish Groves
Notable Returners: Liisa Juul, Mai Zilbetil, Fiona Fox, Molly James
Notable Additions: Flo Ward, Cristina Bigica
Division One First Five: at Barking, vs Suns, at Ipswich, vs Elite, at Riders
One of the pace-setters a season ago, Bristol were right up near the top of the table throughout the campaign and could have challenged for the league title, had a few more results gone their way. Coach Gareth Till has a solid returning cast, but will be without Hannah Watkins, Hannah Till and Trish Groves who all step away from the game into retirement. 
Returning to the SGS WISE Arena for the Flyers will be exciting back-court duo Liisa Juul and Mai Zilbeti, while Fiona Fox will also be an impact maker from the wing. Molly James also makes her return to WNBL Division One after a debut season last year, as the youngster comes off a successful summer having represented Great Britain Under 16s.
Joining Coach Till's squad are two big names who improve the Flyers depth considerably. Flo Ward makes the move to the South West after previously being in action for Team Northumbria in the WBBL and representing Great Britain Under 20s. Cristina Bigica will join her, bringing a high pedigree of play to the Flyers, having attending Marquette University and representing Romania in their Under 20 squad. 
Coach Till said this ahead of the campaign, "We're really looking forward to the upcoming season. I think it will be a highly competitive league and we're looking forward to the challenge. We've lost some experienced players, which will be tough, but I'm really pleased with the returning squad and our new additions. Flo and Cristina are both quality players, they have Under 20 international experience and played at fantastic US colleges. I'm excited to see how the team develops over the next few months."
The highly experienced returning guard Liisa Juul, who hails from Estonia, added, "I can't wait to get started. I'm looking forward to getting onto the with our new players and being competitive in the league. My goal as always is to win a championship and this year is no different."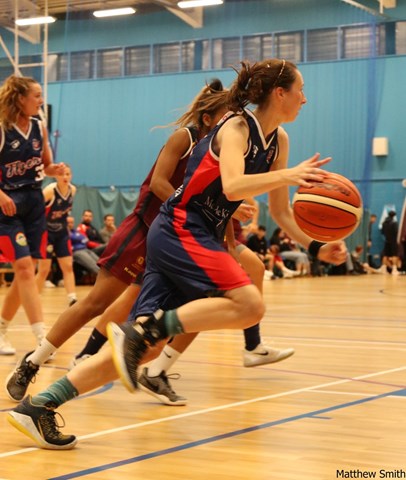 Flyers' forward Hannah Wallace in preseason action against Cardiff Met Archers - Matthew Smith

Ipswich
2017-18 Record: 15-0 (1st, Division Two North)
Notable Departures: Maya Price, Ashleigh Pink
Notable Returners: Harriet Welham, Esther Little
Notable Additions: Becky Hardwood-Bellis, Charlotte Redhead
Division One First Five: vs Oxford, at Kestrels, vs Flyers, at Suns, at Barking
A fantastic 2017/18 season saw Ipswich sweep the floor with their competition as they completed an unprecedented 23-0 campaign, as they picked up the Division Two North, Women's National Cup and Division Two Playoff titles. Their undefeated campaign saw them knock off multiple WNBL Division One opposition during their journey to the Women's National Cup title, including defeating WNBL Division One champions Essex Blades in the final. 
Ipswich will hope for more of the same this season as they step up a division, returning the sharp-shooting Harriet Welham and long versatile guard Esther Little. Departing the programme for new opportunities are centre Maya Price, who joins Newcastle Eagles in the WBBL, and guard Ashleigh Pink, who takes her talents to the US to attend Barry University. Coach Nick Drane's squad will feel the loss of these two talents, but he has reinforcements coming in the form of Great Britain junior international Becky Hardwood-Bellis who makes the move from Manchester Mystics, and Charlotte Redhead, who led her Sevenoaks Suns squad to an NBL Under 16 Girls playoff championship back in May. 

Loughborough Riders
2017-18 Record: 10-12 (8th)
Notable Departures: Ebony Horton
Notable Returners: Holly Davies, Rebecca Morrison, Niamh Kelshaw, Lauren Saa, Imogen Cook
Notable Additions: Ashante Richards, Emma Cheetham, Hannah Dawson, Alex Baker, Ugne Pranculyte
Division One First Five: at Pride, vs Oxford, at Kestrels, vs Flyers, at Suns
A mixed season for the Riders saw them fall to eighth place in WNBL Division One as sneak into the post-season. The inconsistency of the Riders' play often came down to sharing players across the Leicester Riders WBBL and Charnwood College Riders NBL Under 18 Women's leagues - a tough balancing act. Looking to contend at all three levels again this season, the Loughborough squad is buoyed by a strong returning core and some solid newcomers. 
Only losing Ebony Horton, who will begin her collegiate career at Binghampton University, the Riders can look to many returns, including explosive scoring guards Niamh Kelshaw and Imogen Cook, alongside Lauren Saa and Rebecca Morrison, who will have a presence at the forward position. Newcomers to Charnwood College who will represent the Riders in Division One are guards Ashante Richards, who makes the switch from Mansfield Giants, and Great Britain Under 16 international Hannah Dawson. Joining them will be fellow international Alex Baker who switches from Sevenoaks Suns, while Emma Cheetham and Ugne Pranculyte make their move from Lancashire Spinners. 
Head Coach Krumesh Patel, who returns to WNBL Division One after time with the Riders WBBL side, said "I am really excited for the season ahead – We have a great group of students who will be relishing the challenge to improve on from last year. We are young but have the potential to do extremely well if we apply ourselves and develop of the season."
Returning guard Holly Davies added, "Last year was a great learning experience for the team, we were very young and the season was very much about gaining experience in a league that we were mostly new too.  We are all extremely excited for this upcoming season and are holding very high expectations as a team and as individuals."

Oxford Brookes University
2017-18 Record: 12-10 (6th)
Notable Departures: N/A
Notable Returners: N/A
Notable Additions: Marta Artiles Perez, Alexis Lyers
Division One First Five: at Ipswich, vs Elite, at Riders, at Rockets, vs Anglia
Last season saw Oxford have a hot start to the year, as they contended early on for a position in the top four. A mixed run of form throughout the second half of the season saw them slide down the table to eventual take the sixth seed heading into the post-season. An upset in the first round on the road at Bristol Academy Flyers was as far as their run would go, defeated by eventual champions Anglia Ruskin in their semi-final match-up.
With a shake-up this summer at Oxford Brookes and many of the old squad rumoured to be joining the newly formed Thames Valley Cavaliers in WNBL Division Two, OBU will have a noticeably different look this season. The newcomers likely to make a big impact on the league include Marta Artiles Perez out of Canterbury Lions in Gran Canaria. Artiles Perez will be joined by Alexis Lyers, a 5'6" guard out of Pacific Union College in California. 
Head Coach Zach Meekings looked ahead to the season, "We made a conscious decision in the summer to begin building around a younger, student-led core in order to build a sustainable, long-term programme. There's a great atmosphere and a lot of excitement within the team about taking their first steps in WNBL Division One. We can't wait to get our season started and begin this journey together."

Reading Rockets
2017-18 Record: 13-9 (5th)
Notable Departures: N/A
Notable Returners: Maria Valdeolmillos Gomez, Paula Romero Tarrega
Notable Additions: N/A
Division One First Five: vs Barking, vs Anglia, at Pride, vs Oxford, vs Flyers
Another side that challenged for a top four finish last season, before eventually settling for fifth, was the Reading Rockets. The sidelines sees a return for David De La Torre Sanchez, who will be joined by John Madejski Academy head coach Blai Benlloch, as Antonio Acuna Rodriguez completes the coaching trio. 
With full roster information not received at the time of writing, the Rockets are a somewhat unknown quantity, but there will be a return for the back-court trio that shouldered much of the load last year. With leading scorer Andrea Gomez De La Vara going down with injury midway through last season, Reading needed someone to step up. Enter Maria Valdeolmillos Gomez, who averaged 20+ points throughout March 2018 to lead her team into the playoffs. Alongside Valdeolmillos Gomez in the back-court will be the talented Paula Romero Tarrega who last season headlined the many JMA Rockets youngsters who made the step up from WEABL and NBL Under 18 to WNBL Division One towards the end of last season. 

Sevenoaks Suns II
2017-18 Record: 11-3 (2nd, Division Two South)
Notable Departures: Alex Baker, Charlotte Redhead
Notable Returners: Katie Bennett, Olivia Partridge, Asha Andrews
Notable Additions: N/A
Division One First Five: vs Kestrels, at Flyers, vs Barking, vs Ipswich, at Elite
The only other newcomers to be joining Ipswich in stepping up to the top flight of the WNBL are Sevenoaks Suns II. The young Suns stars impressed in WNBL Division Two South last season and were granted their application for promotion. 
The powerhouse player development factory that is the Sevenoaks Suns relied on a talented young core last season, and will likely do so again this year. With centre Alex Baker headed to the East Midlands to attend Charnwood College and Charlotte Redhead also moving on to join Ipswich, the Suns will have big holes to fill this year. Returning Great Britain international Katie Bennett and Olivia Partridge will likely shoulder that load, after gaining experience off the Sevenoaks WBBL bench last season. They will be joined by talented young guard Asha Andrews who will be exciting to watch in the back-court. 

Southwark Pride
2017-18 Record: 14-8 (2nd)
Notable Departures: Chandera Jones-Aryeh, Kadija Conteh, Jahnara Hall
Notable Returners: Megan Haines, Maya Hyacienth, Mia Sarkodee-Adoo, Ashana Hinds
Notable Additions: Jade Guidolin-Duncan, Amelia Sandie
Division One First Five: at Elite, vs Riders, vs Rockets, at Anglia, vs Barking
An impressive year for Southwark Pride in the WNBL saw them finish in second place in WNBL Division One, while taking home the NBL Under 18 Women's national championship. The Pride couldn't replicate their success in their post-season of WNBL Division One, as they were the first victims of Anglia Ruskin's fairy-tale run to the championship. 
Coach Jackson Gibbons has a talented returning core of players at his disposal this campaign, with a couple of notable departures. Chandera Jones-Aryeh heads for new shores to attend Millierville University, while Kadija Conteh also heads stateside to ply her trade for Adams State University. Jahnara Hall is another to move on from the City of London Academy, as she will continue her studies, staying within the UK to attend Coventry University.
The returning core includes a number of junior international stars with Megan Haines, Maya Hyacienth, Mia Sarkodee-Adoo and Ashana Hinds all ready to make a big impact in their second season in the WNBL with Southwark. This returning cast will be bolstered by newcomers Jade Guidolin-Duncan, who had an impressive Junior Final Four campaign back in May with Haringey Angels at both Under 16 and Under 18 level, and Amelia Sandie, a 5'7″ guard who represented Great Britain Under 16s this summer and makes her move from Brighton Cougars.

Team Birmingham Elite
2017-18 Record: 8-14 (9th)
Notable Departures: N/A
Notable Returners: Rebecca Brindley, Lucy Buxton
Notable Additions: Lisa Greenaway
Division Two First Five: vs Pride, at Oxford, vs Kestrels, at Flyers, vs Suns
It was a very mixed season for Team Birmingham Elite, as they proved they could compete with any team on their day, but struggled to mount up the wins en route to a 8-14 record. Managing to narrowly separate themselves from the chasing pack last year, the West Midlands side clinched the ninth spot, but couldn't quite challenge for a place in the post-season.
With little knowledge of their roster at the time of writing, the only confirmed signings see a return for Rebecca Brindley and Lucy Buxton, while experienced guard Lisa Greenaway will make the move from WBBL side Nottingham Wildcats. Meanwhile, there is a return for experienced head coach Robin Hall on the sidelines. 
As you can see below, spirits are definitely high in the Team Birmingham Elite camp as they prep to host Southwark Pride this weekend!

Team Solent Kestrels
2017-18 Record: 7-15 (10th)
Notable Departures: N/A
Notable Returners: Chloe Lammas, Andrea Kurkowski, Earleesha Jackson, Melanie Curson
Notable Additions: N/A
Division One First Five: at Suns, vs Ipswich, at Elite, vs Riders, at Anglia
As one of the WNBL's pace-setters back in 2016/17, Team Solent Kestrels will likely be disappointed in their 2017/18 campaign, which saw them fall out of the playoffs. After this rebuild year, Coach CJ Lee's side will be back hungrier than ever to make their mark on WNBL Division One. 
A returning core with strengths across a number of positions sees guards Chloe Lammas and Andrea Kurkowski return to the south coast outfit. They will be joined by the inside presence of highly athletic Earleesha Jackson and an experienced Melanie Curson back for another campaign. New face Carla Grau is out with injury for the first half of the season, so look for her to make an impact down the stretch for the Kestrels.