After another fantastic season at the pinnacle of the WNBL, the start of the 2019/20 campaign is nearly upon us. We take a look at what is in store for the upcoming year following a busy off-season.
WNBL Division One
After winning it all for the last two seasons, Anglia Ruskin head into 2019/20 with the opportunity for an incredible three-peat of playoff titles. ARU didn't top the regular season standings in either year though, showing that regular season success doesn't always translate into a playoff title.
Bristol Academy Flyers are the reigning regular season champs and will no doubt fancy their chances of a repeat performance. Their playoff run was halted following a home defeat to Reading at the semi-final stage, but new Coach Pedro Vega Fuentes. will no doubt be gearing his side up for another run at a title.
Likewise, Team Solent Kestrels are no strangers to success. After topping the D1W standings in 16/17, the South Coast programme endured a down year in 17/18 before a 3rd place finish a year ago. They look set to be in the mix once again.
Southwark Pride are the last team to win the playoff title before Anglia Ruskin's recent stretch of success. Due to the roster turnover of being an academic institution, Southwark's form can fluctuate season on season, but they can certainly be a factor at this level as in years past.
Reading Rockets went 9-9 a year ago but they didn't let a less than stellar regular season slow their playoff progress. Making it all the way to the final against ARU as the #5 seed, the Rockets will continue to develop a young roster of talented players. It's worth noting that Reading are the reigning U18 Women's National Cup champions, suggesting their pipeline is still full of potential.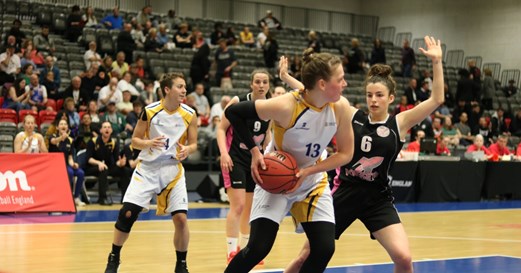 Reading and Anglia Ruskin battle in last season's playoff final
Leicester Riders II settled on the #4 seed last year at 10-8, but did claim some silverware in the shape of the Women's National Cup following an 81-54 victory over Reading. With the programme at Charnwood continuing to go from strength to strength following a WEABL title in 18/19, the Midlands team should be strong once again.
Ipswich also finished middle of the pack with a .500 record a year ago, but another year of experience for some of their young stars, including GB's Esther Little, should see them continue to improve.
BA London Lions II finished in a three-way tie at the foot of the standings at 4-14, but remained in D1W for 19/20. After a shock win over Bristol on opening day last September, BA went on 1-8 run that derailed their season. They'll be looking for better start this time around.
Nottingham Trent University went 12-0 and captured the D2W playoff title last year and have now been promoted, they'll be looking to establish themselves at the next level. Thames Valley Cavaliers will join NTU in the top tier following a 12-2 record in 18/19.