To end the week, Basketball England is pleased to announce the winners of the 2019 East Region Volunteer Awards.
The annual volunteer awards programme sees nominations gathered from the public across the 10 English Regions, with winners selected in partnership with the Regional Management Committee Chairs.
Commenting on the achievements of the winners, East Regional Chair, Angela Griffin said; "East Region is immensely proud of all our volunteers throughout all six counties, they are absolutely amazing. Thank You!"
Amongst the winners are Leah Page (Young Official of The Year) who has shown maturity beyond her years, refereeing countless local and national league matches throughout the season. Leah goes above and beyond to educate players and officials on court and demonstrates immense resilience when dealing with players older than herself during games.
Also recognised are the Special Olympics Chiefs Community Basketball Club (Community Club of The Year) who have continued to grow since they were formed in 2011, running two sessions a week and a satellite session for developing younger players. They have been incredibly successful in recent years with two players selected for the GB Special Olympics team who won Gold in Abu Dhabi. A huge part of the success of the club is down to Jake Fisher (Young Volunteer of the Year) who has coached the sessions and was successful in becoming part of the GB Special Olympics Coaching Staff.
After receiving a regional award for London, Graham Hodges has also been recognised for his tireless photography work in the East region as well.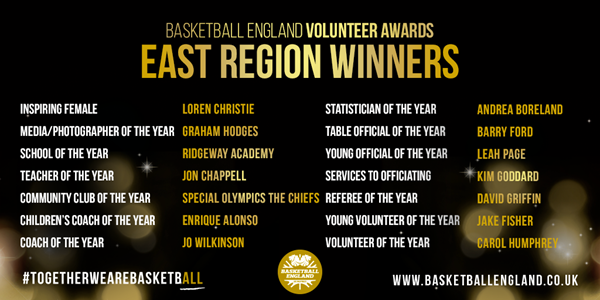 "I'd like to offer my congratulations to all the award winners in the East" said David Butler, Delivery Director for Basketball England. "It is also pleasing to see such a high number of female winners as well, highlighting another positive development within the East region!"
All of the winners in each category at regional level will be reviewed by a panel, with three nominees for each national award being invited to the Basketball England Annual Volunteer Awards Dinner which takes place on Saturday 7th September in Manchester, where the winners of the national awards will be announced and presented.