Basketball England South East Region Volunteer Awards Announced
Basketball England is proud to announce the winners of the 2019 South East Region Volunteer Awards.
The annual volunteer awards programme gathers public nominations across the 10 English Regions, with winners selected in partnership with the Regional Management Committee Chairs.
Amongst the winners are Clare Reed (Coach of The Year) who has gone the extra mile to develop the young players she coaches by regularly giving up her weekends to aid their development. Clare's contribution to basketball in the region has resulted in an increase in opportunities for female players and the future looks bright for the women's game in the South East on the back of Clare's hard work.
Also recognised is Chris Fairs (Volunteer of The Year) who is club secretary for the Maidstone Warriors. Chris has organised the registration of players for several years, as well as welcoming visiting teams and being on hand to answer any enquiries parents may have. On top of this, Chris has organised trips to BBL finals, going above and beyond to promote the sport and provides exciting experiences for the younger members.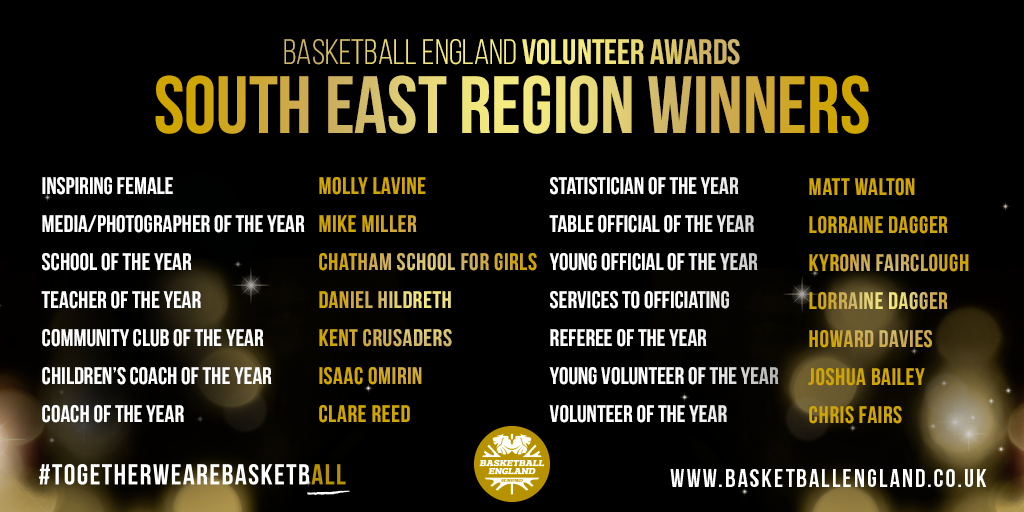 "I would like to congratulate all the winners from the South East" said David Butler, Delivery Director for Basketball England. "Basketball across the country relies on fantastic volunteers and these awards provide the opportunity to give the efforts of these great people the recognition they deserve."
All winners in each category at regional level will be reviewed by a panel. Three nominees for each national award will be invited to the Basketball England Annual Volunteer Awards Dinner which takes place on Saturday 7th September in Manchester, where the winners of the national awards will be announced and presented.