Basketball England is proud to announce the winners of the 2019 South West Region Volunteer Awards.
The annual volunteer awards programme sees nominations gathered from the public across the 10 English Regions, with winners selected in partnership with the Regional Management Committee Chairs.
Amongst the winners are Khuram Chowdhry (Volunteer of The Year) who has been recognised for his exceptional organisation skills when running the Cardiff City basketball club. Khuram handles all registrations, payments, officials and manages all fixtures in his own time and has done so for several years.
Also recognised is the Unity Through Basketball Club (Community Club of The Year) run by Troy Woodhouse and Madeline Doyle (Inspiring Female). The club has been instrumental in providing for the local community and getting people active by playing basketball providing playing outlets for all ages. In addition to this, the club has managed to raise an enormous £27,000 for a variety of charities amplifying the incredible contribution the club makes to the community in the Plymouth area.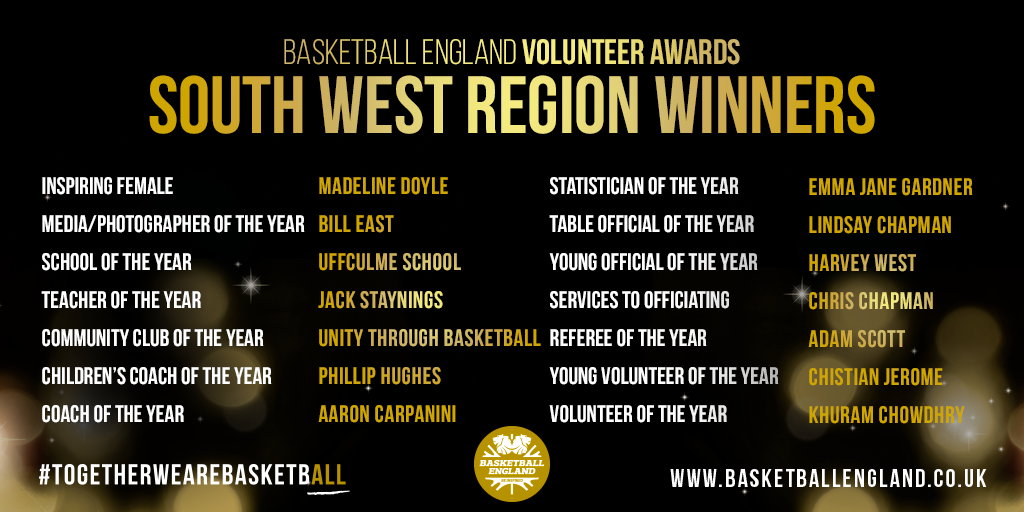 "It's great to take this opportunity to reward the amazing efforts of some of the volunteers that make basketball possible" said Stewart Kellet, CEO for Basketball England. "A large amount of basketball activities rely on the efforts of volunteers and it's amazing to appreciate these people from the South West Region"
All of the winners in each category at regional level will be reviewed by a panel, with three nominees for each national award being invited to the Basketball England Annual Volunteer Awards Dinner which takes place on Saturday 7th September in Manchester, where the winners of the national awards will be announced and presented.