Basketball England is proud to announce the winners of the 2019 Yorkshire Region Volunteer Awards.
The annual volunteer awards programme sees nominations gathered from the public across the 10 English Regions, with winners selected in partnership with the Regional Management Committee Chairs.
Amongst the winners are Bert Beaumont (Children's Coach of the Year) who has been coaching U12 and U16 basketball for well over 50 years now and still puts in many hours every week to enable boys and girls from Barnsley, to learn the skills to compete in the NBL league. The club is by far the most diverse it has ever been, and Bert has been at the heart of making the club so inclusive.
Also recognised is Kaylor Baugh (Statistician of the Year) who is an outstanding young official and has coped with Division 2 Men & European Wheelchair events at the EIS in Sheffield. Kaylor deserves recognition for being a such a top-class operator.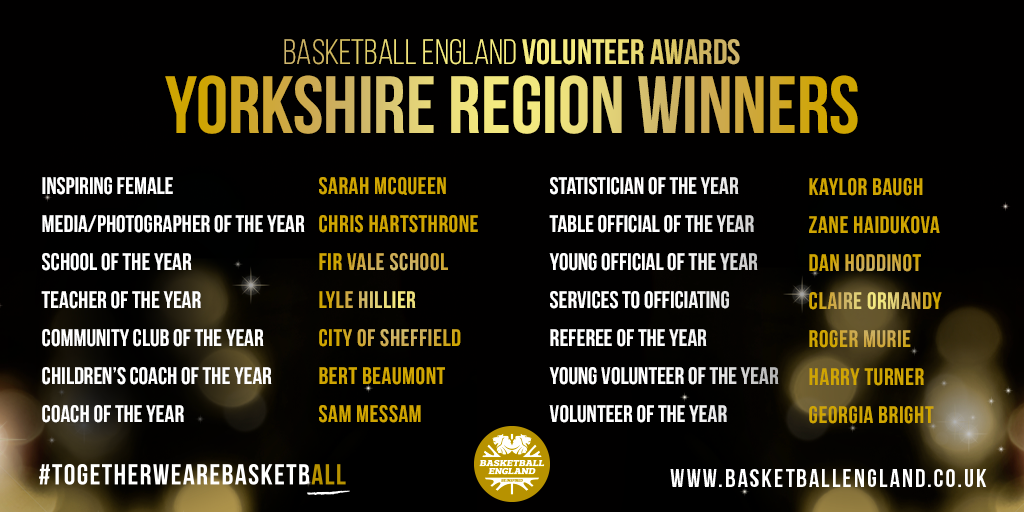 Commenting on the achievements of the winners, Yorkshire Regional Chair, Andy Harrison-Beaumont said; "It is incredibly difficult to single out individuals in Yorkshire Basketball for recognition: there are so many fantastic volunteers out there from grass roots right up to WBBL and BBL. Players sometimes forget that their game would not go ahead without a whole army of volunteers providing a myriad of services behind the scenes. We are truly blessed in Yorkshire to have such dedicated, talented and selfless individuals. Congratulations to this year's recipients who are much appreciated by the basketball community!"
All of the winners in each category at regional level will be reviewed by a panel, with three nominees for each national award being invited to the Basketball England Annual Volunteer Awards Dinner which takes place on Saturday 7th September in Manchester, where the winners of the national awards will be announced and presented.