After the longest ever close-season,  basketball finally returns this weekend with the new L Lynch Trophy taking place at three venues across the country.
The competition features all 14 of the NBL Division One sides along with invited guests Myerscough Academy, with the teams playing in four team groups with the top two sides in each progressing to the quarter-finals.
Unfortunately, the current Covid-19 situation at Loughborough University means Group Three's pair of games have been postponed.
And another potential Covid-19 case means Derby Trailblazers Group 4 clash with Myerscough is also on hold.
But after seven months without top flight basketball, the action starts in Hertfordshire as the new-look Oaklands Wolves host Group Two, and it's Reading Rockets versus Hemel Storm in the opening game at 2:45pm.
Storm missed out on third place on the tiebreaker with Derby last season as both teams finished the curtailed campaign with 16-7 record while Rockets ended the season in seventh spot with 14 wins from their 23 completed games. Storm won the only meeting between the teams 91-75 last season, but are likely to go into Saturday's tie as underdogs as it seems unlikely that their American pair, Greg Polson and Mike Williams, will get paperwork cleared in time.
Watch the game live / Live Stats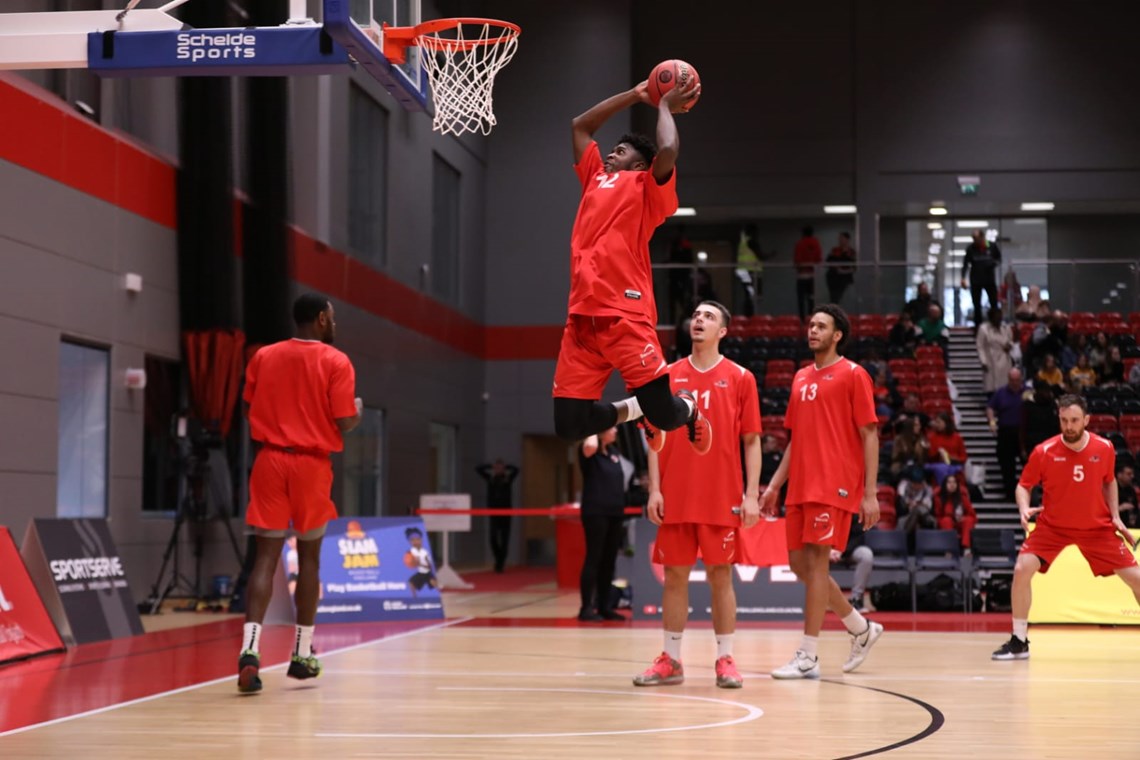 Oaklands Wolves v Thames Valley Cavaliers
The second game of the day in St Albans sees the home-town Wolves host Thames Valley Cavaliers at 5:45pm, and the hosts' coach Thomas Baker admits he can't wait to get his team back on the floor: "Firstly it is great that basketball is back!" he said. "I would be lying if I thought we would get to this point but it is exciting to be stepping out on the court with my new team.
"The Lynch Trophy presents us with an opportunity to host the regional games which is an excellent chance to showcase the amazing facilities we have here at Oakland, yes there will be some new procedures to get used to but it will be good to see basketball being played again."
With games against Hemel Storm and Reading Rockets to follow, Wolves' top flight debut is about as tough as it could have been, but Baker is excited about the challenge: "For us as a team, I am looking forward to seeing my guys compete against three of the most talented teams in the division in Reading, Hemel and Thames Valley and it will be a great early test of us, something myself and the guys are excited about."
Wolves' predecessors found Cavs to be something of a bogey team in the past, losing all eight of their games against the Uxbridge-based side, and Robert Banks' team finished second in last season's aborted Division One.
Watch the game live / Live Stats
Group Four
The action between the competitions most Northern teams takes place at Myerscough and features the top two from last season's Division Two North along with Derby Trailblazers and Bradford Dragons, who would have both been in the play-offs if the season hadn't ended early. 
With the 'Blazers clash with the hosts postponed Dragons game with Newcastle is the only actgion of the day at 6:30pm. 
The north east side bounced straight back following relegation in 2019 by winning the second tier's northern title, but it's been a massive test for coach Mark Elderkin to get a team on the floor for tomorrow's action.  
Watch Bradford v Team Newcastle / Live Stats
Sunday's schedule
The action switches to the south coast on Sunday where Solent Kestrels host Group One. Matt Guyman's side were all-conquering last season, going unbeaten on the way to a  Division One and National Cup double, and stunning the BBL by reaching their Trophy final.
Having added England international Orlan Jackman, who completed last season with Leopards, to their ranks, Kestrels look even stronger this season and will open their L Lynch Trophy campaign at 12:00pm with a game against a young BA London Lions side who will look to cause a major upset in the first game under their new name.
Division Two South champions Essex Rebels make their top flight debut in the day's second game, facing Worthing Thunder at 3:00pm.
The East Anglian side will face a tough test against a Thunder side who have retained the core of last season's team who finished fifth in Division One and had looked a good bet for a top four finish before the early end to the season.
All eyes will be on Cameron Hildreth as he spends his final season with Thunder before joining top USA college Wake Forest. Rebels will lean heavily on guard Sam Newman and big man Lee Hodges who both have Division One experience with Leopards and Hemel Storm.
Watch Solent v Barking / Live Stats
Watch Worthing v Essex / Live Stats
.