There were several close games as the L Lynch Trophy tipped off this weekend.
Covid-19 caused the postponement of three of the group stage eight ties, but fans who tuned into the livestreams were given a treat as basketball returned after a seven-month hiatus.
Oaklands hub
The 2020/21 British basketball season finally got under way at Oaklands College on Saturday afternoon as the newly renamed Wolves hosted Group Two of the L Lynch Trophy.
A strong second period paved the way for an 83-70 Hemel Storm victory against Reading Rockets in the first game, while a good start from the hosts couldn't prevent them going down 102-74 against Thames Valley Cavaliers in the second match-up.
Storm led by a single point at the first break but a dominant 28-15 second quarter saw them take a stranglehold on the game that they would never lose. A good third period saw Rockets chip away at the lead to trail 63-56 at final break. Grant made it a five point game with the opening score of the fourth period but that was as good as it got for Reading as Shaq Lewis hit five straight points and Storm closed out the win.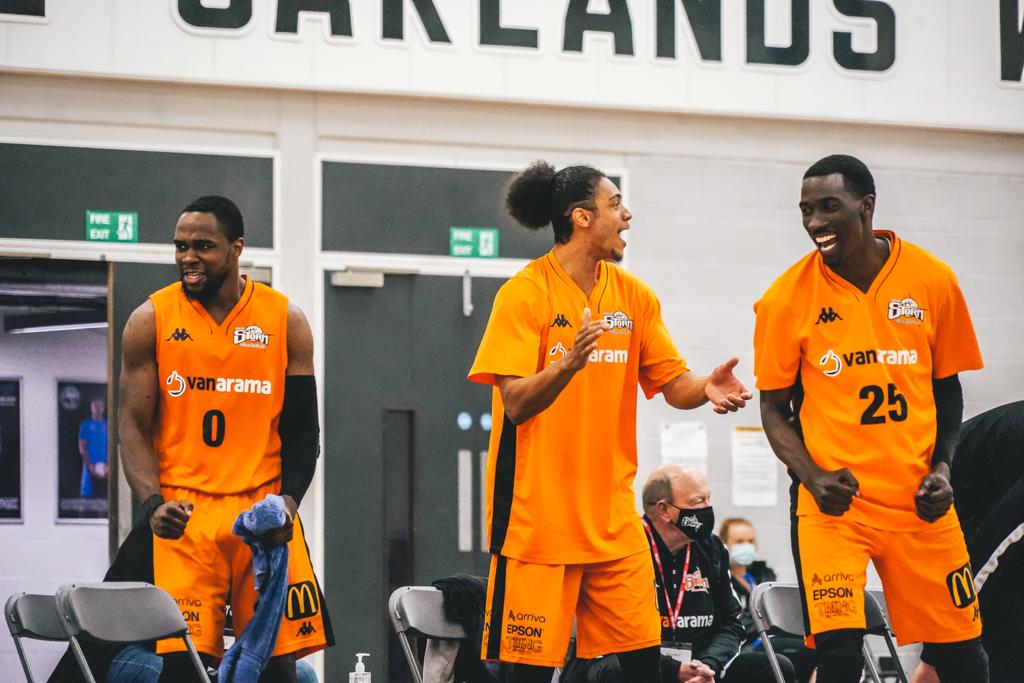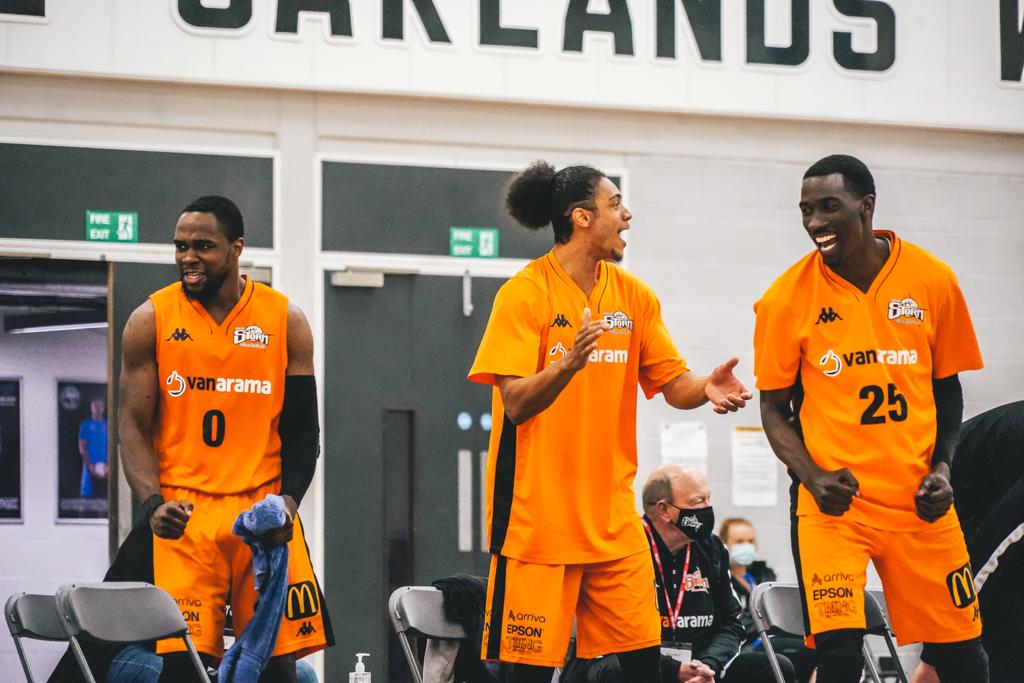 Hemel Storm opened the L Lynch Trophy with a win over Reading Rockets. Picture: Lizzy Harrison
Dru Spinks' Hemel side had moved heaven and earth to get American duo Mike Williams and Greg Poleon registered in time for the game, and the pair combined for 40 points to lead them to a win. Poleon had a massive 21-point, 18-rebound double-double, while Williams had 19 points and five boards and Storm out-rebounded the Rockets 54-40.
Osbowon Williams marked his Rockets' debut with 23 points, five rebounds, five assists and as many steals in a 40-minute performance, while new captain Sam Toluwase had 15 points to go with his six boards.
Cavaliers' coach Robert Banks had praise for hosts Oaklands despite their Division One debut ending with a 28-point loss, saying: "Getting back to playing competitive basketball again is one of the best feelings in the world" he said . "Many thanks to all the support staff for making the L Lynch Trophy a real success & an excellent atmosphere! The two teams competed hard 40 minutes, hats off to the Oakland Wolves , we feel very fortunate to be able to complete and get the win."
Wolves' predecessors Essex Leopards had never beaten the Cavs in eight attempts, and they went into the game as massive underdogs, but they stayed in touch during the first period and a Toby Gastaldi-Davies three-pointer saw them cut Cavs' lead to 22-20 at the first break.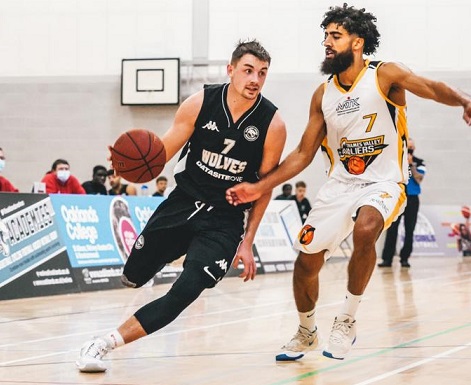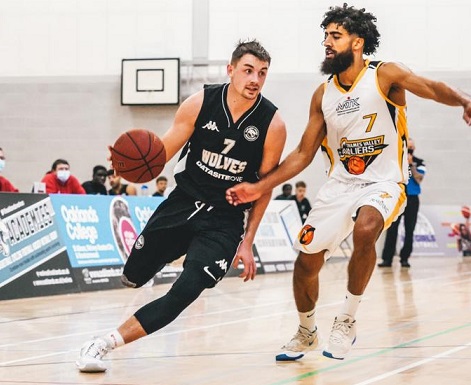 Thames Valley grabbed a win over the Oaklands Wolves. Picture: Lizzy Harrison
The second quarter saw both sides go on big runs, and it was Wolves who struck first as Jordan Santiago opened the scoring to launch an 18-2  run in which he scored ten points as the hosts opened a 38-24 lead with four minutes gone.
That was as good as it got for the home side, though, as Blaine Freckleton broke the run with an and-one and Cavs proceeded to close out the half on a 20-0 run to lead 44-38 going into the locker room. Though the locker rooms weren't actually open.
Freckleon made it a 10-point game early in the second half before Wolves' captain Evan Walshe finally ended his team's drought but Cavs dominated the second half to wrap up the win.
Cavs' Taylor Johnson picked up where he left off last season with 34 points, while Hakeem Sylla finished with 22 points. Santiago and Walshe each finished with 13 points for Wolves while Obi Egbunike showed little rust after 15 months out through injury with 12 points
Wolves coach Thomas Baker was in a positive mood despite the loss, saying: "It was great to see basketball being played again and it was fantastic to have it at Oaklands.
"Early on we played really well and we showed what we can do. Unfortunately we got punished when we stopped competing by a tough Thames Valley team. Excellent job by everyone involved at Oaklands in terms of getting the court ready. I'm looking forward to stepping out on court again next weekend."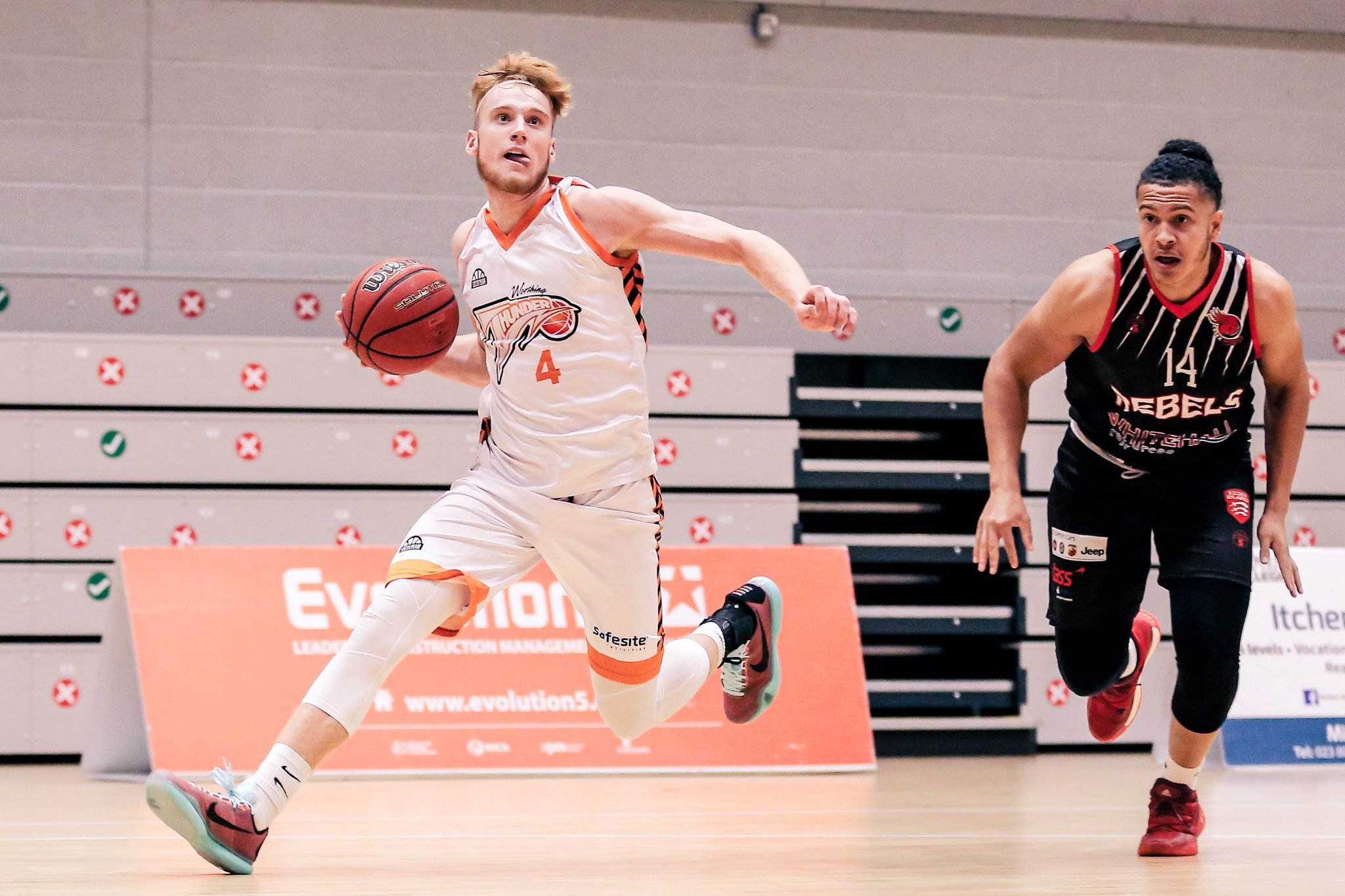 Cameron Hildreth shone in Worthing Thunder's win over Essex Rebels. Picture: Luke Simcock
Solent hub
England junior Cameron Hildreth again led the way for Worthing Thunder as they beat Division One newcomers Essex Rebels 91-78 at Solent Sports Complex, on Sunday.
Hildreth had 37 points in as many minutes, adding ten assists and five rebounds, and drew praise from Thunder's Director of Basketball Zaire Taylor, who said: "It felt good to finally be back out there and play some basketball.
"Essex came out and competed hard despite not having their two big men, I believe they will a really competitive team in this league this season, but end of the day Cam carried us and did what he does and led us to victory."
Max Richardson marked his return to Thunder with a 26-point, 10-rebound double-double, with Tom Ward adding ten points. While it was Rebels' top-flight debut, their players who had Division One experience with Leopards stepped up, Rory Winter leading the way with 25 points and Sam Newman finishing with 11 point, six steals, five rebounds and as many assists.
An 8-0 run put Thunder in charge, but Winter hit a jumper to make it a three point game at the first break, and Rebels looked likely to take a narrow lead into the half-time break before Ward beat the buzzer to put his side 43-42 up at intermission.
Hildreth's triple gave Thunder a lead they would never lose early in the second half and Richardson made it a ten point game before Hall cut the deficit to 63-57 at the final break. Ishmael Fontaine opened the fourth period scoring and Rebels never got closer than seven points as Thunder closed out the win.
Earlier in the day hosts Kestrels were make to fight all of the way by Barking Abbey before closing out a 92-78 victory against the young London team.
Travis Charles was once again the key man for Matt Guymon's team, chalking up a 21 point, 11 rebound double-double, while Orlan Jackman marked his Kestrels' debut with 17 points and five boards. Abbey's Veron Eze picked up where he left off last season with 21 points, five rebounds and five assists, while Abiodun Adedo had eight boards to go with his 17 points.
Adedo gave Abbey their only lead of the game with an early trey but five points from Andre Arissol helped Kestrels take control as they went into the first break 20-13 ahead. Elliott Dadds' three pointer made it a 13 point game midway through the second period but a triple from Boardman helped Abbey fight back to only trail 40-33 at half-time.
Veron's drive to the hoop made it a two point game two third-period minutes remaining but Jonathon Lashley launched an 8-1 run  to give Kestrels a 66-57 lead at the final break. Kestrels effectively wrapped up the win as they opened the fourth period with nine straight points, Jackman finishing the run with an and-one to give last season's double winners a successful start.

Myerscough hub
Group 4 of the L Lynch Trophy saw only one game played as Derby Trailblazers were forced to call of their trip to hosts Myerscough.
So it was understandable that Bradford Dragons' coach Chris Mellor was in reflective mood despite a comfortable 84-59 victory against Team Newcastle.
He said: "It's nice to start with a win but I think everyone is just thankful that we are back on the court again. Both teams were naturally a little rusty and obviously Newcastle will be different proposition when they have their full roster."
Five Dragons scored in double-figures as new addition Tyme Regent-Bascombe led the way with 13 points, six rebounds, and three steals . Jermayne Laing scored 12 points on 5-6 shooting. Uche Umweke provided a great boost off the bench, scoring 10 points and eight rebounds in just 15 minutes of action. Newcastle's Kabengele led all scorers with 28 points while K Sellick-Cole added 17 points.
The Geordies had three players log 40 minutes as they the university side fielded a makeshift side due to quarantine restrictions.
Regent-Bascombe opened the scoring, and Dragons led from tip to buzzer, and the former Liverpool player sent his side into the first break 20-16 ahead. Albert Margai took that lead out to six with the first score of the second period, and Dragons effectively ended the game as a contest with a 28-10 quarter to lead
There was little to choose between the teams in the second half as Mellor ran his bench, but Newcastle will look to improve when the rest of their roster are cleared to step on the court.
Check the results and stats and re-watch the games below.
.
Saturday 10 October 2020
Reading Rockets 70-83 Hemel Storm
To view Live Stats, click here
.
Oaklands Wolves 74-102 Thames Valley Cavaliers
To view Live Stats, click here
.
Bradford Dragons 84-59 Team Newcastle University
To view the Live Stats, click here
.
Sunday 11 October 2020
Team Solent Kestrels 92-79 BA London Lions
To view Live Stats, click here
.
Worthing Thunder 91-78 Essex Rebels