Storm and Cavaliers both recorded big wins as they progressed to the last eight, but their victories were certainly in contrasting styles. Storm had a blistering fourth period as they won 107-80 at neighbours Oaklands Wolves, while Cavs were in control throughout their game against Reading Rockets as they finished 85-71 winners.
The two sides will meet at Oaklands College on Saturday with home court advantage in the last eight at stake.
Cavs and Rockets were first in action at the St Albans venue, and Taylor Johnson scored the first and last points of the opening quarter as Thames Valley only trailed briefly on their way to a 27-10 lead at the first break.
Former Rocket Lewis Champion put Cavs up by as many as 23 with a minute of the first half remaining, and although Chuck Duru drained a triple to end the half, Cavs  were 53-35 up at the half-time break.
Robert Banks' Cavs kept the lead in double digits throughout the third period, going into the final quarter 71-56 ahead despite Duru again scoring the final basket of the stanza.
Reis Pinnock made it a 12 points game 80 seconds into the fourth period, but was as good as it got for the Rockets and they'll now face Oaklands Wolves in battle to avoid the wooden spoon next week.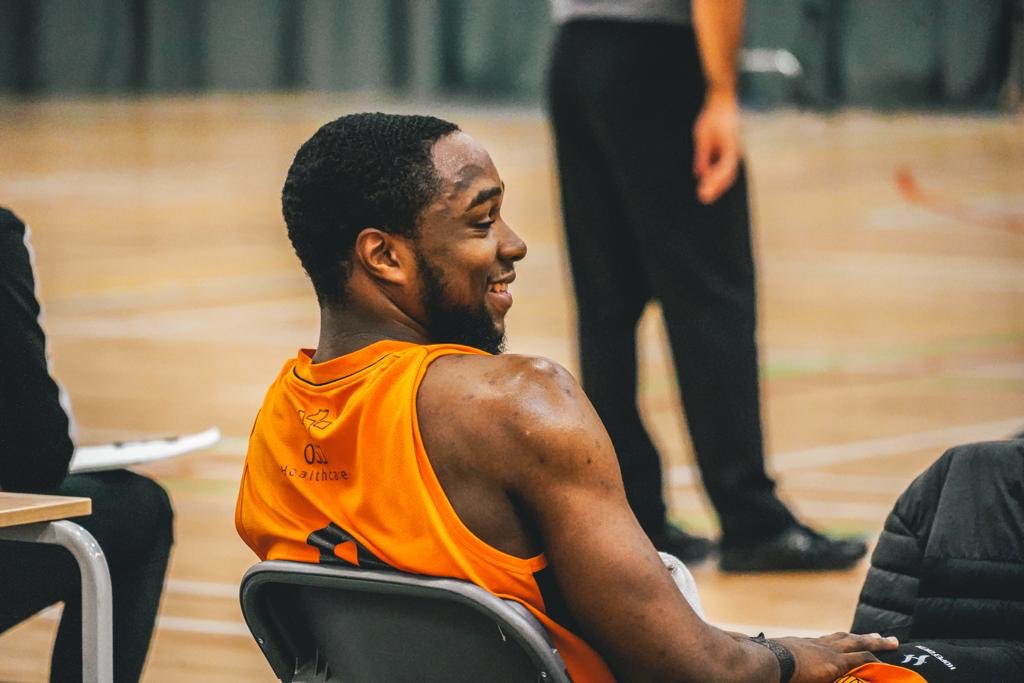 American Johnson showed why Cavs brought him back with 27 points, albeit on 9-20 shooting, and added nine rebounds, while Blaine Freckleton had 19 points and Champion added 17. Rockets were led by Sam Grant's 21 points and eight boards while Sam Toluwase had 12 points and Pinnock chipped in with 11.
Thames Valley coach Banks was delighted to be playing and – of course – getting a second win in the competition, saying: "We feel extremely grateful to have now completed two successful weekends at Oaklands College. We give a tremendous thanks to Michael Ball and all the tremendous support staff at the college. They have the thankless job of keep us safe and functioning within the Covid rules. We do appreciate it!
"The competition of week two in the L Lynch Trophy was outstanding with both teams competing hard, still knocking off rust from the long layoff. Hats off to the Rockets, who played short-handed today, showing off a few very talented academy players."
Game two saw a young Wolves' team produce a fighting performance before being blown away in the final quarter. Evan Walshe – who led the hosts with 33 points, five rebounds and three assists – tied the score at 67 with a trey, but from then on it was all Storm as they finished the game on a 40-13 tear.
Hemel's American duo Mike Williams and Greg Poleon led the way for the visitors as the former hit 28 points and pulled down 14 rebounds while the latter had five boards to go with his 26 points. Storm had three former Leopards – Wolves' predecessors – also finish in double figures, with Shaq Lewis bouncing his way to 17 points, Bode Adeluola hitting 12 points and pulling down eight boards and ex-Big Cats' waterboy Jack Burnell having three triples on his way to 14 points.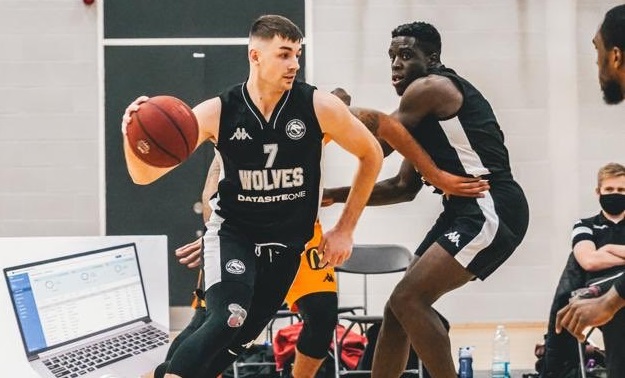 Jordan Santiago had 14 points and six rebounds for the home-town Wolves, with Jerel Layne added 11 points.
A high scoring first period saw Poleon put Storm 13-2 up after just over three minutes, but Wolves stayed in touch as Tony Gastaldi-Davis hit a trey to make it an eight point game before Santiago reduced the hosts' deficit to six at the midway stage of the quarter, and Storm went into the opening break 36-25 ahead.
A strong start to the second quarter saw Walshe hit five points as Wolves stayed in touch and Walshe rounded off a 23-18 period in his team's favour as they cut the deficit to 54-48 at half-time.
Ray Akpofure made it a one point game with just under two minutes on the clock before Walshe levelled from outside the arc before Lewis replied with five straight points to give his side a 72-67 final break lead and seven consecutive Williams points put Storm in the driving seat as they blitzed the hosts to wrap up the win.
Wolves' coach Thomas Baker remained positive after a good three quarters from his side, saying: "A tough start to the game had us chasing early but credit to the guys we fought our way back in. We always knew Storm had the quality to cause us problems and credit to Dru [Spinks] and his guys they were ruthless in the fourth.
"Overall we had moments of success in the game and we managed to play our brand of basketball for longer than the previous week which is pleasing, if we can correct a few issues and continue our learning in the same vein, it will be an exciting year."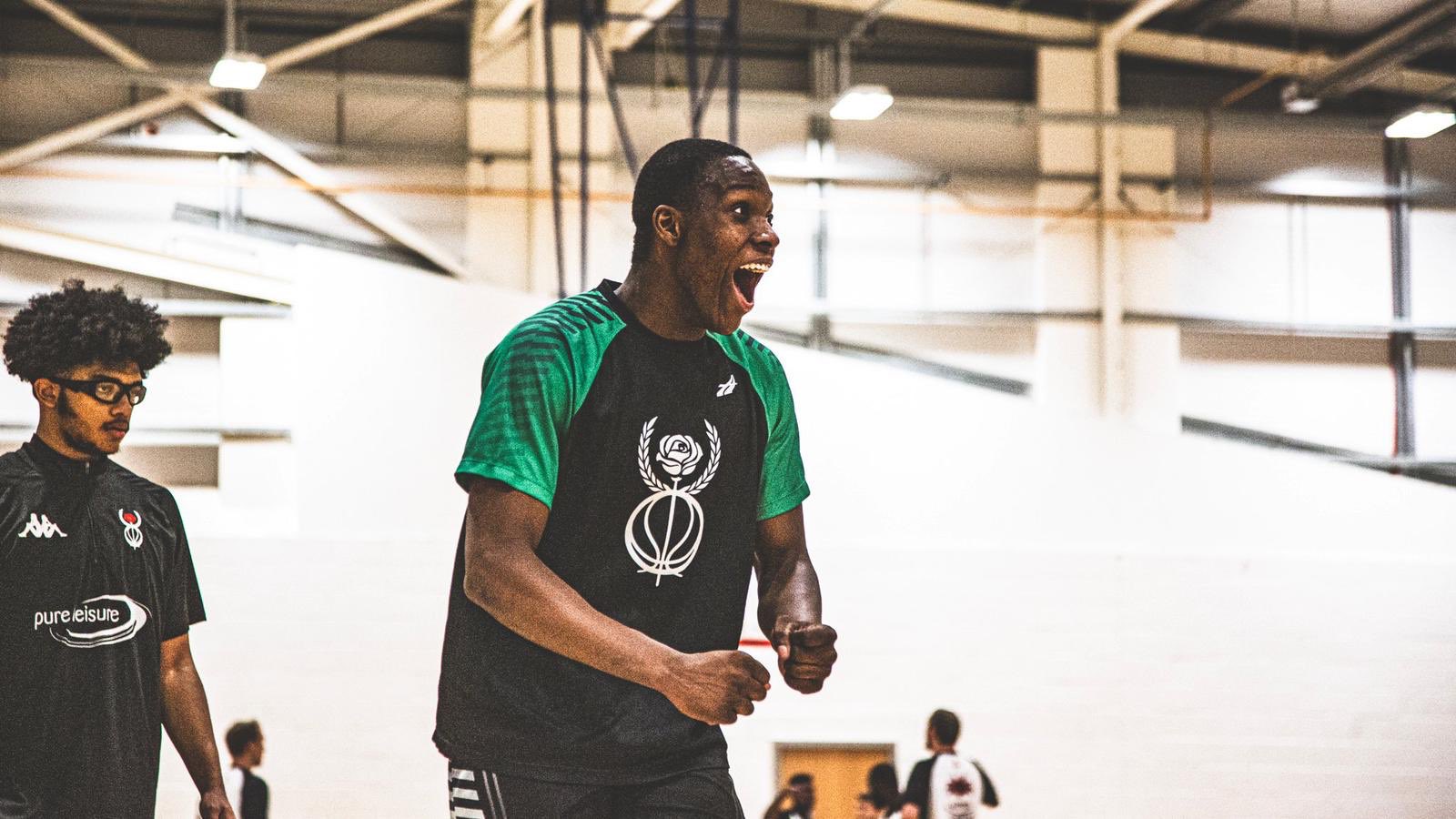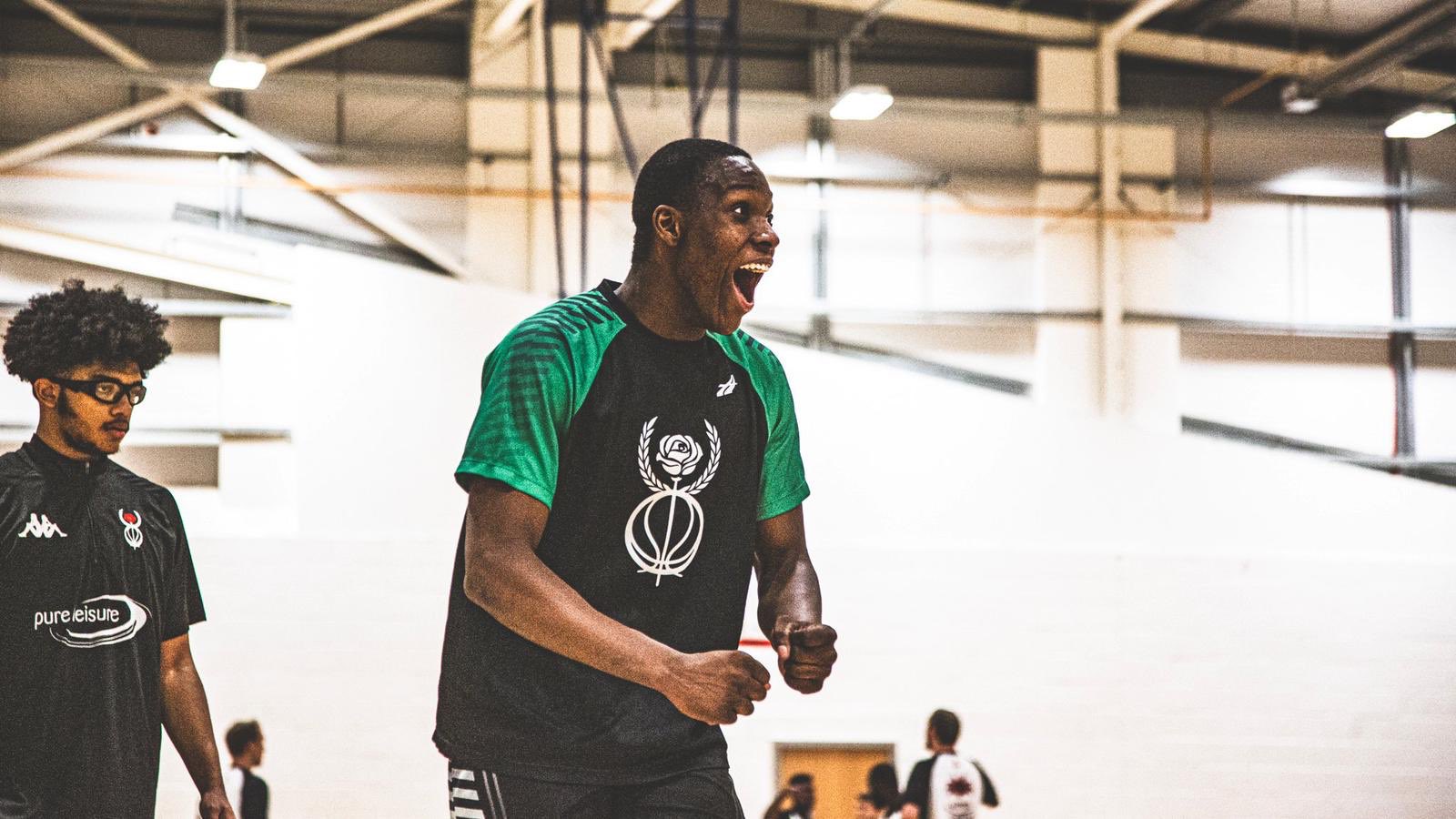 Dragons edge home
Bradford Dragons are also on the verge of the quarter-finals, but were made to fight all of the way by hosts Myerscough before winning 74-71, and coach Chis Mellor was a relieved man, saying: "We didn't play well but credit to Myerscough they were aggressive from the start and were the better team in the first half. Our defence was better after the break and we made key foul shots at the end to close it out."
Ricky Fetske has been a key member of Mellor's team for years, and he against came up big with a 22 point, ten rebound double-double, while Andreas Lycoudis added 13 points for Dragons and Rihards Sulcs finished with 12 points, seven rebounds and five steals.
Dan Gargan led the way for the home side, going 9-14 from the field on the way to a 21 point haul in just 18 minutes, Great Osobor added a 15 point, 11 rebound double-double for Neal Hopkins' team and David Chive had 12 points.
Bradford edged the first period 17-16 as Chive made it a one point game with the final score of the quarter, but the second stanza belonged to Myerscough as they blitzed Dragons in the opening minutes - Chive, Shema and Richardson all scoring three-pointers and Gargan sent them into the locker room with a 42-33 half-time lead.
Fetske opened the second half scoring, and Dragons slowly chipped away at the Myerscough lead and a Lycoudis trey saw the visitors reduce the deficit to 55-52 at the final break. Fetske converted from the Land of Plenty to tie the game with the first score of the fourth period, only to see Myerscough reply with six straight points. Dragons hit back with a 5-0 run and it was nip and tuck all the way to the final buzzer.
A pair of Albert Margai free-throws with 2:28 on the clock put Dragons up by five and the veteran guard made it a seven point game with 78 seconds on the clock before Myercough had one more push. Osobor hit two at the foul line before Gargan drained a pair of treys to make it a one point game with 14 seconds left. The hosts were forced to foul to stop the clock, and Lycoudis ht both free-throws to seal a thrilling win.
Warriors win
Group 3 finally got underway in Leicester as the hometown Warriors were edged out by Nottingham Hoods to leave the visitors new coach, Ben Stanley, a happy man.
"It was a really competitive game" he said.  "I felt we started out strongly with Laurits putting in work on the glass and inside and some good attacking plays from Matt Ward Hibbert. 
"In the second period Leon Henry really came alive for them and gave them some momentum with his shooting, Delaney Powell kind of helped us whether the storm that quarter with some scoring of his. Warriors continued their solid play into the third and really put us on the back foot. 
"We started to get back into off the back of Victor's defence and him putting converting it in the full court. The fourth we went on a run behind great defence from tolu and Toto and two huge threes from Matt Parker.  Martyn Gayle did what he does and made some huge, tough threes to make it a two-point game with less than a minute to go, and we were able to get the ball to the right guys at the very end of the game and make our free throws. A big thank you to coach KB [Karl Brown] and [Chris] Hallam for hosting and making sure the venue and game was as safe as it possibly can be, and huge thank you to the refs and table officials who did an excellent job in really difficult circumstances."
Laurits Juffer led the way for a Hoods team who had five players in double figures, finishing with 19 points and 13 rebounds. Victor Olerin missed a double-double by a rebound, adding 16 points, with Matthew Parker and Ward-Hibbert getting 15 points apiece and Powell 12. For Warriors, Henry and Gayle dominated with 28 and 21 points respectively.
Hoods dominated the first period Keiron Wright's three sent them into the first break 31-19 ahead, but Warriors chipped away over the next two quarters reducing the deficit to 46-41 at half-time before a pair of Holland free-throws put them 66-65 ahead at the final break.
But back-to-back Park triples put Hoods in charge midway through the fourth period and Juffer's and-one with 2:34 on the clock put them in a position to close out the win.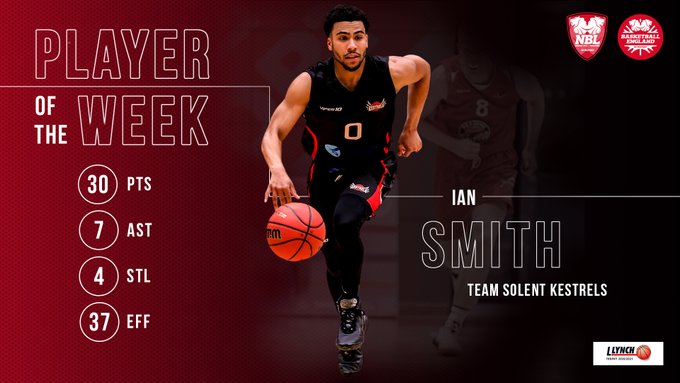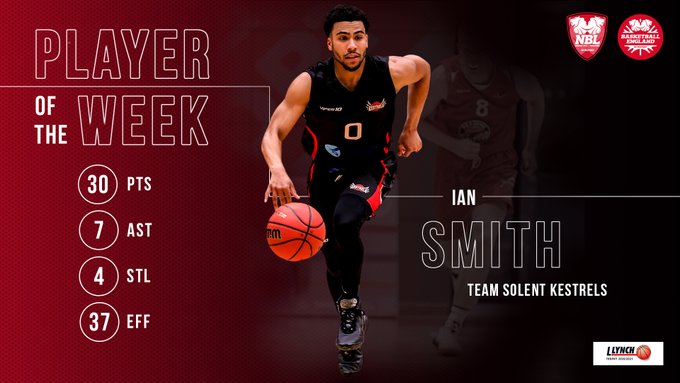 Kestrels fly high
The weekend was wrapped at Solent University where the hometown Kestrels made short work of newly promoted Essex Rebels by handing them a competition record 117-61 hammering.
Rebels led for just 18 seconds early in the first period before Kestrels took control, closing out the first period on a 12-1 run to lead 27-16 before edging the second quarter 22-19 to lead 49-35 going into the locker room. But it was the third period where much of the damage was done as the hosts poured in 43 points to lead 92-51 at the final break and then outscored the visitors 25-10 in the fourth to wrap things up.
Ian Smith was in imperious form, shooting 12-from-16 to finish with 30 points, adding seven assists and four steals. Johnathan Lashley missed only three shots on his was to 17 points in 18 minutes, and Andre Arissol had 16 points in 19 minutes, For a Rebels side still without big man Lee Hodges, Rory Winter continued his good start to the season with 15 points, while Cain Van Heyningen and Julian Gray had ten points apiece.