Lewis Champion drained a massive three with a single second on the clock as Thames Valley Cavaliers came from behind to win at thriller 86-83 against Hemel Storm on Saturday.
Levi Noel had tied the score with 25 seconds on the clock, and with Cavs' coach Robert Banks screaming for Champion to take the shot, Champion coolly ran the shot clock down before hitting the triple from six feet outside the arc as the buzzer went.
Thames Valley thought the game was over, with the bench invading the court to celebrate, but after order had been restored and Storm coach Dru Spinks had called a timeout, Bode Adeluola's shot fell short to give Cavs the victory.
Thrilling finish
Champions' shot sealed top spot in the Oaklands group of the L Lynch Trophy, and they will have home court advantage against the runner-up in the Solent group, while Storm will travel to the winner of the same group.
Storm had led by double digits midway through the third period after back-to-back Adeluola baskets and were still ahead with two minutes of the game left, and captain Walid Mumuni admitted that they had failed to close out the game:
"We blew that one" he said "We gave up far too many offensive rebounds."
The veteran forward certainly had a point, with his side outrebounded on their own glass 26-24 and Cavs comfortably won the battle of the board 53-37.
Hakeem Syla had another massive game for a Cavs side missing American Tyler Johnson, finishing with a 26 point, 11 rebound double-double, adding four assists in a 40 minute performance. Blaine Freckleton added 24 points, while Champion had 16 points, missing a double-double by a single rebound.
Mike Williams also logged 40 minutes, leading Storm with 28 points, five boards and three assists while fellow American Greg Poleon added 16 points and Adeluola finished with 14 points, five assists and as many boards.
Freckleton hit a couple of open threes to give Cavs a good start but Nick Allin also drained from downtown as Storm levelled things before Syla beat the buzzer to send his side into the first break leading 18-16. Both sides had mini runs in the second period without pulling away, five straight Williams free-throws saw Storm take a 43-36 lead before Freckleton drained three to cut Storm's lead to 43-39 at the half. 
Poleon hit a triple to open a third quarter which saw Hemel take control, and Jack Burnell's trey saw the Hertfordshire side lead 65-58 at the final change.
Champion came alive in the fourth quarter, hitting eight straight points to give Cavs their first lead since the first half, 80-78 with three minutes remaining. Poleon and Euan James exchanged baskets to leave the game tied before Champion drained another triple only for Noel level things with an and-one to set up the thrilling end.
"First of all, hats off the excellent support we received from Oakland's College," said TVC head coach Robert Banks. "The venue, the atmosphere and the staff were absolutely first class!
"The match was outstanding with both teams battling until the last second ticked off the clock. It is a pity that either team had to lose as both deserved to win. Happy to get out with a narrow victory and look forward to upcoming matches."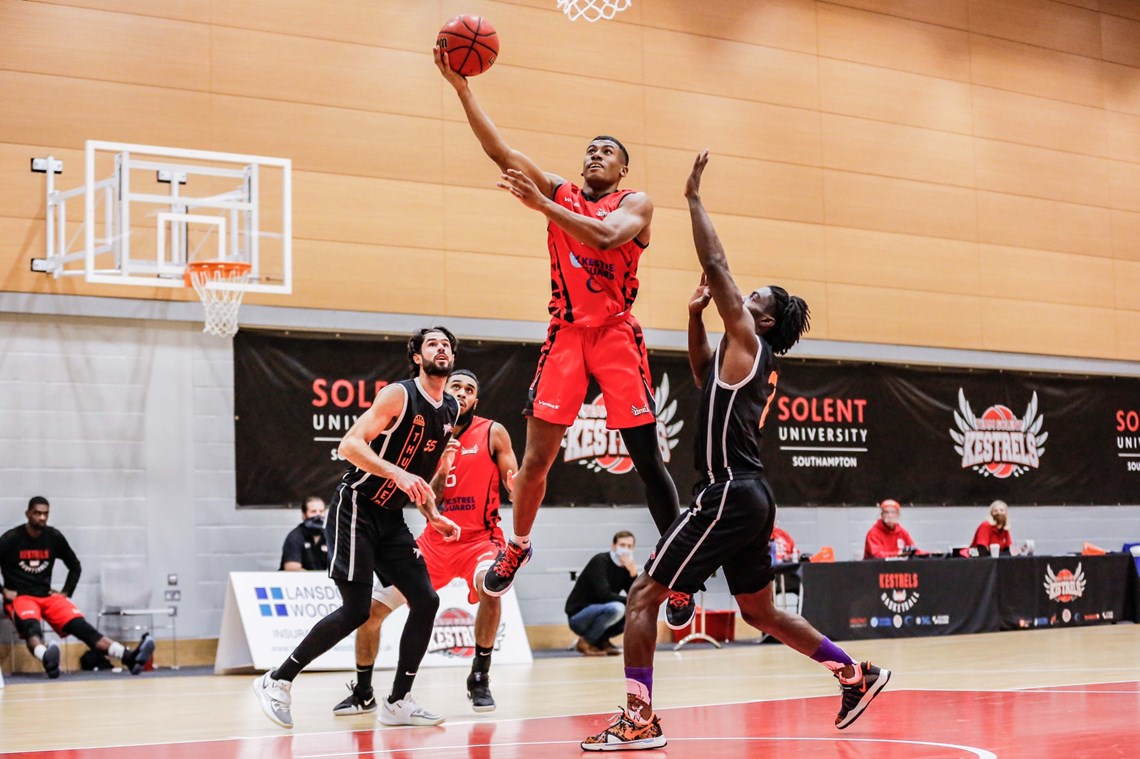 Local derby
Solent Kestrels sealed top spot in the L Lynch Trophy Group 1 with a comfortable 96-69 victory against Worthing Thunder on Sunday.
Kestrels will host Hemel Storm in the quarter-final, while the final group game will determine whether Thunder or BA London Lions travel to Thames Valley Cavaliers in the last eight.
Thunder gave a debut to former Leopards' big man Howard Crawford, but the home side led from tip-to-buzzer after rushing into an early 12-4 lead.
Andre Arissol led the Kestrels with 23 points, adding six rebounds and five assists, while Ian Smith picked up where he left off last season with 22 points, nine assists and five boards in just 25 minutes. Travis Charles added 15 points and eight rebounds despite playing just under 22 minutes while Orland Jackman showed the kind of form that helped keep Leopards in the top flight last season with a 13 point, 14 rebound double-double.
Thunder were led by teenage star Cameron Hildreth who finished with 22 points, with Max Richardson adding 13 points, Zaire Taylor 12 and Crawford 11.
The game was won on the boards with Kestrels out-rebounding their south coast rivals 58-36.
Arissol started and finished the opening run that put Solent in charge, and despite Taylor completing the opening period scoring his side trailed 21-16 at the first break.
Taylor brought his side within three early in the second period, but Kestrels reeled off eight unanswered points to take a double-digit lead and they went into the half-time break with a 48-38 advantage.
Any chance of a comeback from the visitors were wiped out as Kestrels dominated the third period, outscoring Thunder 30-13. A Charles jump shot made it a 20-point game with four minutes remaining and Smith scored his side's final nine points of the quarter – including two treys – to give Kestrels a 78-51 lead at the final switch.
Crawford capped an early 6-0 run to cut the deficit to 24 but Arissol replied with a triple and Solent comfortably wrapped up the win.
Thunder guard Ish Fontaine refused to be downbeat after the loss: "We must put this pre season game behind us and approach our next practices with a high cerebral intensity" he said.
Lions top Rebels
BA London Lions' coach James Vear was a happy man as his side kept their qualification hopes alive with an 86-74 victory against Essex Rebels: "It was a great team win with everyone contributing, I hope we can build on this over the coming weeks" he said.
Veron Eze led the young capital team, finishing with 24 points, five rebounds and as many assists. Flynn Boardman-Raffet and Abiodun Adedo both recorded double-doubles for Vear's side, the former adding four assists to his 15 points and 11 rebounds  while the latter had 12 points and ten boards.
Sam Newman led Rebels with 19 points and five rebounds, with Ethan Prince adding 12 points and Jordan Gray 10.
Rebels started well as three-pointers from Gray and Rory Winter saw them take an early 9-2 lead, but BA hit back with trey from Boardman-Raffet and Vijber in a 14-0 run saw them take the lead and they never trailed again, and despite a late triple from Newman, London led 22-18 at the first break.
Newman hit back-to-back baskets to open the second period, but a pair of Sansom three-pointers restored Lions' lead and a pair of Eze free-throws helped them to 37-29 going into the locker room.
Boardman-Raffet's trey saw that lead grow to 42-29 early in the second half but although they led all quarter, Rebels stayed in touch and lay-ups from Price and Winter saw them cut the deficit to 61-54 at the final break.
Morton's three-pointer made it a two point game with 7:36 on the clock and a Price dunk kept it as a one-possession game before three-point plays from Vijber and Adedo took the lead out to eight and Harrison drained a trey to help BA close out the win and set up the showdown against Worthing.
Results
Thames Valley Cavaliers 86-83 Hemel Storm
To view the Live Stats, click here

BA London Lions 86-74 Essex Rebels
To view the Live Stats, click here
Solent Kestrels 96-69 Worthing Thunder
To view the Live Stats, click here
.
.
Main image: Luke Simcock